About us
Our mission is to find and shares ways to make bread better for us, better for our communities and better for the planet.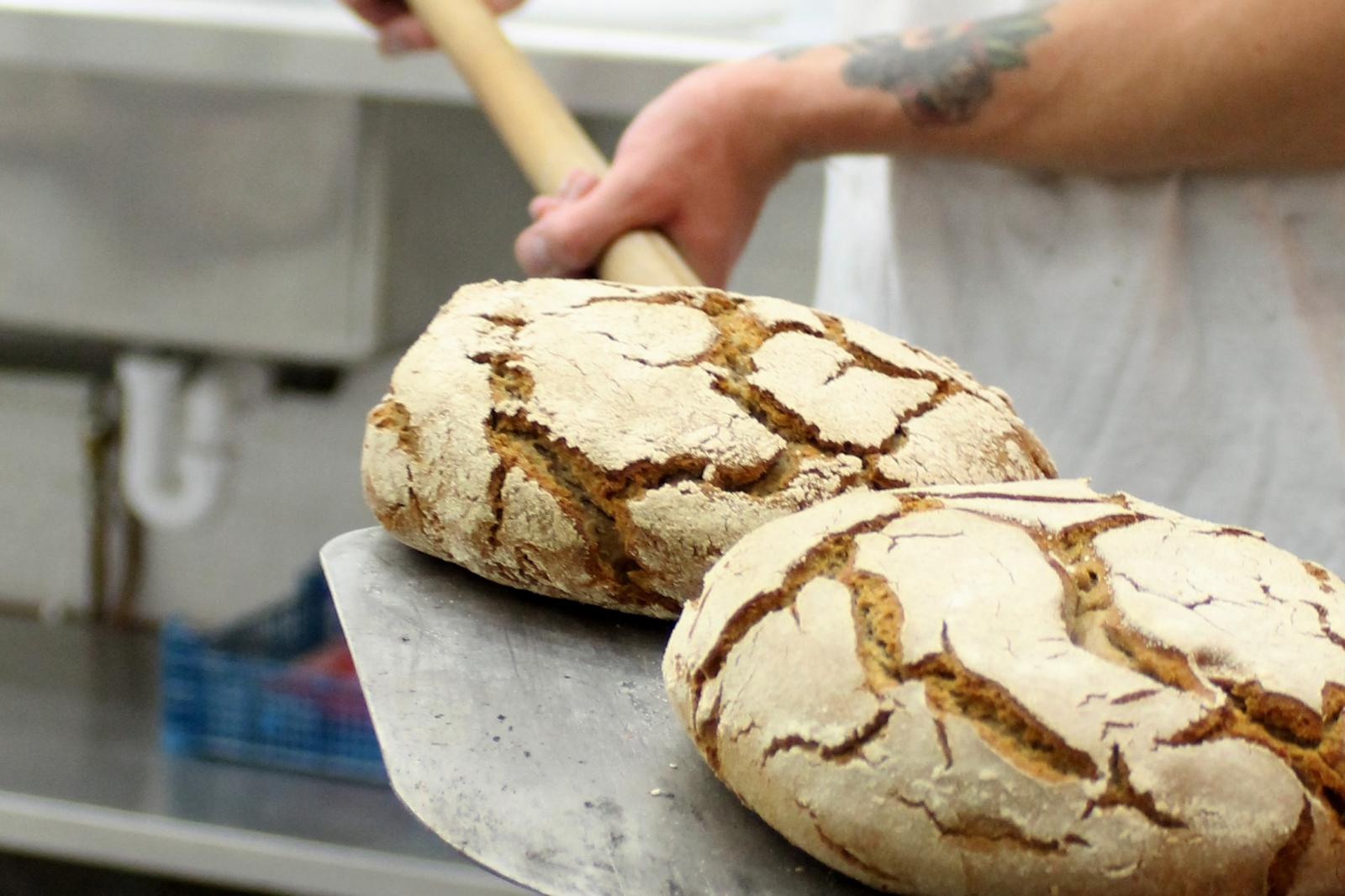 The Real Bread Campaign is run by the charity Sustain: the alliance for better food and farming,
We want everyone to have the chance to choose Real Bread
---
The Real Bread Campaign was co-founded by Sustain and Andrew Whitley of Bread Matters and officially launched on 26 November 2008.
We define Real Bread simply as made without the use of any so-called 'processing aids' or other artificial additives
We:
See how we're getting on here.
More generally, we are:
Running a supporter network to unite everyone who bakes, or simply loves, Real Bread. Sharing the pleasures and benefits of locally-baked Real Bread over what we see as adulterated imitations
Challenging examples of what we see as misleading marketing of industrial/supermarket loaves
Helping to raise awareness of issues around additives and hidden processing aids
Championing the cause of more research into issues of health and nutrition (including digestibility, intolerance, allergy and GI) to establish factors that could have a beneficial effect (such as longer fermentation, the use of sourdough, and wheat breeding) and lead to more people being able to eat Real Bread
In addition to the core work above, supporters of the Campaign around the country are engaged in activities such as:
Sharing the many values of Real Bread that have been lost in the quest for an ever cheaper loaf at the cost of all other considerations
Networking to bring farmers, millers, bakers and consumers closer together to create tighter food webs and support each other in making Real Bread available in their local communities;

Real Bread bakers and other educators in sharing their skills, experience, passion and knowledge with children, caterers, professional and home bakers
Campaigning for: bread production that gives paramount importance to nourishment, flavour, digestibility and sustainability; support for local food systems, agricultural diversity and participatory plant breeding to enhance nutritional quality and local resilience
Lobbying for Real Bread values to be supported by policies covering education, training, food labelling, nutritional guidelines, nutritional and agricultural research
You don't have to be a baker to join the Campaign!
Though hundreds of people who support us are professional bakers, the majority do so because they share our concerns and love for Real Bread.
Not a supporter yet? Then sign up online now
NB Our Real Bread Finder is a service we offer free of charge to shoppers and bakers - not all those with loaves listed are Campaign supporters.
Campaign ambassadors
Updated Sepetmber 2018
We encourage all of our supporters to act as ambassadors for not only the rise of Real Bread in general, but also for the Campaign's values, aims and work in particular.
Within this, we chose a small number of our supporters who have a higher public profile to be our official ambassadors.
How we chose our current official ambassadors and the current review of the role
Our current official ambassadors
In alphabetical order
Richard Bertinet
Originally from Brittany, Richard trained as a baker both there and at the Grand Moulin de Paris, eventually setting up his eponymous bakery and cookery school in Bath. A BBC Food and Farming Awards winner, he is author of a number of cookery and baking books, including Dough, Crust and the forthcoming Crumb.
thebertinetkitchen.com
Aidan Chapman
The soulful baker for more than 25 years, Aidan is currently head baker at Flint Owl Bakery in Lewes, freelance consultant, and teacher at baking schools around the country including River Cottage HQ. Highlights of his career include creating The Phoenix Bakery with his wife Lisa in Weymouth, five years as Head Baker at The Celtic Bakers in London, and helping to set up Town Mill Bakery.
doughanarchist.com
Duncan Glendinning
Marrying dual passions for real food and sustainability, Duncan owns The Thoughtful Bakery and baking school in Bath. There they bake using carefully-sourced ingredients, including some bartered, foraged or pickled on site. Co-author of the book Bread Revolution, Duncan has made numerous appearances on TV, including co-starring in two BBC2 series, Victorian Bakers and The Big Bread Experiment, on ITV1's Britain's Best Bakery and alongside Nigel Slater.
thethoughtfulbreadcompany.com
Emmanuel Hadjiandreou
Having worked for The Savoy, Gordon Ramsay, Daylesford Organics, Flour Power City and as head baker at Judges Bakery in Hastings, Emmanuel is currently a journeyman baking teacher, including at The School of Artisan Food. He is the author of several books, including Guild of Food Writers' award-winning How to Make Bread.
schoolofartisanfood.org
Andrew Whitley
Drawing upon setting up and running The Village Bakery Melmerby, one of Britain's first organic bakeries for 25 years, Andrew is author of the seminal book Bread Matters and now runs the bakery school and consultancy of the same name. He is also co-founder of Scotland The Bread, working to relocalise the country's loaf life based around heritage grains, sustainable farming and real bakers. Andrew is a BBC Food and Farming Awards winner and co-founder of the Real Bread Campaign.
breadmatters.com
Official ambassador selection and review
When we created the role of official Real Bread Campaign ambassador, we set the selection criteria based on our needs at the time:
Real Bread knowledge and skill drawn from experience of working in a bakery
A genuine passion for Real Bread and broadly sharing the aims, values and work of the Campaign
Having a national (or even international) public profile through appearances on TV, radio, newspaper and magazine features, public events, books etc.
Ability and willingness to use this profile to promote Real Bread in general, and the Campaign specifically, at every opportunity and help us to gain new supporters
We selected our ambassadors from the people we could find at the time who met all four criteria.
In September 2018, we began a process of reviewing the role of official Real Bread Campaign ambassador. This will include looking again at what needs doing and if having a small number of official ambassadors is the best way to do it. If we decide to continue that role, we will need to review the criteria (and if all ambassadors have to meet the same single set of criteria) and selection process. We will also look at how to involve our supporters in this and, once we know what needs doing, work out a realistic timescale to do it properly.
For updates on this, and the rest of the Campaign's work, join us or sign up for free updates. We will also share on Twitter, Facebook and in The Real Baker-e, our supporters' forum.
Staff and volunteers
Since July 2009 the Campaign has been coordinated by Chris Young.
He draws on the knowledge and expertise of the Campaign's network of supporters and friends for advice, guidance and practical help. He is assisted as necessary by part-time volunteers and also relies upon the support of Sustain's finance, design and IT team.
Chris reports to Sustain's management team of Sarah Williams, Kath Dalmeny and Ben Reynolds.
How we are funded
At the moment, the only income that Sustain receives that enables us to keep running the Real Bread Campaign is from:
supporter fees
private donations
payments and donations for our publications
We still knead dough!
At present, the income outlined above is not enough for Sustain to be able to employ a full-time member of staff with full cost recovery.*
In order to ensure the survival of the Campaign, we continue to work to secure additional income from by applying for charitable grants, promoting our supporter scheme and through fundraising initiatives including Real Bread Week.
* Full cost recovery is the responsible, sustainable way of running a charity project, which takes into account not only the direct cost of a salary, but also a fair proportion of the charity's total overheads. You can read more about full cost recover on the Funding Central website here.
Past sources of income
The Big Lottery's Local Food programme provided 80% of the funds needed to run the Real Bread Campaign from July 2009 to June 2013
Sheepdrove Trust gave us an annual grant from July 2009 to June 2013
As part of the charity Sustain: The alliance for better food and farming, the Real Bread Campaign is independent from the agri-food industry.
In line with Sustain's general policy, the Campaign does not accept funding from any source which would compromise, or even appear to compromise, the alliance's principles.
The Real Bread Campaign does not endorse or promote any one Real Bread bakery, baker, course, publication or organisation over another.
Supporter network
You don't need to be a baker to join us! Everyone can become a Campaign supporter, either as an individual or as a representative of a company or other organisation.
Real Bread Finder listing
Inclusion in our Real Bread Finder is solely dependent on the product shown being what we define as Real Bread. A listings there, on our events calendar, courses or any other pages of our site does not necessarily imply endorsement.
Advertising/sponsorship
In line with Sustain policy, the Real Bread Campaign accepts no sponsorship from profit making organisations in the food and farming sector. The only money accepted from such companies/organisations are standard supporter payments in return for standard benefits.
Campaign logos
If a Campaign supporter chooses to display our 'proud to support...' badge, it simply signifies just that - they support the Campaign. The appearance of our supporter badge is not an assurance that Real Bread standards are being met.
For details of our separate Real Bread Loaf Mark scheme, please click here.
---
SHARE