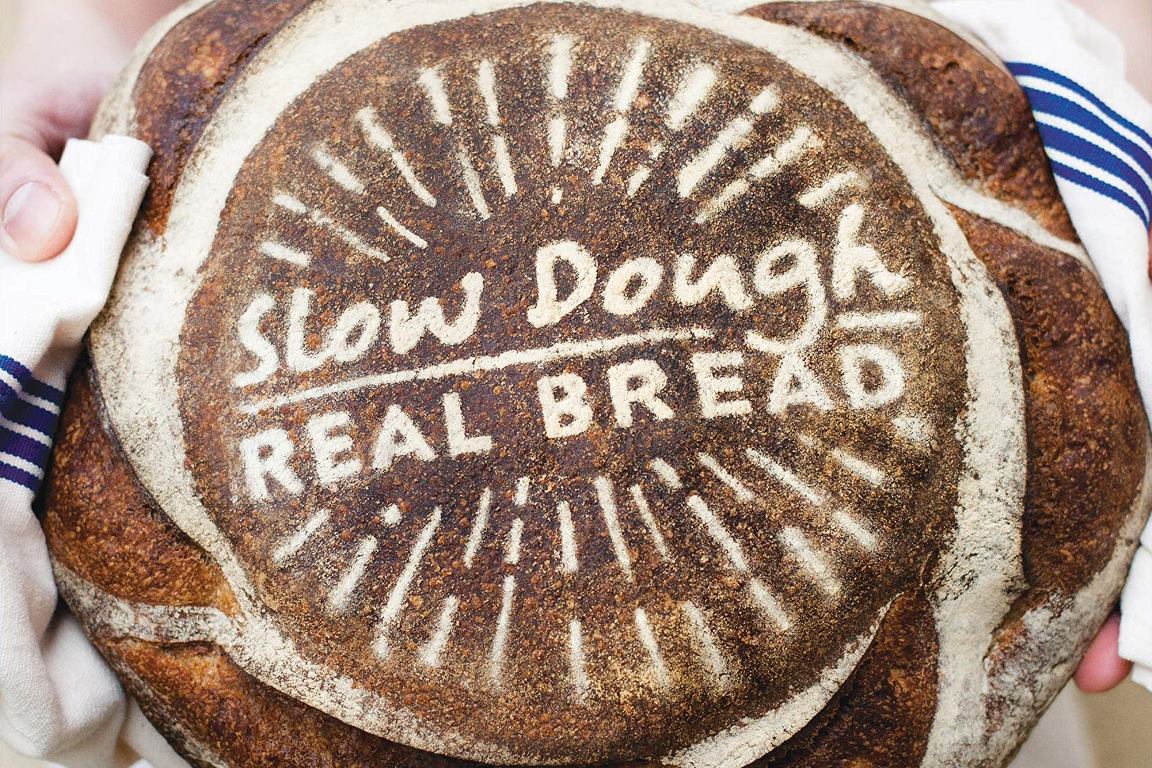 Photo © Victoria Harley / Nourish Books
Buy direct from us and save up to 30%!
The Real Bread Campaign's first recipe book contains around 90 recipes for genuine sourdough and other long-rise Real Breads.
The book is published in the UK and USA by Nourish Books, and brought to life by around 70 full colour photographs by Victoria Harley.
See also:
Buy now (UK only)
Please only order direct from us if you can provide a UK delivery address.
Buy the Real Bread Campaign's recipe book Slow Dough: Real Bread and our business handbook Knead to Know...more together for just £31.50 (+£5.60 p&p), saving a tasty 30% / £13.50 off the joint RRP!
This offer is only available on orders for UK delivery, placed through the Real Bread Campaign website, while stocks last.
It may be withdrawn at any time.
Cover price / RRP: Slow Dough = £25, Knead to Know...more = £20.
We will send the books separately by 2nd class post.
If you buy just Slow Dough: Real Bread, we still offer Campaign supporters 25% off the RRP and everyone else a 10% discount.
Buying the book direct from us (rather than, say, a national / multinational multiple retailer or a tax-avoiding online store) means our charity receives even more of what you pay to help fund our work.
Different address?
If you need us to send the book somewhere other than your credit/debit card billing address (eg a non-UK card or you're buying as a gift), after you make your order please email the delivery details to us.
We send books by Royal Mail 2nd class post, usually once a week. Sadly, some items take weeks, rather than days, to arrive.

Please note: Royal Mail's last recommended Christmas posting date is 18 December 2023. Our last mailout of orders received up to and including 13 December will be on 14 December. Our last mailout of 2023 will be during w/c 18 December.
The prices below include the discount, as well as postage and packing.
---
Order Slow Dough: Real Bread (Campaign supporters)
£21.75 (25% off the RRP)
Order Slow Dough: Real Bread (Everyone else)
£25.50 (10% off the RRP)
Click the 'Buy Now' button to pay by card securely via PayPal.
Slow Dough: Real Bread AND Knead to Know...more
£37.10 (30% off RRP)
Click the 'Buy Now' button to pay by card securely via PayPal.
---
Buy the book outside the UK
We only ship to addresses in the UK and so strongly encourage you to have a word with your local, independent book store. If they don't have our book in stock, hopefully they'll be happy to order a copy for you. The publisher is Nourish and the ISBN is 978-1848997370.
We'd much rather your money goes to a business that's part of your local community than, say, the shareholders of a national/multinational multiple retailer or a tax-avoiding online store.
Why slow dough?
As Real Bread bakers are reminding people, long and slow tends to be far more satisfying than a quick finish.
While throwing all sorts of additives into the mix, one very important natural ingredient that industrial loaf fabricators tend to do their best to do away with is time. Even some domestic recipe writers seem to be in a race to the finish line, instructing their readers to use fast-action yeast, added sugar and warm proving, declaring with glee how little time the loaf will take.
Far from farinaceous folly, a long-proved dough has more time to develop flavour, tends to produce a less crumbly loaf and, in the case of genuine sourdough, might even offer health benefits.
The recipes
Slow Dough: Real Bread shares secrets from the experts on how to make a huge array of sourdoughs and other slow-rise breads at home. You'll learn a range of classic and original international loaves, from basic brown, white and rye breads; to impressive fig and fennel sourdough, and goats' cheese and honey maslin.
You'll learn how to make a sourdough starter and other pre-ferments, as well as the fundamental processes: kneading, proving and baking. Treating Real Bread with the respect it deserves, the book also includes stale bread recipes including chai spiced bread and butter pudding, panzanella, and breadcrumb pakoras so that you don't waste a crumb.
People power
As the Real Bread Campaign champions not just additive-free baking, but also bringing it back to the hearts of our local communities, Slow Dough: Real Bread celebrates each of the 70 bakers who contributed recipes. They include long-established bakers, such as the Campaign's cofounder Andrew Whitley, and many of the new generation of experts leading the Real Bread revolution.
The Real Bread Campaign supporter network extends to more than 20 countries and the book's contibutors hail from as far afield as Italy, Croatia, Germany, Korea and Australia.
Thank you to all of the bakers who donated recipes and sorry if yours didn't make it!
More recipe highlights
The 90 recipes also include:
Baguettes
Bara Brith
Beetroot Sourdough
Bialys
Brioche Doughnuts with Passionfruit Cream
Buckwheat and Chia Bread
Buttery Rowies
Cinnamon and Hazelnut Knots
Cottage Loaf
Croissants
Crumpets
Double Chocolate Sourdough
Einkorn Bread
Fryske Sûkerbôle
Gingery Treacle Tart
Hot Cross Buns
Kalapao
Lahmacun
Pain de Campagne
Pulla
Red Grape and Fennel Seed Schiacciata
Saffron Cake
Simit
Sourdough Pretzels
Spelt Sourdough
Staffordshire Oatcakes
Stromboli
Share
Get updates
Real Bread Campaign: The Real Bread Campaign finds and shares ways to make bread better for us, better for our communities and better for the planet. Whether your interest is local food, community-focussed small enterprises, honest labelling, therapeutic baking, or simply tasty toast, everyone is invited to become a Campaign supporter.
Menu
Support our charity
Your donation will help support the spread of baking skills and access to real bread.