Gifts
Presents for the loaf lover in your life…or yourself.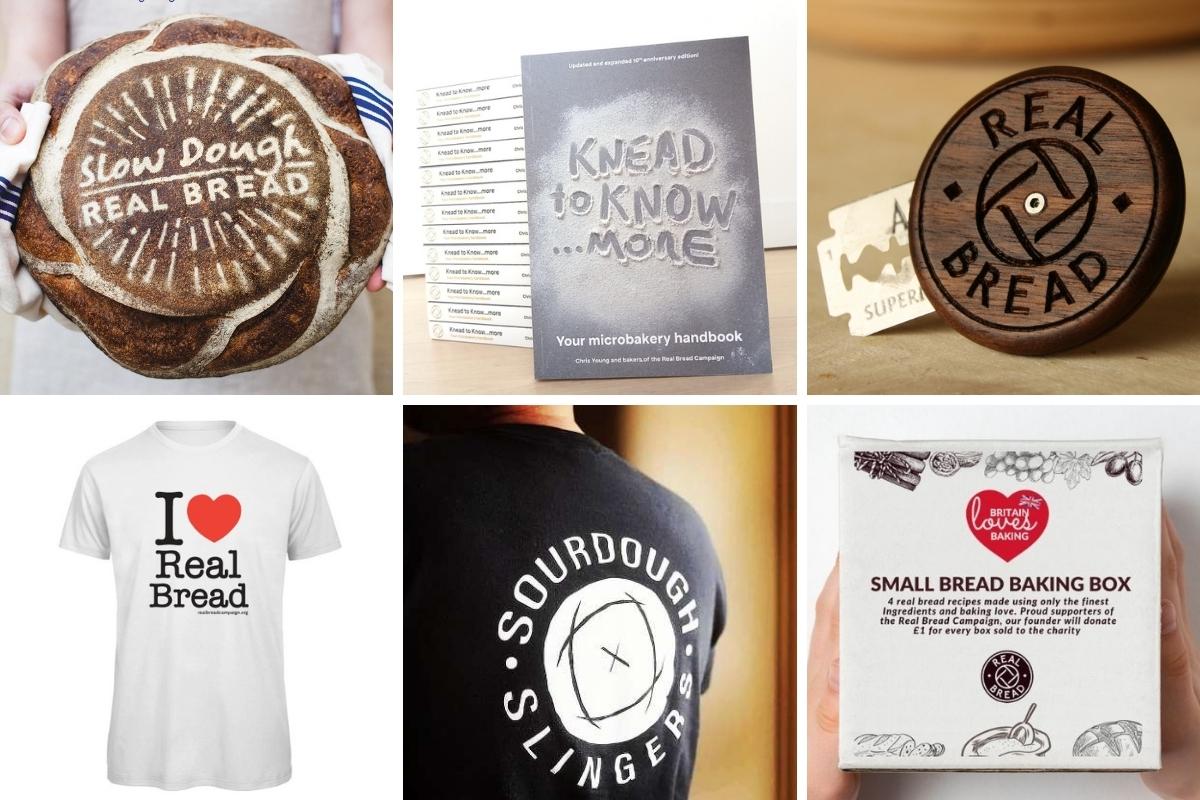 Someone you know gets something they like, you tick it off your to-do list and the charity behind the Real Bread Campaign gets some dough – win, win, win!
Christmas posting dates
We send books and magazines once a week by 2nd class post. Royal Mail's last recommended date for delivery by Christmas is 18 December 2021. On 16 December, we will post orders received in the week up to (and including) 15 December. Our final mailout of 2021 will be on 22 December. The following mailout will be in the first week of January.
Knead to Know...more
NEW for 2021!
The Real Bread Campaign's microbakery handbook.
Whether starting a microbakery from their own kitchen, teaming up with neighbours to establish a Community Supported Bakery, or taking the next steps as their high street's baker, this is the unique business guide is for the budding bready businessperson in your life.
---
Slow Dough: Real Bread
Our first recipe book includes around 90 recipes for genuine sourdough and other long-ferment Real Breads.
If you live in the UK, buying the book direct from us (rather than, say, a tax avoiding online store) means our charity receives more of what you pay to help fund our work.
---
Gift subscription
For just £25, that special someone will not only receive four issues of our magazine, True Loaf, they'll also be eligible for the full range of supporter benefits, including discounts on ingredients, equipment and classes.
---
Real Bread t-shirts, aprons, mugs
Exclusive designs, made to order by Balcony Shirts for every Real Bread lover proudly to proclaim their passion.
Balcony Shirts make a doughnation to Sustain for each one sold.
They also usually produce limited-edition designs for Real Bread Week and Sourdough September.
---
UFO lame
Etched with The Real Bread Loaf Mark, this distinctive, circular, dough-scoring lame/grignette is designed and crafted from solid American black walnut by Tyler Cartner (AKA Wire Monkey) in his tiny workshop in Connecticut.
Each comes with one Feather brand Hi-Stainless, platinum-coated, double-edged, Japanese razor blade, allowing skilled bakers to score creative dough designs.
Mister Monkey makes a doughnation to Sustain for each one sold.
Wire Monkey ships worldwide, or you can buy from official resellers in these countries:
---
Baking box
Britain Loves Baking has launched the Small Bread Bread Box and company founder Greg will make a doughnation of £1 to the Real Bread Campaign for each one sold.
The mail-order kit contains pre-weighed ingredients and step-by-step instructions to make two loaves each of: rosemary and olive garlic focaccia, foolproof crusty French baguettes, Tuscan polenta bread, and walnut sultana and cinnamon bread. The box is £17, or £22 with a copy of the Don't Waste A Crumb: No Waste Baking and Cooking booklet.
Box with booklet Box without booklet
Sourdough Slingers t-shirt and apron
Campaign ambassador, and The School of Artisan Food's head flour arranger, Wayne Caddy is producing Sourdough Slingers t-shirts and aprons and very kindly making a doughnation to us for each one sold.
Tees are £15 each (plus p&p), available in black with white logo, grey with black logo and white with black logo - collect the set! Sizes small to XL.
One-size, black, industrial denim apron with pockets are £22.50 (plus p&p)
Shipping worldwide. For P&P costs, any further info and to order email sourdoughslingers@thecaddys.com
See also
---
SHARE