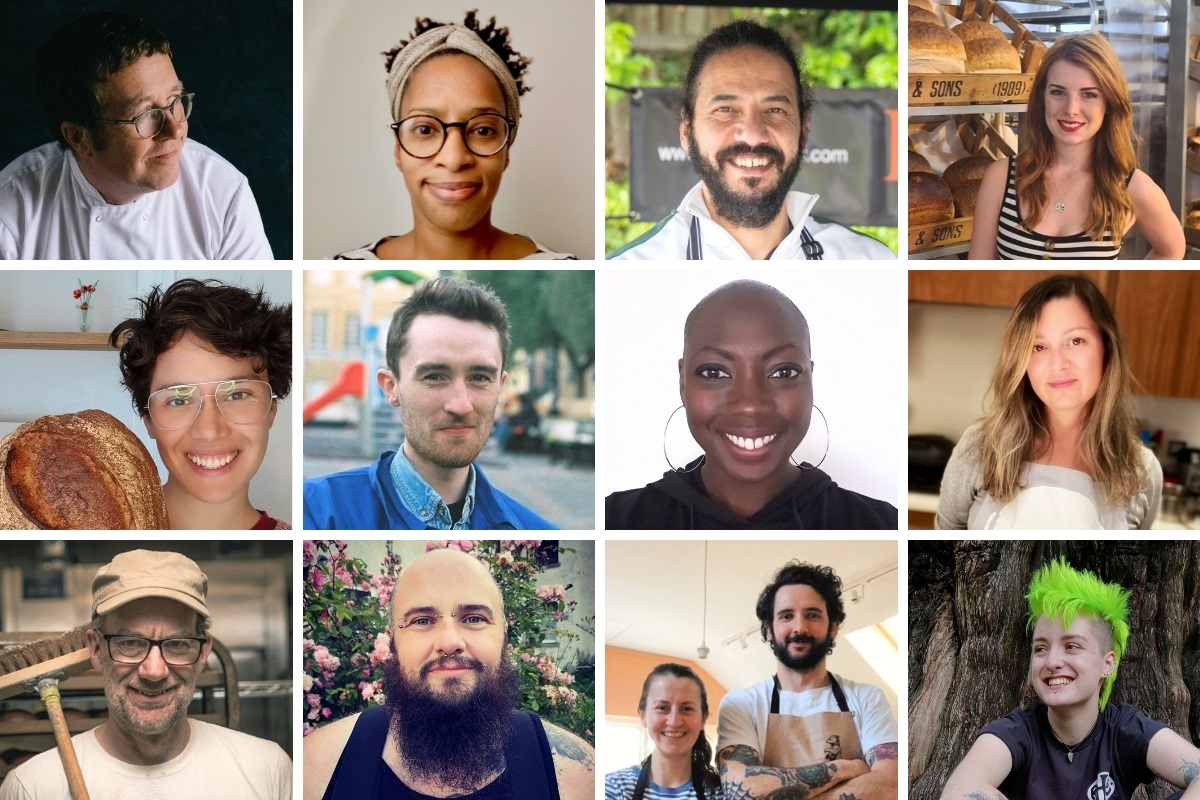 Montage © the Real Bread Campaign. Individual photo credits can be found at the bottom of this article
While all Real Bread Campaign supporters are encouraged to fly the flag for our charity's work, in July 2021 we accepted offers from this doughy dozen to be more visible and vocal champions over the next few years.
See also
Who they are
We asked each ambassador to write a brief introduction and over time we'll publish fuller profiles in True Loaf magazine and on our website.
Ilgin Beaton was born and raised in Turkey, where life revolved around wholesome, natural, home-cooked food. She is passionate about inspiring other people to make their own Real Bread. As the owner of Just Sourdough, she runs sourdough baking workshops from her home in Sevenoaks, Kent. In June 2021 she received the Bronze Award in the Enriched Sourdough category of the Scottish Bread Championships at the Royal Highland Show. www.justsourdough.com @justsourdough
Peter Cook has been a professional baker for nearly 30 years. He's the co-founder, director and head baker at Peter Cooks Bread, an award-winning wholesale bakery sharing Real Bread and pastries with the people of Herefordshire and Worcestershire. www.petercooksbread.co.uk @PeterCooksBread
Read Peter's profile
Aba Edwards-Idun is a self-taught hobbyist baker. While she always loved baking bread, it was during lockdown that she really developed a passion for sourdough. She also enjoys learning more about Real Bread from different cultures around the world. When she's not baking, Aba is a lawyer in the City of London. @quansi
Read Aba's profile
Marcia Harris is a former professional baker who specialises in natural leavens. She now teaches children about baking, food growing and cooking as part of pastoral care at a primary school in Islington, London. Marcia is also a chef tutor, teaching sustainable food practice for the National Food Service London's, Community Cooks program, and runs her own community-based bread making workshops. www.theflourunion.com @theflourunion
Read Marcia's profile
Aidan Monks got his first taste of baking from his grandfather, a baker in the heart of the Lake District, and studied at Blackpool College. Aidan later gained a scholarship at the Boston College of Culinary Arts, Massachusetts, where he rediscovered his love of Real Bread. In 2010 he co-founded Lovingly Artisan in Plumgarths in Cumbria, specialising in handcrafted, slow-fermented, traditional sourdough bread for the wholesale and service sectors. This was swiftly followed by creating a microbakery at Altrincham Market with his wife, Catherine Connor. Their numerous awards include, in 2019 alone, BIA Baker of the Year, Bakery Business Magazine's Bakery of the Year, and Olive Magazine's Best Baker. www.lovinglyartisan.com @LovinglyArtisan
Charlotte Nemeth is the co-owner of multi-award-winning Seasons Bakery in Ingleton, North Yorkshire. She says: "I'm a baker's wife and a firm believer in encouraging green bakeries. I have changed our bakery to start becoming palm oil free and we recycle 99% of our waste. I'm also a firm believer in the health benefits of Real Bread and a passionate sourdough eater – baking it is my husband's department!"
www.seasonsbakery.co.uk @mrsseasonsbakery
Dara O'hArtghaile and his wife Ciara own and run Ursa Minor Bakehouse in Ballycastle, on the North Coast of Northern Ireland. They founded their Real Bread bakery in 2014 "aiming to produce some of the best bread and pastries found on these isles." They are also members of Real Bread Ireland and part of the Économusée project, which is designed to showcase traditional crafts and help artisans tell their stories. www.ursaminorbakehouse.com @ursaminorbakehouse
Connor Rose (he/him) has been baking bread for home, community and friends since the mid-noughties. He has a real passion for social justice work and specifically the accessibility of good food. Connor says: "For me, Real Bread is one of the building blocks of restorative food justice." @queer_saints
Fen Schofield is a self-proclaimed bread-head, whose obsession with sourdough and vegan baking turned into a career. Always looking for the next way to evolve their baking, Fen is either reading, watching videos or talking nonstop about bread. They have worked in several bakeries in the south of England and currently are creating new twists on traditional recipes at Birch Bread in Pangbourne. www.birchbread.co.uk @abreadwitch
Eddy Sleiman is the founder and head baker at Ed Baker, a start-up microbakery in Hither Green, London. Eddy has always had the passion for heritage food. His travels tend to be food-destination-centric as research to help him deliver unique culinary experiences. Eddy founded Ed Baker during the lockdowns of 2020, having decided to leave his old trade as chartered marketer and pursue his passion for good food. www.iamedbaker.com @iamedbaker
Read Eddy's profile
Ben Tyler-Wray lived and worked as a chef in Lyon. He now runs Celtic Bakers' markets and can be found across London selling Soil Association certified organic sourdough and yeasted loaves. www.thecelticbakers.co.uk @celticbakers
Cindy Zurias was born and raised in Venezuela. Having taken a degree in gastronomy, she relocated to the UK to seek new challenges, working through sections and up the ranks in some of London's best Michelin-starred restaurants. A passion for sourdough drew Cindy out of kitchens and into the world of baking. In little over a year she'd risen to the position of head baker, managing one of London's largest artisan bakeries. Cindy is now a consultant in bakery management, working with some of the biggest names in artisan bread. www.26deg.com @zpcindy
The role of Real Bread Campaign ambassador
We appoint official ambassadors to wave the Real Bread Campaign flag harder and higherthan our other supporters. Our key considerations when choosing ambassadors in 2021 were:
Passion.
Communication.
Expertise, skills, knowledge.
Diversity and representation.
Passion
Each Campaign ambassador should:
Broadly share and support our beliefs, values, aims and activities.
Have the ability to inspire people.
Make the role their own, embedding it in their communication around Real Bread.
Communication
We choose people who are willing and able to:
Use whatever platform/means they have to promote Campaign activities, encouraging people to participate.
Encourage people to join us or otherwise support our charity's work.
Share knowledge about the various known and potential benefits of different ways of producing Real Bread**, making clear what is: proven fact and what deserves further investigation, be that conclusion from evidence-based research, personal experience, or belief/opinion/speculation.
Feed knowledge, observation and informed opinion back into the Campaign's work.
Ambassadors are asked to publicise the fact that they hold the position wherever and whenever possible.
*For example: Social media, traditional media interviews, writing articles, speaking at events and (if applicable) to their customers, running classes and/or demonstrations, visual media, sign language, within any community groups they belong to…
**From seed to sandwich – grain selection, growing, milling, bread making and distribution.
Expertise, skills, knowledge
Each ambassador should have knowledge, skills, expertise (or a combination of these) in one or more areas relevant to our aims and work. They will usually be experts by experience, but might also have had formal training, in areas such as: Grain research and growing, milling, home baking, health and nutrition, social or community enterprise, mental health and therapeutic baking, running a microbakery, running or working in a professional bakery.
Diversity and representation
People of every age, nationality, colour, sex, sexual orientation, gender identity, ethnic heritage, (dis)ability, neurological status, religion, social and economic background, who speak every language worldwide, enjoy Real Bread and are involved in its rise around the world. We work to help more people feel empowered to be part of this movement and welcome to join the Campaign.
While it is not possible for a small group of people to fully represent this wide diversity, we're aiming for a group of ambassadors who collectively embody a spread of the characteristics, expertise, and knowledge of the people in our existing network. Though our message (and some of our initiatives) are global, we a UK-based charity working mainly in the UK and the location of many of our ambassadors will reflect this.
We do not tolerate language or actions of a racist, sexist, homophobic, transphobic, xenophobic or other prejudiced or hateful nature by our staff members or volunteers, including our official ambassadors.
Download a more detailed document about the role.
The ambassador role is reviewed every 2-5 years. If it is decided there is a need to continue having them, the spec and appointment process is also reviewed.
---
Photo credits, left to right
Aidan Monks © Artisans & Co, Marcia Harris © Marcia Harris, Eddy Sleiman © Ed Baker, Charlotte Nemeth © Seasons Bakery, Cindy Zurias © Cindy Zurias, Ben Tyler-Wray © Eva Hodgkin, Aba Edwards-Idun © Aba Edwards-Idun, Ilgin Beaton © Just Sourdough, Peter Cook © Paul Husband, Connor Rose © Connor Rose, Ciara and Dara O'hArtghaile © Ursa Minor Bakehouse, Fen Schofield © Amie Stephenson.
Montage © the Real Bread Campaign.
Share
Get updates
Real Bread Campaign: The Real Bread Campaign finds and shares ways to make bread better for us, better for our communities and better for the planet. Whether your interest is local food, community-focussed small enterprises, honest labelling, therapeutic baking, or simply tasty toast, everyone is invited to become a Campaign supporter.
Support our charity
Your donation will help support the spread of baking skills and access to real bread.