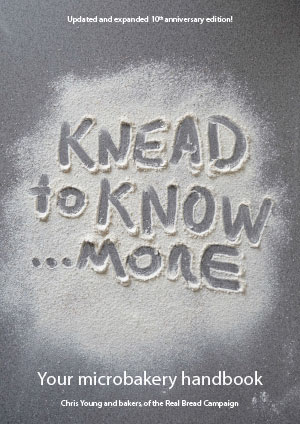 Buy now
Please ONLY order if you can provide a UK delivery address.
---
Knead to Know...more
£23.50 (including p&p). Click the 'Buy Now' button to pay by card securely via PayPal.
---
Knead to Know...more and Slow Dough: Real Bread
Buy both our books together and save 30% off the RRP!*
£37.10 (including p&p). Click the 'Buy Now' button to pay by card securely via PayPal.
---
Different address?
If you need us to send the book somewhere other than your credit/debit card billing address (eg a non-UK card or the book's a gift), after you make your order please email the delivery details to us.
Please note
We post books separately by Royal Mail second class post, usually once a week. Sadly, some take weeks, rather than days, to arrive.
Royal Mail's last recommended Christmas posting date is 18 December 2023. Our last mailout of orders received up to and including 13 December will be on 14 December. Our last mailout of 2023 will be during w/c 18 December.
"Do you want to turn your baking hobby into a microbusiness? Because if you do, you should get this book." Dame Prue Leith, author, cook and TV presenter.
See also
*30% discount offer
Buy the Real Bread Campaign's recipe book Slow Dough: Real Bread and our business handbook Knead to Know…more together for just £31.50 (+£5.60 p&p), saving a tasty £13.50 off the joint RRP!
This offer is only available on orders for UK delivery, placed through the Real Bread Campaign website, while stocks last.
It may be withdrawn at any time.
Cover price / RRP: Slow Dough = £25, Knead to Know...more = £20.
We will send the books separately by 2nd class post.
What is Knead to Know...more?
Planning, starting or expanding a bakery business? This is the guidebook for YOU!
At around twice the length of our original book, the new edition is packed with even more information and advice for Real Bread entrepreneurs.
Who's the book for?
Microbakers
Current and prospective small, independent high street bakers
Community Supported Bakers
Social entrepreneurs
Whether starting a microbakery from your own kitchen, teaming up with neighbours to establish a Community Supported Bakery, or taking the next steps as your high street's baker, this is the unique business guide is for you. The book includes notes for bakers expanding their businesses, from moving to larger premises to taking on staff members.
While mainly aimed at microbakers in the UK, the new edition includes sippets of advice specifically for readers in Australia, Canada, Ireland, New Zealand and the USA, where the original edition was also devoured.
(A publisher has agreed to make Knead to Know...more available outside the UK and as an ebook once we have sold the original print run, which we hope to do sometime in 2024.)
Sections and chapters
Starting out
Home is where the start is
Equipment
What bread should I make?
Business planning
Community Supported Baking
Ways to sell your Real Bread
Insurance
Money matters
I fought the law…
Marketing
Media relations
Scaling up your business
You're gonna need a bigger boat…
Bakery equipment
People
Bake well
This isn't a baking book, but...
Some stuff about bread making
Bakery terms and tips
Sourdough
Recipes
Within these wholesome slices are tasty titbits from genuine artisan loafmongers who run successful Real Bread bakeries of all types and sizes.
Taster
We hope this 22 page PDF will give you a flavour of what to expect from the full 250+ page feast!
(Please note that this is copyrighted material that is not for printing, publication, reproduction or distribution by any means in any medium.)
Pay it forward
The Friends In Knead pay-it-forward scheme allows you to buy a copy of the book us to pass on to someone who is serious about starting a bakery microbusiness but faces extra obstacles doing so.
Our initial partners to find homes for these copies will be Better Health Bakery and The School of Artisan Food's bursary scheme.
Once this is up and running, you'll see an 'order a pay it forward copy' button here.
I want to stock Knead to Know...more
We offer a trade discount on orders of 5 copies or more.
If you'd like to sell Knead to Know...more in your bookshop, bakery, baking/cookery school etc in the UK, please download and return this order form. We will then send you an invoice and dispatch after payment is received.
The Campaign is only staffed by one person on a part-time basis but he aims to respond within a week.
Media enquiries
For media enquiries about the book, the Campaign and Real Bread in general, please contact Knead to Know...more editor and Real Bread Campaign co-ordinator Chris Young: chris@sustainweb.org
For any non-media / general enquiries that are not answered on our jam-packed website (try the search facility), please email realbread@sustainweb.org
NB Chris is the Campaign's only staff member, working remotely on a part-time basis.
FAQs
I ordered the book but didn't receive confirmation - did you receive my order?
When you complete your order and payment, PayPal will automatically email a receipt to you. This is your order confirmation. If you did not receive it, please check your junk/spam folder.
When will my book arrive?
We send by Royal Mail 2nd class post and try to fulfil orders once a week, though are not always able to do so. If you have not received your book after three weeks, please email us.
How can I get a copy outside the UK?
We used to post things outside the UK but a number got lost or delayed. We are a small charity and decided that we couldn't justify the time/expense of resolving those issues and handling complaints from unhappy customers.
We will be working with a publisher to make Knead to Know...more available outside the UK and as an ebook once we have sold the original print run, which we anticipate will be towards the end of 2022.
I backed your crowdfunding campaign - why haven't I received the book?
On 3 and 4 November 2021, we sent copies to the crowdfunders who selected the book as a reward. If you did not receive one, it's probably because you chose to make a donation, rather than selecting a reward. You can sign to Crowdfunder to the option you chose. If you find you did select a reward, please email us - see below.
What if I still have a question about the book / my order?
Please email realbread@sustainweb.org
What people have said
"Do you want to turn your baking hobby into a microbusiness? Because if you do, you should get this book." Dame Prue Leith, author, cook and TV presenter.
"This is a remarkable book. Not only because knowhow springs from every page and transforms into practical wisdom before our eyes, but because it has been fermented by the desire to do good." Andrew Whitley, co-founder of Bread Matters, Real Bread Campaign and Scotland the Bread
"It's the definitive guide to starting a microbakery." anonymous reader
"Super-practical. Full of sage advice and heart-warming values about good bread. Wholeheartedly recommended." Chris Cundill, Rosa's Bakery Limited
"My copy of Knead to Know more has been invaluable in setting up my business." Dave Stewart, Dr. Dough
"A really useful one stop shop to invest in your business. Fresh eyes that bring perspective and new ideas that encourage us to persevere." Sara Ward, Hen Corner
"Like its predecessor, this updated edition is a handy resource for anyone thinking of setting up a microbakery." Lee Dodge, Ammonite Sourdough
"Nicely laid out, very informative and an easy read." Martin, Flour Water Salt Time
"No aspiring microbaker should be without this book!" Simon Partridge
The original edition
"There are lots of books with bread recipes in them, but only one with a bakehouse recipe." Alex Lister, Rise Artisan Bakehouse, Durham
"The most practical book for anyone thinking of starting a bakery enterprise." Emma Parkin, Emma's Bread, Exeter
"Used the first issue of this great book when we started up our cooperative bakery. It was our bible. Highly recommend!!" Sue Bailey, The Forest Bakehouse, Longhope, Gloucestershire
"Your book is brilliant!" Lucas Hollweg, Sunday Times food writer
"Starting a community bakery? This new book is indispensable kit." Joanna Blythman, investigative food journalist and writer
"Whether you fancy joining neighbours to set up a Community Supported Bakery, or want to establish your own high street artisan bakery, this book tells you what to do. As well as basic recipes, it contains wholesome advice on everything from equipment, to techniques and money matters." Clare Hargreaves, BBC Good Food Magazine 'good reads' (June 2011)
"This handbook has been written to help anyone who wants to set up a community bakery in their home, or indeed small commercial bakers who want to stop using additives and switch to making real bread." Charles Campion, London Evening Standard
"The book looks great!" Vicki Hird, Friends of The Earth
Share
Get updates
Real Bread Campaign: The Real Bread Campaign finds and shares ways to make bread better for us, better for our communities and better for the planet. Whether your interest is local food, community-focussed small enterprises, honest labelling, therapeutic baking, or simply tasty toast, everyone is invited to become a Campaign supporter.
Menu
Support our charity
Your donation will help support the spread of baking skills and access to real bread.