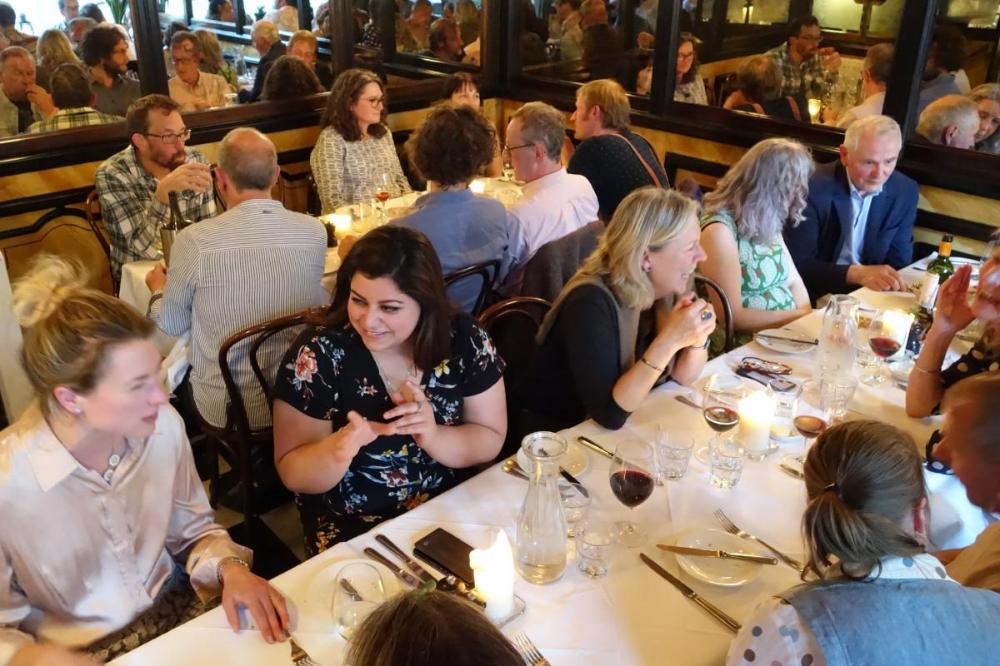 Bringing people together at BATCH: Edinburgh by Chris Young / realbreadcampaign.org CC-BY-SA 4.0
Okay, so in most cases 'changed my life' is pushing it a bit, but here are just some of the ways that people have told us they've benefitted from our work.
If you'd be happy for us to quote you here as well, please email your comment to us.
Real Bread Week
"[We] had our busiest Saturday of the year in the Bakehouse." Simon Cobb, Stoneham Bakehouse
"We had a lovely Real Bread Week! Your beautiful posters caused a stir in the village…" Lucie Steel, Birch Bread
"I enjoyed sharing my first bread with friends and family - cannot wait to spread the love of good bread. Thanks for campaigning for this." Cécile Della Torre
"The kids all had a great time and did a great job buttering and spreading!!" Melanie Nichols, More Than Grandparents
Sourdough September
"It really helped with promoting our microbakery, as we only launched six months ago, improved our confidence in baking and allowed us to meet lots of great people in person and online." Lesley Lloyd, One Mile Bakery Pontardawe, Wales
"Although I made sourdough for family and friends, I never quite got the oomph to make a batch for my bakery customers. Thanks to Sourdough September, I got up the courage to do my first batch of sourdough bread today for sale." Douglas Muir, London Road Craft Bakery
"A great way to connect local community with non-local sourdough enthusiasts." Sibyl Leon, BREAD Encounters, USA
"I've pushed Sourdough September as much as possible for our market stalls and sales have been excellent at all three events in the month. Last Hexham event sales [...] a big success. Your hard work is very much appreciated by us real bakers" Andrew Smith, Bread and Roses and Campaign ambassador, England
"I thought it was lovely. It was great to see the mosaic of selfies grow and lockdown has meant sourdough has gone from something done by (mostly weirdo) nerds like you, me and the rest, to something all sorts have at least tried." Justin McAteer, homebaker, England
"I'm really happy that there's a month where we get to celebrate Real Bread and raise awareness for what it's all about" Phoebe Baker, homebaker, England
"It's a great way of spreading the message of the Real Bread Campaign and making more bread-eaters aware of genuine sourdough." Peter Doughty-Cook, Peter Cooks Bread and Campaign ambassador, England
"We do really appreciate your great work /merchandise/info." David Hoyle, Findhorn Bakery, Scotland
"I think it is a great way to promote sourdough and helps people get in to the baking industry." Stephen Collom, The Baking Brothers, England
"I enjoyed feeling part of a bigger movement." Anna Davies, homebaker, England
Campaigning
"I've just read the BBC article on sourdough vs sourfaux. As a baker's yeast allergy sufferer, I'm on your side in your fight to protect the definition. Aside from getting ill because they don't label it properly, it wastes my time while I wait for uninformed staff to get the accurate ingredient list. I think it's really important that the definition is protected to protect allergy sufferers. Thank you, keep up the good work."
Knead to Know
"The most practical book for anyone thinking of starting a bakery enterprise." Emma Parkin, Emma's Bread, Exeter
"There are lots of books with bread recipes in them, but only one with a bakehouse recipe." Alex Lister, Rise Artisan Bakehouse, Durham
"The book was invaluable to me when I was starting Wild Bread." James Thorn, Wild Bread, Faversham
"Knead to Know was massively helpful when I started the Stoneham Bakehouse journey." Simon Cobb, Stoneham Bakehouse, Hove
"This book was a goldmine for us back in the day." Max Tobias, The Dusty Knuckle, London
"The book was biblical for my personal journey!" Jo Bottrill, Jo's Loaves, Bedfordshire
"It's just the sort of book I wish I'd had when I started out." Mark Stambler, Pagnol Boulanger, California
"Knead to Know is a regular reference and reassurance book. It provides me with advice and accounts of other bakers' experiences.."
"I keep returning to those pages to remind myself that I need a coherent message to go with what everybody says is great bread. It's just so practical having advice on all aspects of setup in one simple book."
"I have recommended it to my friends, and it has inspired me to take the huge step into baking commercially."
Events
"I think when you work (or manage) a busy bakery with deadlines, it can be hard to think outside the box and imagine how things could be different. It was interesting and helpful to hear successful bakeries giving examples of how they improved working conditions. Different perspectives on how to retain staff, increase participation of women in bakeries, abolishing night shifts and moving towards a four day working week." Anya Aseeva, co-owner, Joyce Country Bakery , Ireland
"It was really great to get so many perspectives from peers and share in challenges and successes." Gina Langley, retail product manager, Grand Central Bakery, USA
"As someone who has been baking for 50 years and lately been a bit disillusioned with what bakeries offer customers and their staff, and the industry as a whole, it was inspiring to see bakers' enthusiasm again." Barry Akins, owner, Akins Family Bakery, England
"I found this event so useful. Some great speakers. I really enjoyed listening to their stories and how they got started - very honest up front and open discussion." Tina Hawkes, owner, Eat Your Crusts, England
"The event allowed me time to think about what improvements we could make, while being inspired by much bigger bakeries than ours." Hilary Hughes, creative producer, Bread In Common, England
"A great opportunity to connect with other bakers, hear others' views and find some motivation." Siobhan Reynolds, baker, Camphill Holywood Bakery, Ireland
"Such a fantastic and inspiring event to see the bakers all around the world sharing experiences and advice with each other, keep the conversation going!" Pin, Design for Social Innovation MA graduate, UAL, England
Other / general
"The Real Bread Campaign has been an amazing resource for me since I started last year and I enjoy the feeling of being part of the baking community." Cath Lloyd Williams, The Doorstep Baker
"I joined the Real Bread Campaign as soon as it began, because it echoed my feelings about the dire state of bread in the UK at the time. The advice available, and an opportunity to meet established bakers, was second to none, inspiring me to bake my own bread at home for myself at first, then for friends. Nearly 10 years later, I now happily own and run a small commercial bakery business, supplying local shops, restaurants and regular individual customers. Yes, the Real Bread Campaign certainly changed my life, and for the better." Gareth Roberts, Amazing Grains, Olney, Bucks.
"Thanks for all you do, you're a hero. It is really very much appreciated by me, my family and colleagues." Marc Rawcliffe, Pain de Dilay, Coulonges-Sur-L'Autize, France
"[The Uprising] was an incredibly well organised event - and we've been to many that are not so well done Chris, brilliant work."
"Of course we should know what's in the bread we eat. The Real Bread Campaign's call for better labelling legislation will also help small, local bakeries to thrive." Prue Leith
"As a baker developing good gluten free bread I appreciate the companionship of good bakers and the culture of baking Real Bread."
"[I value] feeling part of a growing community or movement that is making a small, but real change in people's lives."
"[The Campaign produces] great resources to share with other like minded people."
Share
Get updates
Real Bread Campaign: The Real Bread Campaign finds and shares ways to make bread better for us, better for our communities and better for the planet. Whether your interest is local food, community-focussed small enterprises, honest labelling, therapeutic baking, or simply tasty toast, everyone is invited to become a Campaign supporter.
Support our charity
Your donation will help support the spread of baking skills and access to real bread.