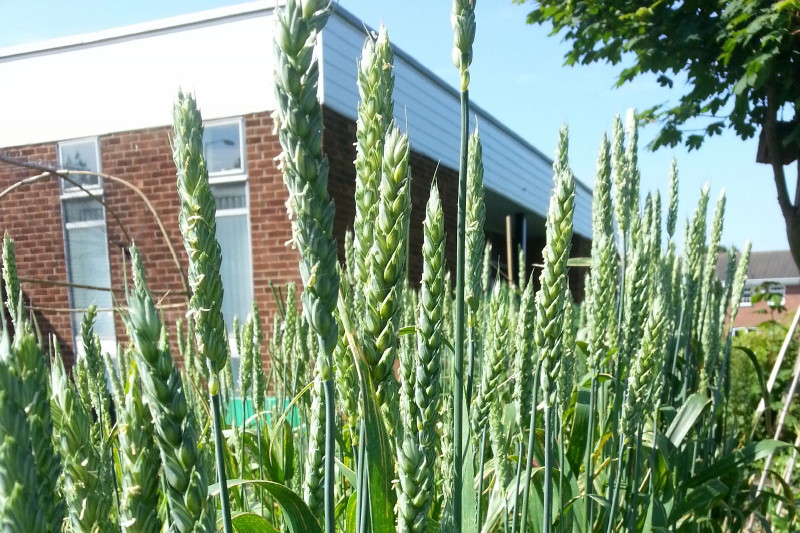 Would you like to help take kids on the Real Bread journey from seed to sandwich?
Between 2011 and 2013, we helped teachers, and people working in community youth groups, to guide children on taking a handful of organic wheat and grow it, mill it, bake it, eat it.
Read wheat diaries from people who took part.
Bake Your Lawn handbook
In July 2023, we crowdfunded the publication of a revised and expanded grow-a-loaf guide. It's due out in late 2023.
---
The guide is aimed at teachers, parents and other people who work with children who want to support them having fun in finding that Real Bread starts in a field, not a factory.
We've also included tips and pointers to further information for allotmenteers, would-be good-lifers and everyone else who wants to make getting a sandwich a bit more inspiring than a trip to the chiller cabinet at a petrol station.
'School Food Matters wants every child to understand where their food comes from. What better place to start than bread? Most children enjoy a slice or two every day and the excellent Real Bread Campaign is helping to make sure they'll be factory-free tasty slices of home-grown goodness.'

Stephanie Wood of Bake Your Lawn supporter School Food Matters.
You can plan for either the spring (late January - late-April) or winter (October and November) sowing seasons. Whichever sowing season you choose, your wheat should be ready to harvest from late July onwards, depending on the weather.
We're encouraging people around the country to organise community harvesting, milling and baking days from August.
If you'd like to help bring people together this way, you can find (and add) details of public Bake Your Lawn activities on our events page.
Everyone - download the free grassroots guide and find out how to Bake Your Lawn
Seed merchants, farmers and millers - sell (or perhaps donate, in the case of schools) small quantities of bread making wheat seed direct to the public, either locally or by mail order
Farmers (and other landowners) - invite local people to help till, rake, and sow a small plot with wheat the traditional way. Then invite them back to follow the process during the year, from weeding, through to harvest
Millers (and people with small domestic mills) - organise a community milling day in the autumn. Invite local people to bring the handfuls of wheat they've grown to put into a community grist. This can then be milled for flour to bake truly local loaves
Bakers and others with bread making skills - run lessons using the resulting flour to pass on your skills
Perhaps you could join with family, neighbours and other friends to build a communal clay/mud bread oven.
You can share ideas, and call for help or inspiration at the Real Bread Campaign Facebook page or using the #bakeyourlawn and #realbread hashtags on Twitter. Real Bread Campaign members can also chat in The Real Baker-e.
Getting wheat seeds
Sorry, after two years of distributing wheat seeds, the Campaign won't be getting any more in. Please see below for suggestions of places from which you might be able to get hold of wheat seeds.
In 2011 we had 220 enquires over the spaces of four months. Of these, around 50 ordered seeds. In 2012, we had 70 orders in just one week! Three weeks later, we'd distributed more than 280 packets of seeds to nearly 190 schools and youth groups.
2012
Organic Seed Producers kindly donated organic wheat seeds for us to distribute to schools and youth groups. Each 100g packet is enough for a plot of about 2-4 square metres, which should produce enough flour for a loaf or two.
2011
In 2011 Trevor Cope Seeds and Organic Seed Producers kindly donated packets of wheat seeds to the Real Bread Campaign, which Bakery Bits distributed for us.
We recieved enquiries from over 220 schools and community youth groups and published pictures and wheat diaries from some of those that got growing.
Where to find wheat seeds
Here are some places from which you might be able to get bread making wheat seeds. What you need to ask for is
milling wheat (rather than feed wheat) that is suitable for
bread making (rather than cakes/pastry)
If you're planting it January-April, then it needs to be spring wheat, and if you're planting from September-November, then you need winter wheat.
A flour mill If you're lucky enough to live near a traditional flour mill, you could ask if he or she would be willing to let you have a handful. They might also be able to help you with the milling bit at harvest time.
A local cereal farmer might be able to help. We don't have a list, but perhaps one taking part in Open Farm Sunday might be willing to help you with wheat seeds, and perhaps also a farm visit.
Having contacted dozens of grain/seed merchants, farms, mills and enthusiasts around the country, the following are those that have told us they will offer seed wheat in small quantities.
If you offer bread making wheat seed in small quantities (e.g. 100g for mini-plots, or 1-15kg bags for larger educational projects) either for collection or by mail order, please email the details to us and we'll add you to this list.
Other places to search
OrganicXseeds - The official UK database of organic seed availability funded by Defra and managed by the Soil Association, working in partnership with FiBL and NIAB. The website includes a list of licensed seed merchants and a list of available seed, sorted by type, e.g. spring wheat and winter wheat.
Organic Farmers and Growers - Publishes a list of organic seed suppliers.
The Plant Varieties and Seeds Gazette - Special editions include a full list of licensed seed merchants.
If you don't have a seed merchant's license (e.g. you're a farmer or miller) but would like to sell/give seeds to a school for an educational project, please click here for advice.
Supporters
The Real Bread Campaign is not the only group that understands the value of Bake Your Lawn in helping children to find out and ask questions about where their food comes from.
As well as many Real Bread bakeries and traditional mills around the country, the following organisations have been proud to support the initiative:
The 2012 launch
On Monday 23 January, Real Bread Campaign ambassador and star of Channel 4's The Fabulous Baker Brothers, Tom Herbert visited Horsley Primary School in Gloucestershire to help pupils sow wheat at the Bake Your Lawn launch.
Click here for pictures and here for a short video clip of the launch.
Awards for All
As a school or voluntray community organisation, you might be eligible for a grant from the Big Lottery, if you can prove that your wheat growing project offers one or more of the following outcomes:
People have better chances in life – with better access to training and development to improve their life skills.
Stronger communities – with more active citizens working together to tackle their problems.
Improved rural and urban environments – which communities are better able to access and enjoy.
Healthier and more active people and communities.
http://www.awardsforall.org.uk/
Capital Growth
If your wheat plot is in a London borough, accessible to the local community ( this includes school grounds) and at least 5m x 5m, you could be eligible to register as a Capital Growth community food growing space. To read details of the funding, training, competitions and other support Capital Growth can offer, click here.
More
You can find a list of other organisations that can support your wheat growing project in the Useful Books and Links chapter of our free Bake Your Lawn grassroots guide. Click here to download your copy now.
If you can't find a community milling day near you, maybe a small domestic flour mill might be an option for you. Here are some suppliers.
If you're skipping the 'grow it' bit of Bake Your Lawn, some offer grain that's ready to mill.
In 2012 the Bake Your Lawn supporters' coalition of the milling included the Brockwell Bake Association, Capital Growth, The Children's Food Campaign, Eco Schools, FACE (Farming and Countryside Education), Federation of City Farms and Community Gardens, The Food For Life Partnership, Learning Through Landscapes, The National Trust, Organic Seed Producers, The Traditional Cornmillers Guild, School Food Matters, The School Food Trust, The Society for the Protection of Ancient Buildings (Mills section), and The Soil Association.
To read about and see pictures of previous Bake Your Lawn projects, click here.
The following people and organisations are (or have previously) run small-scale wheat growing projects.
If you have posted a blog, pictures or other details about a wheat growing project, please drop us a line and we'll add a link here.
Food growing in schools report
In March 2012, Caroline Spelman MP, Secretary of State for Defra, launched the Food Growing in Schools Taskforce Report. The report highlights compelling evidence that food growing in schools helps support children achieve, builds life and employability skills, and improves their health and well-being.
The Taskforce made six key recommendations for the future to help realise the vision of every school being a food growing school.
A national campaign celebrating food growing in schools
A policy emphasis on food growing in schools
A food growing in schools online hub
Business commitments to support food growing in schools
Promotion of food growing by school leadership teams
Improved links between food growing in schools and food-related careers
Food Not Lawns - US based organisation advocating turning gardens, yards and public land into community food growing spaces.
Sowing the Future – A Swiss-based inititiative to bring communities together to sow, grow and harvest their own grain.
Share
Get updates
Real Bread Campaign: The Real Bread Campaign finds and shares ways to make bread better for us, better for our communities and better for the planet. Whether your interest is local food, community-focussed small enterprises, honest labelling, therapeutic baking, or simply tasty toast, everyone is invited to become a Campaign supporter.
Menu
Support our charity
Your donation will help support the spread of baking skills and access to real bread.