Together We Rise
The benefits of making Real Bread stretch beyond great tasting food...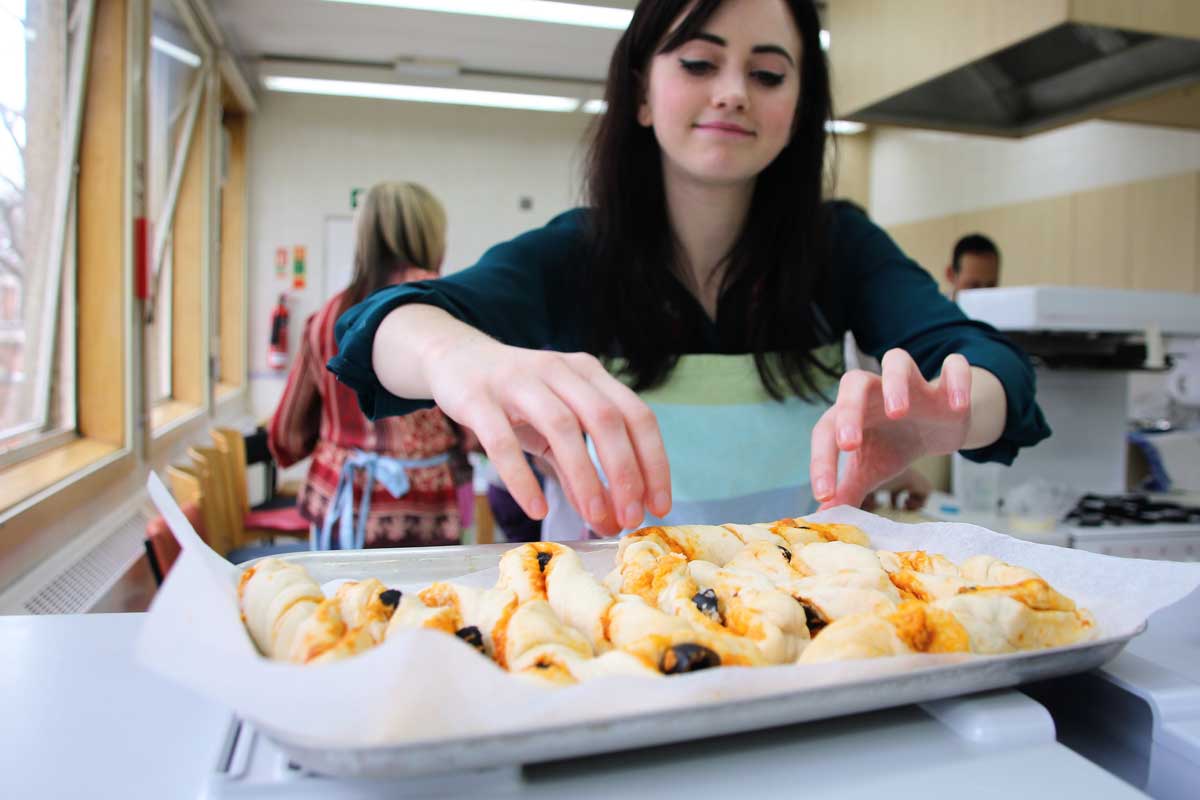 Baking Real Bread can - and does - help change people's lives.
See also:
---
Introduction
Behind nutritious and delicious Real Bread, the process of baking by hand offers therapeutic, social and employment opportunities to the people crafting it. Together We Rise is a project to ensure that these benefits are enjoyed by many more people who, for one reason or another, have a tougher time than most of us.
There are many small, local, independent enterprises and initiatives in the UK and elsewhere that help people to benefit from Real Bread making. Most, however, operate in isolation and not always with adequate recognition or support. As such their learning and success tends not to be shared widely or remains virtually unrecorded.
Based on the findings of our 2013 report Rising Up, Together We Rise aims to help turn 'islands of good practice' into a landscape where the therapeutic, employment, social and educational opportunities of making bread by hand are promoted widely and routinely made available to thousands more people facing ongoing challenges, such as living with mental health issues or learning disabilities.
Who's this for?
The inclusive nature of the Campaign means that we're working to ensure Together We Rise helps as many people as possible.
The intended main beneficiaries of our work are people living with mental health issues.
We are also hoping to help people facing challenges such as:
living with mental disability
living with physical disability
recovering from serious brain or bodily injury
facing challenges arising from getting older
finding their feet again after leaving one of the armed forces
finding their feet again as an ex-offender
recently-arrived in Britain and experiencing difficulty integrating (perhaps due to language or cultural barriers)
What we are doing
There is some great work being done around the UK and beyond involving Real Bread making.
In the current phase, we are making contact with (and would love to hear from) people running such enterprises and initiatives to share with us examples of good practice and success they've had - what funders tend to call evidence of benefit.
In the next phase, we plan to use what we learn to help create guidance and training to help more charities, not-for-profit groups, social enterprises and other organisations to include Real Bread making for the benefit of people facing the sort of challenges listed above.
Throughout the project the Campaign welcomes people running and benefitting from Real Bread enterprises and initiatives to join our mutually-supportive international network.
Companions
Last updated 2013
Organisations that use Real Bread making (or cooking or other crafts with which parallels can be drawn) in their own work with groups of people facing social exclusion that we have come across so far include:
All agreed that there is a need for our proposed work, and that it will be of use to them and their beneficiaries. They are also keen to collaborate with us on this initiative.
We continue to seek more potential collaborators, for example NHS Trusts and occupational therapists. If your social enterprise or other organisation already helps people facing social exclusion to take advantage of the benefits of Real Bread making, or is planning to do so, please drop us a line: realbread [at] sustainweb.org
Get involved
Run an enterprise / initiative that uses bread making / baking for good?
We'd love to hear and help share your story. Please use this template.
Benefitted from a social/therapeutic bread/baking enterprise / initiative?
Willing to share your story of what you've got out of bread making / baking, be that to come together with people facing in a similar tough situation to you, help you recover from injury/illness or through a period of mental ill health, or gain skills for employment or set up your own baking business when the cards life dealt were stacked against you? Drop us a line and we'll send you some questions: realbread at sustainweb dot org
Everyone
Here are some of the things that will really help the Real Bread Campaign to run Together We Rise:
Join us: right now, the only income our charity receives to run the Real Bread Campaign are annual contributions from our network of supporters. In addition to our exclusive forum and magazine, to help say 'thank you' to our supporters we continue to secure discounts and other benefits. JOIN US NOW!
Donations: This work can't run on goodwill alone - we need the dough to do it! We're always extremely grateful for whatever you can spare, whether it's £5 or £5000. MAKE A DONATION
Companions: Does your organisation use Real Bread making, cooking or other craft skills to help people in any of the ways outlined above? Would you share with us what you have learned?
Charitable trusts
Are you an employee or trustee involved with an appropriate fund we might have missed in our search? Please drop us a line: realbread [at] sustainweb.org
Other sources of income
We are always open to suggestions of other sources of income and offers of help to secure these.
NB In line with Sustain policy, the Campaign is careful not to take money from organisations that might compromise, or appear to compromise, our integrity and aims. As such, we are unable to approach profit-making organisations in the food and agriculture industry (e.g. millers or other food manufacturers) for sponsorship or large donations. We are, however, able to accept money from individuals, trusts and commercial organisations outside the food and agriculture sectors.
---
SHARE