The annual, international celebration of additive-free bread and the people behind its rise.
18 to 26 February 2023 / 17 to 25 February 2024
BAKE Real Bread BUY Real Bread BOOST our charity
Limited edition t-shirts and aprons
Each year, Balcony Shirts produces a limited run of exclusive t-shirts, aprons and mugs, making a doughnation to the Real Bread Campaign for each one sold.
See also: Year-round Real Bread gifts
What is Real Bread Week?
Created and run by the Real Bread Campaign since 2010, #RealBreadWeek is the annual, international celebration of Real Bread and the people behind its rise.
Buy, bake, boost
We run it to focus and brighten the spotlight on our key work of encouraging and helping people to:
BUY Real Bread from local, independent bakeries
BAKE their own Real Bread
We also rattle the collection tin a bit harder for Sustain, to BOOST the charity behind Real Bread Campaign.
Each year, bakeries, baking schools, mills, schools, care homes, youth and other community groups around the world bake special loaves and run classes and other activities.
Meanwhile countless people bake at home, some with their children other family members, colleagues or friends, and take to social media with photos of themselves with loaves they've baked or bought.
See also My Real Bread Week below.
My Real Bread Week
Unlike industrial loaf products, Real Bread is personal. For the Real Bread Week's 14th annual outing we're inviting YOU to shout about what makes yours particularly special, or even unique.
Perhaps it's because Real Bread and bakers from your cultural heritage are few and far between round your way.
Maybe your Real Bread is made from locally-grown, locally-milled grain, or even is the fruit of your involvement in a non-commodity grain network.
It could be that you're the only baker(y) continuing, or reviving, a type of Real Bread specific to your area that has all but died out..
If you want to chip in with a story, profile of a baker, or recipes from your own national, ethnic or cultural heritage, please drop us a line.
(Yes, the week will also still be about people who use off-the-peg flour to make types of Real Bread that are more widely available.)
Flat mates
We're striving to help break down misconceptions of what Real Bread is, and of who makes and enjoys it. While we continue to welcome and champion bakers and Real Bread of White, northern European heritage, we're working to celebrate bread and welcome bakers of other colours and cultures as well.
As part of this, we're planning to give some love to an array of flatbreads and folk who make them. If a type of flatbread is part of your culinary cultural heritage and you'd like to write about it and/or share a recipe, please drop us a line.
Seed to sandwich celebrations
Commodity flour can be crafted into Real Bread that many people find delicious. Something extra special happens, however, when plant breeders, farmers, millers, bakers and other passionate people come together to make better bred bread.
The local, non-commodity grain alliances that are sprouting up around the UK and elsewhere embody the Campaign's mission of making Real Bread that's better for us, better for our communities and better for the planet.
If you're involved in one, Real Bread Week is an ideal opportunity to raise awareness about it.
Get involved
There are plenty of ways that you (yes, YOU) can get stuck in...and maybe even raise dough for the Campaign at the same time.
Perhaps it's as simple as creating (or nominating) a special for Real Bread Week.
If you have a team, are any of the bakers from a different background to you and fancy sharing a bread from their heritage? If you go down that route, please give that baker public credit and perhaps even a bonus...
Perhaps you could organise a Real Bread:
baking class / course
pizza night
social event, bringing together friends, colleagues or neighbours to bake together; chew over what everyone made at home; or chat and eat stuff from the bakery.
See also:
Basically, as long as it's in line with the aims of Real Bread Week, whatever works for you and your business / organisation!
Add the details to our calendar
The more the merrier
Perhaps you could join forces with other Real Bread bakers or other local food/drinks producers or eateries to organise a trail, festival or feast.
How about teaming up with a local community group such as a: school or nursery, youth club, retirement home, Scouts, Guides or other youth organisation, WI, farmers' market, grain network, Slow Food group, religious community...
Make some noise!
Whatever Real Bread Week shenanigans you organise, or get involved in, please share what you do!
Tell people about it in person
Create posters using the Real Bread Week logo
Blog about it
Contact local radio, TV, websites, papers - whatever media outlets you have round your way
Post on social media. The hashtag is #RealBreadWeek and please don't forget to tag us and/or link to our website.
Campaign supporters can login to download the Real Bread Week logo and an example/template media release
Loaf's what you make it*
In part, Real Bread Week is a gift to small business owners, so please do grab this marketing opportunity to get some free publicity. You could bag yourself a feature or, at the very least, inclusion in list of best local bakeries or roundup of events.
Even if you don't feel you can do something different/extra for the week, it's worth taking the punt of reaching out to a local newspaper, radio station, influencer, magazine, website etc. to say something like: 'see the international Real Bread Week that's coming up? We're flying the flag for it on your patch.'
*or perhaps 'seize the dough'.
If you appear in, publish or spot any Real Bread Week media coverage we missed, please do send us the link or (if it's not online) a PDF, pic or scan of the article: realbread@sustainweb.org
Share your #WeAreRealBread photo
We launched #WeAreRealBread in 2019 to help encourage greater diversity and inclusion in the world of Real Bread. Social media is awash with photos of bread, so this hashtag is to celebrate the people behind the rise of Real Bread.
Buy or bake Real Bread
Post a photo on social media of yourself making, or with, it using #WeAreRealBread alongside other relevant hashtags
If you run a class or bakery team, see if they'd like to be in the photo, too. We also love to see cereal farmers and millers in action.
Remember, this hashtag is for use with pictures of people, not just bread!
Send us your photos
We'll be publishing a selection of #WeAreRealBread photos on our site, magazine and social media. If the copyright holder (often the photographer) and person/people pictured are happy for us to do so, please email it to realbread@sustainweb.org
Please remember the charity behind the hashtag!
It's great to see the worldwide popularity of Real Bread Week but the purpose and charity behind it often get left out.
Everyone is very welcome to join in but whenever you refer to Real Bread Week or use our hashtag (in print, social media or elsewhere), PLEASE do one or more of the following:

> Mention that it is run by the Real Bread Campaign
> Link to www.realbreadcampaign.org
> Tag us on social media
> Say how people can support our charity's work

We're @RealBreadCampaign on Instagram and Facebook, and @RealBread on Twitter.

***This especially applies to businesses / PRs using Real Bread Week in the social media / marketing of spreads, kitchen appliances or totally unrelated products/services. Give us props or keep yer hands off our hashtag!***
Buy Real Bread
It's time to kick the additive-laden industrial loaf habit and support YOUR neighbourhood's Real Bread bakery!
Small, independent, locally-owned bakeries help to:
Support more jobs per loaf for people in your local community - skilled, fulfilling jobs at that
Keep more money circulating in your local economy, helping to keep your high street alive
Some offer additional social benefits, from being a place where older people and those at risk of isolation can see a friendly face and stop for a chat, to those that are set up to offer training and employment opportunities for people facing one of a range of challenges.
Bake Real Bread
Seize the dough to take control of the food that you (and perhaps your family) enjoy!
Not only is making Real Bread great fun, it's also a very affordable way of avoiding the cocktail of additives that turn up in industrial loaf products. Some people find it therapeutic.
We're keen to see more children learning to make Real Bread, whether at home, nursery or in the classroom. It can also be a way of steering them towards healthier food - you'd be amazed at the number of children who 'don't like wholemeal' but love it when it was lovingly made by their own mitts.
NB Real Bread Week isn't about cakes or loaves raised with baking powder / soda, or just about sourdough bread. See our definition of Real Bread
Boost
The best way to support our charity's work is to join the Real Bread Campaign
You don't have to be a baker to join us - in fact, the majority of our supporters aren't bakers.
Rates (unchanged since 2009) start from £22.50 a year, that's the equivalent of LESS THAN £2 A MONTH.
Supporter benefits you'll get to enjoy include our exclusive True Loaf magazine; and special offers on Real Bread ingredients, equipment, baking classes and more. Read more about why and how to join us.
Make a doughnation
If you'd like to make a one-off doughnation as well as / instead of joining us, you can do so here.
Help us to raise dough
Can your business make a special donation, or collect from your customers, during the week? Maybe you could send a percentage of your total sales, or just from a Real Bread Week loaf/class.
You can send what you raise to us by debit/credit card or PayPal payment via our doughnations page
NB You can't add Gift Aid to donations you collect from other people.
We'll be publishing a roll of honour of people who donate / raise over £100. If you'd prefer your name not to appear on the list, please let us know.
How was it for you?
As a charity, we need to demonstrate that our work is wanted, needed and of benefit.
After Real Bread Week (or you've run / taken part in at least one activity) please give used your feedback about what you did and how we could make improvements for the future.
See also
Share
Get updates
Real Bread Campaign: The Real Bread Campaign finds and shares ways to make bread better for us, better for our communities and better for the planet. Whether your interest is local food, community-focussed small enterprises, honest labelling, therapeutic baking, or simply tasty toast, everyone is invited to become a Campaign supporter.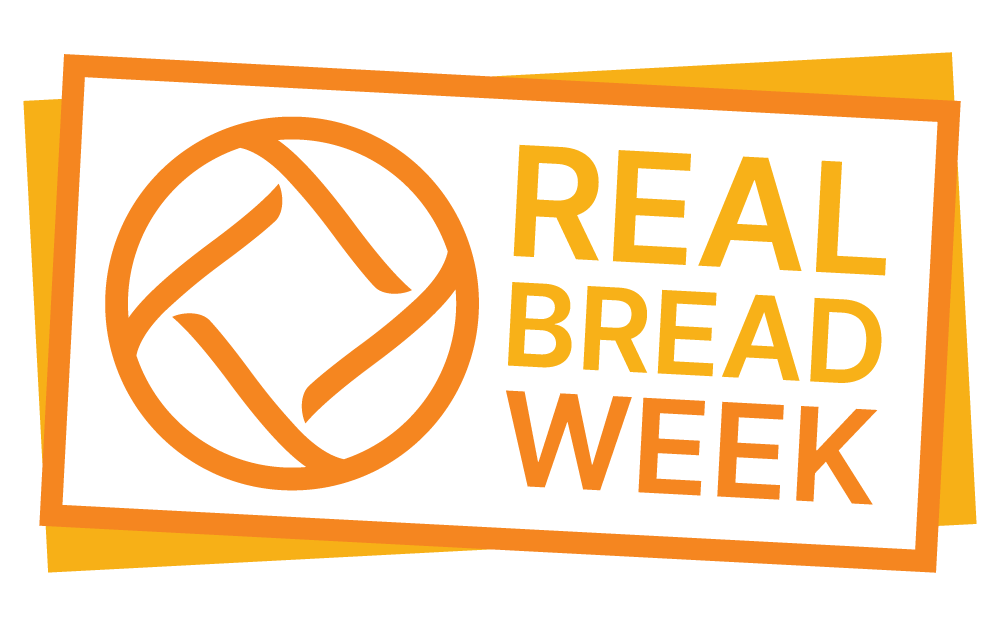 Support our charity
Support our charity
Your donation will help support the spread of baking skills and access to real bread.