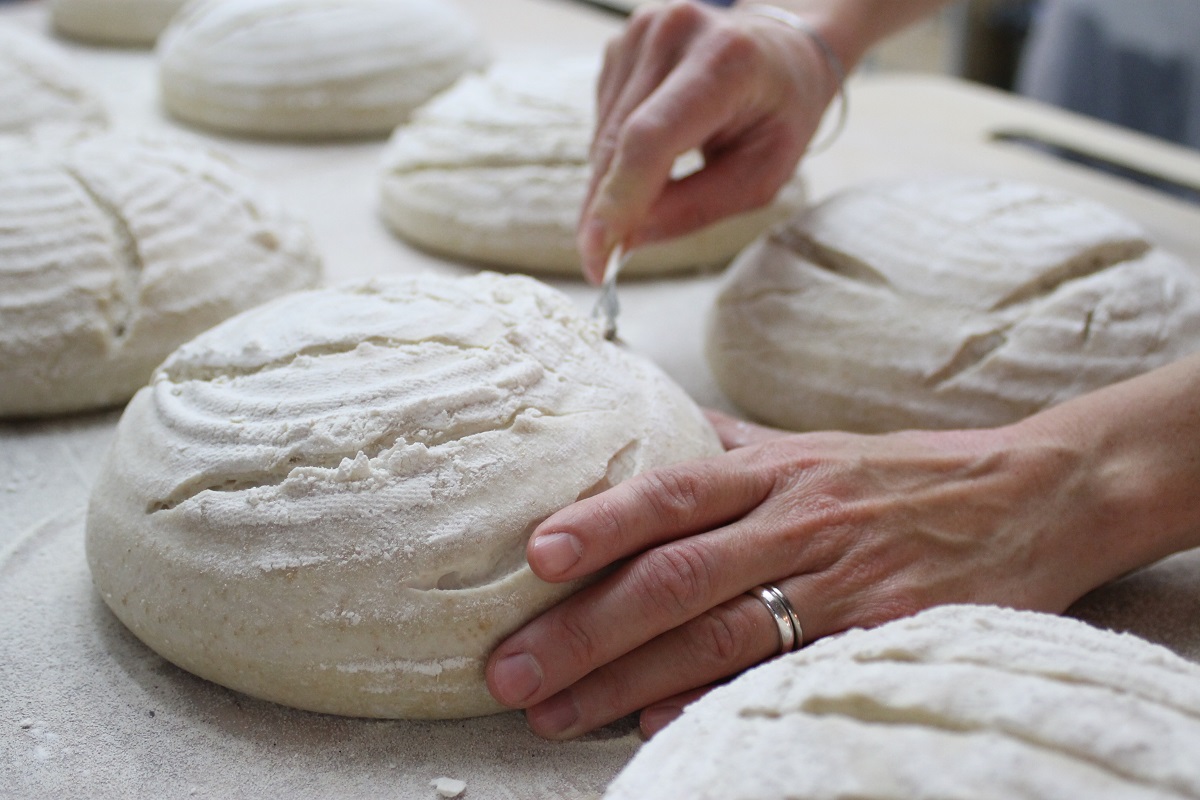 Photo by Chris Young / realbreadcampaign.org CC-BY-SA 4.0
Though we're a charity project, rather than a trade organisation, work to support bakers has always been a key element in our mission of helping everyone have the chance to choose Real Bread.
See also
---
The handbook
Following our successful crowdfunding campaign, we published the expanded and completely revised 10th anniversary edition of our micorbakery handbook in November 2021
Knead to Know....more is the guide to success in bringing Real Bread to the heart of your local community.
Across more than 250 pages, our unique manual gives you information on business models, legislation, money matters, equipment, ingredients, basic recipes, techniques, marketing and PR, courses and much more.
Whether planning, starting or expanding a micro or small bakery it's a must-have bit of kit for every budding Real Bread business person.
Advocating indie bakery businesses
Just as CAMRA's focus is on real ale, rather than pubs, ours is on Real Bread, rather than bakeries. Also in common with the organisation that helped to inspire the formation of ours, we recognise that businesses that sell the products are key to ensuring people can get hold of the good stuff. Our 'better for...' mission is also as much about the people who make and buy the bread, individually and as communities of shared interest or location.
This is a long winded way of saying that, while we don't have the same remit or work in the same way that a union, guild or trade association might, we do still do a lot of stuff in support of the Real Bread bakery sector. This includes home-based microbakeries that some trade organisations can be a bit sniffy about.
For the latest on (and history of) our work in this areas, see our news section.
If you're not currently a supporter, please do join us
Together our voice will be louder and stronger, and your dough will help ensiure our charity can continue flying the flag for Real Bread and the people who make it, while challenging obstacles to your rise.
Real Bread training
We're always interested in finding baking colleges and other organisations that provide accredited courses in baking Real Bread for a living.
In the meantime, please visit our Real Bread Map, which includes some baking schools that offer training designed for professonal bakers.
If your college/school offers courses in professional Real Bread baking, please sign-up here to create a record and add the details to our map.
The Real Baker-e
'...all the emails flying around have helped me enormously. I would like to thank each and everyone of you for joining in and helping struggling novices like myself; I feel really honoured to be part of this bread community.' Jo Bottrill, Jo's Loaves
Real Bread Campaign supporters have exclusive access to The Real Baker-e. This private Facebook group allows you to post messages, advertise job vacancies (or offer services), equipment, and chat with fellow supporters.
For access, join us today.
Labelling and other legislation
We cover a range of legislation relevant to the small independent Real Bread baker in Knead to Know...more.
NB We are unable to give further advice, so if you require any, please contact the relevant department of your local authority.
You can find more information at:
In this section:
Some basics
In the UK, what you are required to declare and how you must do so depends on whether the food is sold:
Pre-packed: sealed packaging before the customer orders/selects it and sold by a third party – eg bagged up to be sold by a local retailer.
Pre-packed for direct sale (PPDS): packed before the customer selects/orders it but on the site where it was made – eg a bakery, or at a site operated by the producer such as a farmers' market stall run by the bakery or retail outlet supplied from the bakery's central production unit.
Non-prepacked: sold loose or packed after the customer has selected/ordered it – eg a loaf dropped in a bag after being chosen from a display, or a sandwich made to order.
Pre-packed
You must display the following mandatory information on the product packaging or on a label attached to the packaging:
The name of the food (eg wholemeal bread).
The quantitative ingredients declaration (QUID) if and as needed.
A list of ingredients, emphasising any allergens.
The net weight of the food.
A best before or use by date.
Your business name and address.
The way you do so must be in line with the food law requirements that apply in your nation.
Pre-packed for direct sale
Following years of campaigning by organisations including The Allergy Alliance, the Real Bread Campaign and, notably, the family of Natasha Ednan-Laperouse, rather than being able to give the above information verbally for PPDS food, you now must declare it on a label.
The way you do so must be in line with the food law requirements that apply in your nation. If you have used 'fortified' flour (which in the UK is most flour except wholemeal) you need to declare the so-called fortificants, as listed by the miller eg: wheat flour [wheat flour, calcium carbonate, iron, niacin, thiamine].
If you choose to declare more information than legally required, you need to follow the guidelines for pre-packed food in full – ie you can't pick and choose.
Non-prepacked
In the UK, all that you are legally required to declare are the:
Name of the food (eg wholemeal bread).
Full ingredients list.
The presence of allergens (see below).
Quantitative ingredients declaration (QUID) on any product containing meat.
While legally you can do most of this verbally, we urge all bakers/retailers voluntarily to display this important information clearly at the point of sale (eg shelf tickets or prominent signage) and/or on labels applied to any bag/packaging used after product selection.
If you choose the label option, you will need to follow the rules for PPDS food. You are, however, legally permitted to give this information verbally, in which case you must display a notice inviting customers to ask for it.
See also the note on bread weights.
Distance selling
If you sell food online or by phone or mail order, customers must be able to get the full, prepacked-food information from you for free before they buy. You should provide this information on your website or in your catalogue. The law allows you to set up a freephone number for them to call but the Real Bread Campaign belives this is an unnecessary barrier to information.
Food Information Regulations
July 2021
New labelling rules for food that is pre-packed for direct sale (PPDS) come into force in October 2021.
July 2014
In 2011, the European Parliament published Regulation (EU) No. 1169/2011 on the provision of food information to consumers (EU FIC). In the UK, these are to be read in conjunction with the Food Information Regulations 2014 (FIR 2014).
The changes most likely to affect small, independent Real Bread bakeries are around non-prepacked foods and food prepacked for direct sale (eg bread sold at a bakery or by the baker at a farmers' market) on the communication of:
The name of the food
The presence of food allergens
In the case of foods prepacked for direct sale or sold non-prepacked from 13 December 2014, this information must be provided either:
On the label / bag / wrapper, or
By means of a sign at the point of sale
Details of allergens may instead be communicated verbally. See below for more details on both of these requirements.
NB More rules apply for distance selling and prepacked foods, and some rules differ.
An Honest Crust Act
The Real Bread Campaign demands the rights of shoppers be better protected by the provision of far more information than this to be made mandatory.
In the meantime, we urge all bakers, and retailers of baked goods, to give shoppers this information voluntarily.
For more on this, click here.
Name of the food
Article 17 of EU FIC requires this to be '...its legal name. In the absence of such a name, the name of the food shall be its customary name, or, if there is no customary name or the customary name is not used, a descriptive name of the food shall be provided.'
Draft guidance to the FIC/FIR published by Defra in July 2014 advises: 'A 'customary name' is a name which, over time, has come to be accepted by consumers in the UK as the name of the food without it needing further explanation. Some examples are 'fish fingers' and 'Bakewell tart'. Some names of foreign origin, such as 'muesli' and 'spaghetti' have also become customary names in the UK. A name which is customary in a particular area (e.g. an 'Essex Huffer') might not be understood on its own if it is used as the name for the same food when it is sold outside that area. Consideration will therefore need to be given as to whether or not further information describing the food needs to be provided as part of the name of the food. A descriptive name must not be misleading.'
Food allergens
There are 14 food allergens that must be declared to consumers: cereals containing gluten, crustaceans, molluscs, eggs, fish, peanuts, nuts, soybeans, milk, celery, mustard, sesame, lupin and sulphur dioxide.
The cereals are: rye, barley, oats, triticale and all types of wheat (including 'heritage' and 'ancient' types such as spelt, eincorn, emmer, khorasan/kamut) and their hybridised strains.
This can be done in print or (in the case of food sold unwrapped) verbally.
NB The use of allergen boxes on labels (eg 'may contain nuts') is no longer sufficient: each allergen must be made clear on the ingredients list, eg by writing in bold print.
Links
Find further information at:
Bread weights
On 1 October 2011, the long-standing law regulating the weight of unwrapped loaves (i.e. sold loose or in an unsealed bag/wrapper) in the UK changed.
As a result of The Weights and Measures (Specified Quantities) (Unwrapped Bread and Intoxicating Liquor) Order 2011, it is now legal to sell unwrapped bread of any weight (i.e. not just the old standard 400g or 800g loaves), provided that the weight is shown on a label, ticket or notice at point of sale.
Therefore it is now legal to sell loaves of 1kg, 500g etc. but you MUST display the weight. NB You don't need to show the weight of 400g or 800g loaves, you can simply label them as 'small' or 'large', respectively.
If selling part loaves (eg quarter, half or third, you MUST weigh each piece and advise the customer of it, either verbally or visually using a label or signage.
The Trading Standards Institute published this guide.
We have included advice on scaling weights (i.e. how much dough is needed to produce a loaf of a given weight after moisture loss during baking) in Knead to Know...more
(If you sell bread prepacked / prepacked for direct sale, you must declare the weight, even on 400g and 800g loaves)
Gluten labelling
New EU legislation of information and claims regarding gluten in all foods came into force in January 2012. The terms that can be used are:
Gluten-free = Food with 20 parts per million of gluten or less.
Very low gluten = Food with 100 parts per million of gluten or less - however, only foods with cereal ingredients that have been specially processed to remove the gluten may make a 'very low gluten' claim.
NB - Unless spelt, sourdough or any other product meets one of the criteria above, you cannot make any claims about its suitability for people avoiding gluten.
The Food Standards Agency's guidance notes go on to say:
"If food does not comply with these new rules, it cannot be described as 'gluten-free' or 'very low gluten'. But businesses could make a factual statement such as 'no gluten-containing ingredients', to let customers know that the food doesn't contain any of these ingredients. If businesses do use these factual statements it is important that they take appropriate steps to manage cross-contamination from gluten-containing foods. Businesses need to be clear that they are not suggesting the food is suitable for someone with coeliac disease."
For the notes and more information click here.
Wholemeal
The Bread and Flour Regulations 1998 state:
Restrictions on the use of the words 'wholemeal' and 'wheat germ'
1) There shall not be used in the labelling or advertising of bread, as part of the name of the bread, whether or not qualified by other words—
(a) the word 'wholemeal' unless all the flour used as an ingredient in the preparation of the bread is wholemeal;
(b) the word 'wheat germ' unless the bread has an added processed wheat germ content of not less than 10 per cent calculated on the dry matter of the bread
2) No person shall sell or advertise for sale any bread in contravention of this regulation.
i.e. you can only use the word 'wholemeal' in the name and/or any reference to a loaf if the only flour used in it is wholemeal.
Should you spot a loaf with other flour (e.g. half white, half wholemeal) named or marketed using the word 'wholemeal', it could be in breach of the regulations. Should you wish to take action, please contact your local trading stanadards office - and please let us know how you get on.
You can find official guidance notes from the Food Standards Agency here
Sourdough
Health/nutritional claims are governed by EU and national legislation. Note that no health or nutrition claims can be made legally regarding sourdough - so 'more digestible', 'healthier', 'more nutritious' etc. are all out.
Sourdough is NOT YEAST FREE! Labelling/marketing it as such could land you in trouble with trading standards. Read more here.
Organic
There are laws governing the use of the word organic. Click here for more information.
Job adverts
Looking for a Real Bread job? Run a Real Bread bakery and looking for staff?
Please visit Sustain's Roots to Work site www.rootstowork.org
We mine this for our enewsletter, Breadcrumbs, and social media posts.
Other ideas:
Campaign supporters can also find and post classifieds in The Real Baker-e forum
Anyone is welcome to post / search for Real Bread job ads on our Facebook wall or on Twitter / Instagram using the #RealBread hashtag
Try contacting a Real Bread bakery on the off chance they have a vacancy they haven't advertised
Other websites with bakery job pages (though not all will be at Real Bread bakeries) include:
Minimising food waste
Download our No Loaf Lost guide for SME bakeries.
Reduce
Obviously, you will take steps to minimise wastage, both in your ordering and production. These include:
Market research to determine probable demand for different loaves.
Looking at daily, weekly and seasonal buying patterns, and adjusting output accordingly.
Ongoing promotion of your business and products to help them sell.
Reuse
If you do find yourself with leftovers, your options include:
Can dough offcuts that are too small to be made into loaves be made into rolls to sell or perhaps even pizza bases for staff meals?
Any flour left on work surfaces, inside proving baskets etc. can be swept up, sieved and kept in a container for dusting.Bread left at the end of the day can be recycled as new products. If your bakery includes an eatery, consider adding bread and butter pudding, bruschetta, or maybe panzanella to the menu as daily specials when necessary. Otherwise, try something simple that can be taken away – e.g. dried as real breadcrumbs, fried as croutons, or made up as bread pudding or treacle tart.
Finding a local project that makes meals for those in need and that will take your leftovers.
We're working with the charity FoodCycle to encourage more bakers to ensure that any leftover loaves go to a good home. Click here for details.
Here are some more food redistribution organisations that will collect food waste and use it to feed people most in need of a decent meal.
bestbefore.org.uk
fareshare.org.uk
foodchain.org.uk
planzheroes.org
There might be others local to you. If you run a similar organisation, small or large, and would like to appear on this list please get in touch.
Recycle
This is the last resort if your attempts to prevent left over bread in the first place, or finding ways to make sure someone gets to eat it, fail.
Small amounts of flour, dough scraps from the floor and leftover slices can be composted, but be careful as too much in one go can end up as slime. Also be aware that food can encourage rats.
Excess stale bits can go to animal feed.
For larger quantities of leftover food, anaerobic digestion to produce energy might be an option - but if you're wasting this much bread you really need to sort your operations out!
See also
www.princes-trust.org.uk/need_help/enterprise_programme.aspx
Share
Get updates
Real Bread Campaign: The Real Bread Campaign finds and shares ways to make bread better for us, better for our communities and better for the planet. Whether your interest is local food, community-focussed small enterprises, honest labelling, therapeutic baking, or simply tasty toast, everyone is invited to become a Campaign supporter.
Menu
Support our charity
Your donation will help support the spread of baking skills and access to real bread.