Bakery support
Right: I want to start a Real Bread enterprise in my local community! What do I do now?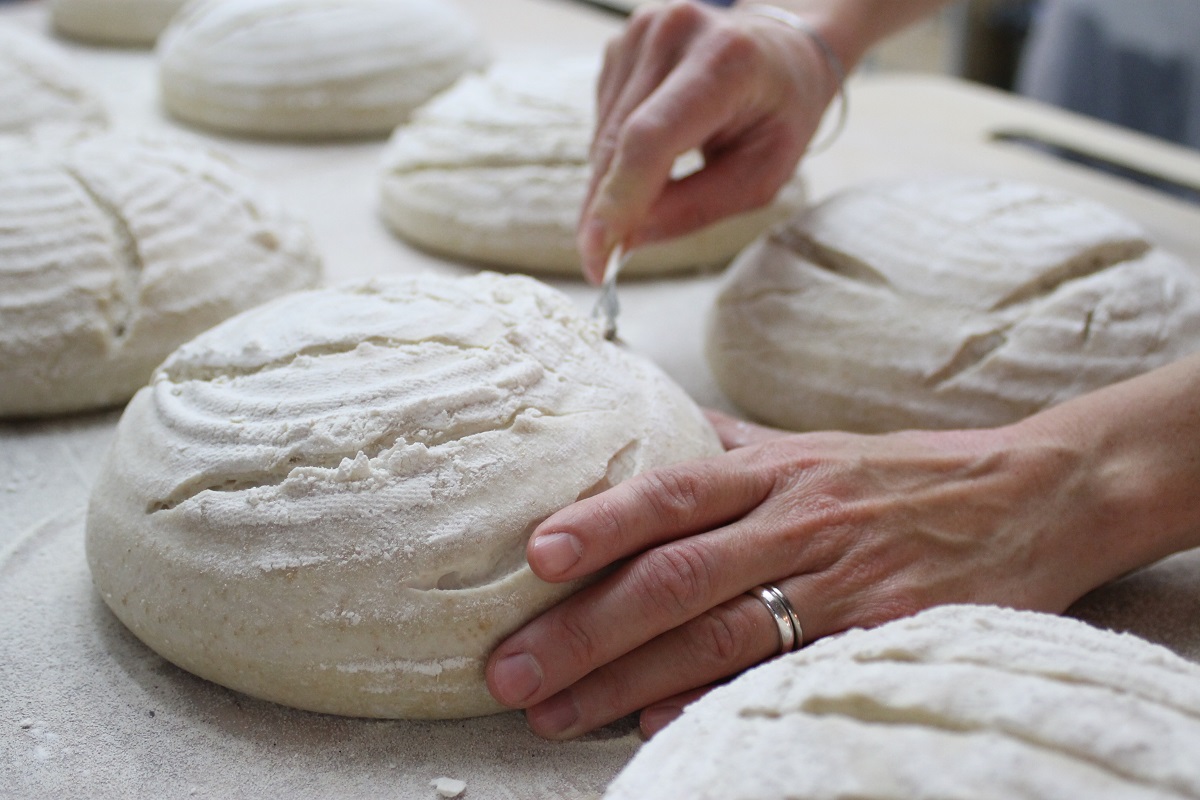 A major part of our work is supporting bakers in making Real Bread accessible to all and able to take its rightful place in sustainable local food economies of the future.
The key element of this support is Knead to Know: the Real Bread starter, the introductory guide to success in bringing Real Bread to your local community.
Over more than 140 pages, this guide gives you information on business models, legislation, money matters, equipment, ingredients, basic recipes, techniques, voluntary apprenticeships, courses, equipment and ingredient suppliers, further reading, and much more..
Find out more and order your copy
As a taster of the sort of thing you can find in Knead to know, please have a scout around this page and the rest of our site.
---
Your bakehouse
A bakehouse is the place in which the baking takes place. It is interchangeable with the word bakery, though the latter often refers to the retail as well as production area.
What is a suitable space for you depends upon the type and volume of products you'll be baking and your business model. A bakhouse doesn't have to be round the back of a high street shop. It could be:
Your home kitchen, garage, or other suitably converted domestic space
An outhouse e.g. on a farm or at a traditional mill
A unit on an industrial estate
Might there be a restaurant close to you that will let you use their ovens when they're not? e5 bakehouse and The Handmade Bread Company both went through a stage of borrowing (and later hiring) the pizza oven of Italian restaurants that were closed at lunch times. After dinner service, Fifteen London lets the baker (albeit their own) use the kitchen overnight until needed again for breakfast.
Are there other local food enterprises with which you can share space, and therefore some of the rent and overheads? Again e5 and Handmade both did this en route to setting up their own bakeries, and Emma Parkin has a bakery within the Real Food Store in Exeter
Jane Mason of virtuousbread.com also suggests:
Pubs. Pub kitchens certainly are not open in the morning and many are not open until the evening. A tame publican might even simply give you the keys and allow all your gear to be there and all deliveries to be made there.
Churches. Many church kitchens are pretty good and are only used once or twice a week. Once again (and churches love bread for obvious reasons) they may allow delivery and storage.
You can find a whole chapter on the bakehouse in Knead to Know.
We are always interested in finding baking colleges and other organisations that do or are willing to develop officially accredited courses in baking Real Bread professionally.
In the meantime, please visit our Real Bread Map, which includes some that offer professional training.
If your college does offer courses in professional Real Bread baking, we'd love to hear from you and to add your details to our courses page, so please contact us.
The Real Baker-e
'...all the emails flying around have helped me enormously. I would like to thank each and everyone of you for joining in and helping struggling novices like myself; I feel really honoured to be part of this bread community.' Jo Bottrill, Jo's Loaves
Real Bread Campaign supporters have exclusive access to The Real Baker-e. This online forum allows you to post messages, advertise job vacancies (or offer services), equipment, and chat with fellow supporters.
For access, join us today.
Labelling and other legislation
We cover much of the legislation relevant to the small indepedent Real Bread baker in Knead to Know. The following are either not in the book or have changed since its publication.
NB We are unable to give further advice, so if you require any, please contact the relevant department of your local authority.
You can find more information at:
In this section:
Real Bread Campaign notes on loaf labelling
September 2017
The Campaign has produced notes for bakeries and other loaf retailers on information that must and should be communicated to customers. Download PDF
Food Information Regulations
July 2014
In 2011, the European Parliament published Regulation (EU) No. 1169/2011 on the provision of food information to consumers (EU FIC). In the UK, these are to be read in conjunction with the Food Information Regulations 2014 (FIR 2014).
The changes most likely to affect small, independent Real Bread bakeries are around non-prepacked foods and food prepacked for direct sale (eg bread sold at a bakery or by the baker at a farmers' market) on the communication of:
The name of the food
The presence of food allergens
In the case of foods prepacked for direct sale or sold non-prepacked from 13 December 2014, this information must be provided either:
On the label / bag / wrapper, or
By means of a sign at the point of sale
Details of allergens may instead be communicated verbally. See below for more details on both of these requirements.
NB More rules apply for distance selling and prepacked foods, and some rules differ.
An Honest Crust Act
The Real Bread Campaign demands the rights of shoppers be better protected by the provision of far more information than this to be made mandatory.
In the meantime, we urge all bakers, and retailers of baked goods, to give shoppers this information voluntarily.
For more on this, click here.
Name of the food
Article 17 of EU FIC requires this to be '...its legal name. In the absence of such a name, the name of the food shall be its customary name, or, if there is no customary name or the customary name is not used, a descriptive name of the food shall be provided.'
Draft guidance to the FIC/FIR published by Defra in July 2014 advises: 'A 'customary name' is a name which, over time, has come to be accepted by consumers in the UK as the name of the food without it needing further explanation. Some examples are 'fish fingers' and 'Bakewell tart'. Some names of foreign origin, such as 'muesli' and 'spaghetti' have also become customary names in the UK. A name which is customary in a particular area (e.g. an 'Essex Huffer') might not be understood on its own if it is used as the name for the same food when it is sold outside that area. Consideration will therefore need to be given as to whether or not further information describing the food needs to be provided as part of the name of the food. A descriptive name must not be misleading.'
Food allergens
There are 14 food allergens that must be declared to consumers: cereals containing gluten, crustaceans, molluscs, eggs, fish, peanuts, nuts, soybeans, milk, celery, mustard, sesame, lupin and sulphur dioxide.
The cereals are: rye, barley, oats, triticale and all types of wheat (including 'heritage' and 'ancient' types such as spelt, eincorn, emmer, khorasan/kamut) and their hybridised strains.
This can be done in print or (in the case of food sold unwrapped) verbally.
NB The use of allergen boxes on labels (eg 'may contain nuts') is no longer sufficient: each allergen must be made clear on the ingredients list, eg by writing in bold print.
Links
Find further information at:
Bread weights
On 1 October 2011, the law regulating the weight of unwrapped bread (i.e. loaves sold at a bakery or sold in unsealed bag/wrapper) changed.
As a result of The Weights and Measures (Specified Quantities) (Unwrapped Bread and Intoxicating Liquor) Order 2011, it is now legal to sell unwrapped bread of any weight (i.e. not just 400g or 800g loaves), provided that the weight is shown a label, ticket or notice at point of sale. Therefore it is now legal to sell loaves of 1kg, 500g etc. or even bread priced by the kilo.
NB You don't need to show the weight of 400g or 800g loaves, you can simply label them as 'small' or 'large', respectively.

You can read the Order here. The Trading Standards Institute has published this guide.
We have published advice on scaling weights (i.e. how much dough is needed to produce a loaf of a given weight after the moisture loss during baking) in Knead to Know.
Gluten labelling
New EU legislation of information and claims regarding gluten in all foods came into force in January 2012. The terms that can be used are:
Gluten-free = Food with 20 parts per million of gluten or less.
Very low gluten = Food with 100 parts per million of gluten or less - however, only foods with cereal ingredients that have been specially processed to remove the gluten may make a 'very low gluten' claim.
NB - Unless spelt, sourdough or any other product meets one of the criteria above, you cannot make any claims about its suitability for people avoiding gluten.
The Food Standards Agency's guidance notes go on to say:
"If food does not comply with these new rules, it cannot be described as 'gluten-free' or 'very low gluten'. But businesses could make a factual statement such as 'no gluten-containing ingredients', to let customers know that the food doesn't contain any of these ingredients. If businesses do use these factual statements it is important that they take appropriate steps to manage cross-contamination from gluten-containing foods. Businesses need to be clear that they are not suggesting the food is suitable for someone with coeliac disease."
For the notes and more information click here.
Wholemeal
The Bread and Flour Regulations 1998 state:
Restrictions on the use of the words 'wholemeal' and 'wheat germ'
1) There shall not be used in the labelling or advertising of bread, as part of the name of the bread, whether or not qualified by other words—
(a) the word 'wholemeal' unless all the flour used as an ingredient in the preparation of the bread is wholemeal;
(b) the word 'wheat germ' unless the bread has an added processed wheat germ content of not less than 10 per cent calculated on the dry matter of the bread
2) No person shall sell or advertise for sale any bread in contravention of this regulation.
i.e. you can only use the word 'wholemeal' in the name and/or any reference to a loaf if the only flour used in it is wholemeal.
Should you spot a loaf with other flour (e.g. half white, half wholemeal) named or marketed using the word 'wholemeal', it could be in breach of the regulations. Should you wish to take action, please contact your local trading stanadards office - and please let us know how you get on.
You can find official guidance notes from the Food Standards Agency here
Sourdough
Sourdough is NOT YEAST FREE!
Labelling/marketing it as such could land you in trouble with trading standards.
Read more here.
Organic
There are laws governing the use of the word organic. Click here for more information.
Looking for a Real Bread job?
Run a Real Bread bakery and looking for staff?
Please visit Sustain's Roots to Work site, which we also mine for ads to publish in Breadcrumbs, our free monthly enewsletter.
Campaign supporters can also find and post classifieds in The Real Baker-e forum
Anyone is welcome to post Real Bread job ads on our Facebook wall or Tweet using the #realbread hashtag.
Other websites with bakery job pages (though not all will be at Real Bread bakeries) include:
If your site has a page of Real Bread making job vacancies and you would like a link to be included here, please email us.
Minimising food waste
Download our No Loaf Lost guide for SME bakeries.
Reduce
Obviously, you will take steps to minimise wastage, both in your ordering and production. These include:
Market research to determine probable demand for different loaves.
Looking at daily, weekly and seasonal buying patterns, and adjusting output accordingly.
Ongoing promotion of your business and products to help them sell.
Reuse
If you do find yourself with leftovers, your options include:
Can dough offcuts that are too small to be made into loaves be made into rolls to sell or perhaps even pizza bases for staff meals?
Any flour left on work surfaces, inside proving baskets etc. can be swept up, sieved and kept in a container for dusting.Bread left at the end of the day can be recycled as new products. If your bakery includes an eatery, consider adding bread and butter pudding, bruschetta, or maybe panzanella to the menu as daily specials when necessary. Otherwise, try something simple that can be taken away – e.g. dried as real breadcrumbs, fried as croutons, or made up as bread pudding or treacle tart.
Finding a local project that makes meals for those in need and that will take your leftovers.
We're working with the charity FoodCycle to encourage more bakers to ensure that any leftover loaves go to a good home. Click here for details.
Here are some more food redistribution organisations that will collect food waste and use it to feed people most in need of a decent meal.
bestbefore.org.uk
fareshare.org.uk
foodchain.org.uk
planzheroes.org
There might be others local to you. If you run a similar organisation, small or large, and would like to appear on this list please get in touch.
Recycle
This is the last resort if your attempts to prevent left over bread in the first place, or finding ways to make sure someone gets to eat it, fail.
Small amounts of flour, dough scraps from the floor and leftover slices can be composted, but be careful as too much in one go can end up as slime. Also be aware that food can encourage rats.
Excess stale bits can go to animal feed.
For larger quantities of leftover food, anaerobic digestion to produce energy might be an option - but if you're wasting this much bread you really need to sort your operations out!
See also
You can find more enterprise support links on our Community Supported Bakery page and general links on our companions page

Alliance and Leicester
A page of industry sector notes for those considering starting a bakery
www.alliance-leicestercommercialbank.co.uk/bizguides/full/baker/parkes-sector_trends.asp
Bakers Benevolent Society
Provides: "...welfare and care to retired members of the baking industry and allied trades, including their dependants, through its provision of sheltered accommodation and financial support."
www.bakersbenevolent.co.uk
Business Link
The government's free business advice and support service, available online and through local advisers.
www.businesslink.gov.uk
The Carbon Trust
Worried about the negative environmental impact of your bakery or mill? Want to reduce your energy consumption and consequent CO2 emissions?

The Carbon Trust offers 0% interest loans to organisations to invest in energy saving projects. For details and to see if your business qualifies, visit www.carbontrust.co.uk/cut-carbon-reduce-costs/products-services/loans/pages/loans.aspx

For a case study of how a Carbon Trust loan helped the Cavan Bakery, click here
Co-operative Enterprise Hub
'...aims to expand the co-operative economy by creating strong, ethically-led businesses with a deep sense of social responsibility. We offer a package of advice, training and finance to help new and existing co-operatives become more sustainable businesses.'
www.co-operative.coop/enterprisehub
Enterprise UK
Founded in 2004 by the British Chamber of Commerce, the Confederation of British Industry, the Institute of Directors and the Federation of Small Businesses, funded mostly by what is now called the Department for Business, Innovation & Skills. Aims to '...reach out to new people of all ages and backgrounds, fresh thinkers who spot opportunities, apply entrepreneurial talents and overcome the obstacles to make ideas happen.'
www.enterpriseuk.org
The Craft Bakers Association
Provides information, advice, training and support for its members in the craft baking sector.
www.masterbakers.co.uk/
Worshipful Company of Bakers
Alongside its other work, the Bakers' Company provides scholarships and prizes for young people in the baking industry, and endeavours to encourage them to become first-class tradesmen/women.
www.bakers.co.uk
SmallBusiness.co.uk
Site includes tips on sources of funding and grants for small businesses
www.smallbusiness.co.uk/channels/small-business-finance/government-grants/guides-and-tips/
Princes Trust Enterprise Programme
Get help to explore and test your business idea. The programme supports unemployed young people aged 18-30 to work out if their business ideas are viable and whether self-employment is right for them. Support includes business advice, mentoring and small start up funding.
www.princes-trust.org.uk/need_help/enterprise_programme.aspx
---
SHARE