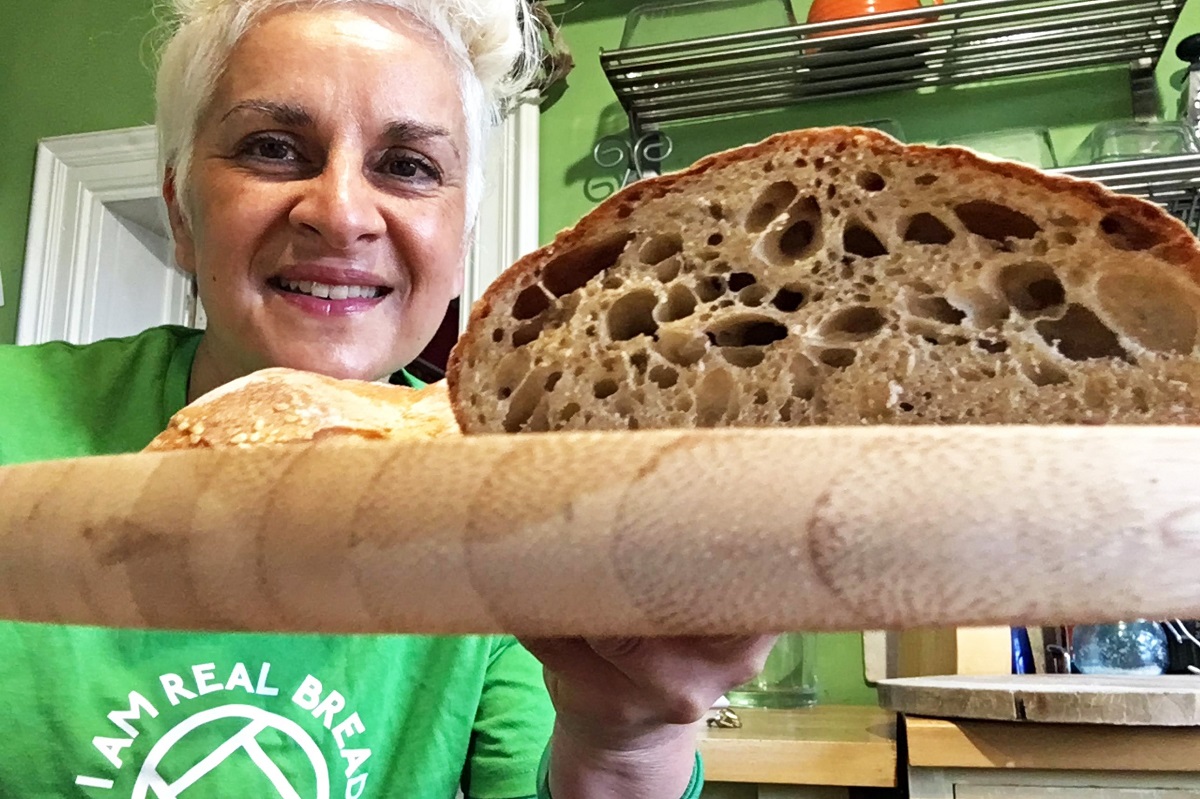 Campaign ambassador Sonya Hundal © Greenfield Bakers
Launched at the start of Real Bread Week in February 2019, #WeAreRealBread gives these often anonymous stars a chance to shine.
People power
As well as being all-natural, one of the things that sets Real Bread apart from industrial loaf fabricators' products is that it's crafted by people.
#WeAreRealBread encourages all Real Bread bakers (whether professional, semi-pro microbakers, enthusiastic amateurs, or novices giving it their first dough) to take to social media and post photos of themselves making Real Bread to help encourage more people to get baking. We'd like to see your photos that:
Make it obvious that 'I am a Real Bread baker'
Include your face (this isn't an Instagram breadporn fest)
Are tagged #WeAreRealBread
Our aim is that anyone who feels that 'Real Bread bakers aren't people like me' will see someone else who will help them to think differently and boost their belief that they too can be a brilliant bread baker.
From shaky selfies to pro photographers
In addition to the social media element of #WeAreRealBread, the Real Bread Campaign is seeking funding for a planned project involving professional photographers to help illustrate and tell more of the smorgasbord of stories of the many people in its international network.
In the meantime, if you're a professional (or enthusisatic amateur) photographer and might be game to doughnate your time and skills to snap a Real Bread baker (or two) in her/his natural habitat, please email realbread@sustainweb.org
We may be able to showcase a photo or two of yours (with your permission and appropriate credit) in places such as our website, our magazine True Loaf, our social media feeds, or perhaps when we are asked for photos of our supporters by media outlets.
In the longer term
Beyond publishing and sharing your photos as outlined above, we would love to bring some of our favourites together, perhaps in a book or exhibition.
Share
Get updates
Real Bread Campaign: The Real Bread Campaign finds and shares ways to make bread better for us, better for our communities and better for the planet. Whether your interest is local food, community-focussed small enterprises, honest labelling, therapeutic baking, or simply tasty toast, everyone is invited to become a Campaign supporter.
Support our charity
Your donation will help support the spread of baking skills and access to real bread.