Work with us
How businesses and organisations can get involved with the Real Bread Campaign.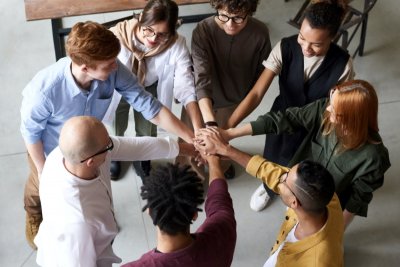 Supporter network
We welcome everyone to join the Campaign as a supporter of our charity's work. We have four supporter levels (£25-£110 per year) and encourage companies in particular to choose the highest level they feel to be appropriate.
The Real Bread Loaf Mark scheme
The Campaign created and runs The Loaf Mark scheme to help bakeries and retailers communicate to shoppers at-a-glance their own assurance that a loaf is additive free. Each year the bakery signs a useage agreement and pays an admin fee, based on annual turnover.
Advertising
We offer the opportunity to advertise goods, services etc. in our quarterly supporters' magazine, True Loaf. We also offer the opportunity to sponsor issues of True Loaf magazine and are happy to discuss packages for a whole year.
Sponsorship
In 2022, we are working with a number of not-for-profits on setting up classes/courses for current and would-be microbakery entrepreneurs, based on our Knead to Know…more handbook.
There might be the opportunity to sponsor bursary places to make these classes accessible to people on low/no income, or who otherwise are from a group/background historically under-represented in the Campaign's network and in Real Bread business ownership.
Annual initiatives
We invite everyone to run and promote Real Bread Week, Real Bread Buddies Day and Sourdough September events/activities in ways that work for them, as long as they are in line with the aims of each.
Typically, companies run baking classes, tasters / tasting sessions, feasts, discounts/offers and (in the case of Sourdough September) sourdough starter giveaways.
As part of their activities, some businesses and organisations encourage and collect doughnations for the Campaign from their customers.
Real Bread gifts
A company can advertise to customers that they will make a specific contribution to the Campaign for each of particular items sold. We promote these gifts on our website, and periodically in True Loaf magazine, via our mailing list and social media accounts.
Discounts and offers
Would you like to run a year-round discount, deal or other offer to help us to say thank you to supporters of our charity's work? We promote these offers on our website, and periodically in True Loaf magazine, via our mailing list and social media accounts.
Start your country's Real Bread network
While the Real Bread Campaign focuses on work in the UK, are you ready to connect and take action with people in your part of the world?.
Notes
The Real Bread Campaign is run by Sustain: the alliance for better food and farming. As such, all commercial relationships and sources of income have to be in line with Sustain's Ethical Funding and Advertising policies.
Real Bread Campaign policy, activity, editorial and other decisions are independent from any commercial relationships, none of which confers, or can be presented as, accreditation or endorsement by the Real Bread Campaign.
We do not promote one Real Bread bakery, baking school etc. as 'better than' or preferable to any other.
---
SHARE