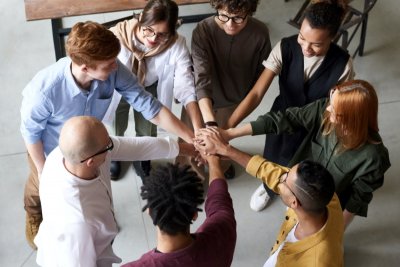 Teamwork. Credit: Pexels license
How businesses, organisations and everyone else can support and get (more) involved with the Real Bread Campaign.
Join us!
We welcome everyone to join the Campaign as a supporter of our charity's work. You don't have to be a baker!
We have four supporter levels and encourage you (companies in particular) to choose the highest level that you feel is appropriate and that you can afford.
Sign up to The Real Bread Loaf Mark scheme
The Campaign created and runs The Loaf Mark scheme to help bakeries and retailers give shoppers their own at-a-glance assurance that a product is additive free.
Make a doughnation
Fancy chipping in every now and then or as a one off? Please click on the button below. You have the option of making a general donation or contributing to our Untold Stories Fund.
Spread the word
Once you've become a Campaign supporter (see above) please don't keep it to yourself! Please make some noise about what the Campaign does, why and how, by whatever means you have, encouraging people to join us as well. Talk to people, post on social media, get in touch with local media contacts...
Customers, family, friends, neighbours, other folk in a community group you're part of - there are potential Campaign supporters everywhere!
If you run a bakery, mill, baking school, shop or other permanent space that people visit, do you have somewhere you can display our 'join the Real Bread Campaign' postcards for people to grab?
Run an initiative
What are you doing, or could you do, in the name of the Campaign? Possibilities include a Real Bread For All affordability scheme; No Loaf Lost surplus reduction; a local/regional Real Bread / non-commodity grain network; a social enterprise, co-op or CIC; therapeutic/mindful breadmaking sessions...
Advertise
We offer the opportunity to advertise goods, services etc. in our quarterly supporters' magazine, True Loaf. We also offer the opportunity to sponsor issues of True Loaf magazine and are happy to discuss packages for a whole year.
Grab the mic
We have a platform and you're welcome on it. Let us help you tell your story, share your knowledge, air your views! We reach tens of thousands of people worldwide via our website, magazine and social media accounts, and many more thanks to our ongoing media work. We can help YOU been heard and seen through these channels.
Post or find Real Bread jobs
Our vision of everyone having the chance to choose Real Bread largely relies on having enough professional bakers to fulfil the demand we're helping to create. The place to find and advertise the roles in the UK is Sustain's FREE good food jobs site Roots to Work.
Sponsor something
There might be the opportunity to sponsor bursary places in classes or at events to make them accessible to people on low/no income, or who otherwise are from a group/background historically under-represented in the Campaign's network and in the wider world of Real Bread.
Benefit from our annual initiatives
We invite everyone to run and promote Real Bread Week and Sourdough September events/activities in line with the aims of each in whatever ways work for you and (if applicable) your business/organisation.
Typically, companies run baking classes, tasters / tasting sessions, feasts, discounts/offers and (in the case of Sourdough September) sourdough starter giveaways.
As part of their activities, some businesses and organisations encourage and collect doughnations for the Campaign from their customers.
Buy our books
You learn stuff, our charity get some cash win, win! Our two books are the recipe collection Slow Dough: Real Bread and our microbakery handbook Knead to Know...more.
Get yourself some free promotion
If you make Real Bread, run Real Bread classes, sell flour from an independent mill or baking equipment, you can add the details to our Real Bread Map. You're also welcome to add time-specific events (eg a particular baking class, or appearance at a food festival) to our calendar.
Sell Real Bread gifts
Could your company make a payment to the Campaign for each of particular items you sell? We promote these gifts on our website, and periodically in True Loaf magazine, via our mailing list and social media accounts.
Create an offer for Campaign supporters
Would you like to run a year-round discount, deal or other offer to help us to say thank you to supporters of our charity's work? We promote these offers on our website, and periodically in True Loaf magazine, via our mailing list and social media accounts.
Legacies
Could you leave a gift to the Campaign in your will?
Participate
From time to time, we run:
E-actions to put pressure on politicians.
Surveys to invite people to help shape our work.
Letter writing campaigns.
Online and in-person events.
Be the first to know about how you can get involved in these - and more - by joining the Campaign (see above) or at least signing up to our free mailing list.
Be a local champion
Do you want to help bring together people in your area who are behind the rise of Real Bread? Might you be able to organise and/or host events? Are you in a position to encourage people to join the Campaign? Could you be a contact for local media interviews?
Start your country's Real Bread network
While the Real Bread Campaign focuses on work in the UK, are you ready to connect and take action with people in your part of the world?
Notes
The Real Bread Campaign is run by Sustain: the alliance for better food and farming. As such, all commercial relationships and sources of income have to be in line with Sustain's Ethical Funding and Advertising policies.
Real Bread Campaign policy, activity, editorial and other decisions are independent from any commercial relationships. While we aim to give credit where it's due, getting involved in any of the above won't necessarily result in editorial or other promotion.
Rather than members, we have supporters and none of the above confers, or can be presented as, accreditation or endorsement by the Real Bread Campaign.
Share
Get updates
Real Bread Campaign: The Real Bread Campaign finds and shares ways to make bread better for us, better for our communities and better for the planet. Whether your interest is local food, community-focussed small enterprises, honest labelling, therapeutic baking, or simply tasty toast, everyone is invited to become a Campaign supporter.
Menu
Support our charity
Your donation will help support the spread of baking skills and access to real bread.