Danny McCubbin is the UK ambassador for San Patrignano, a community offering rehabilitation to people recovering from addiction, which has trained more than 1,500 bakers.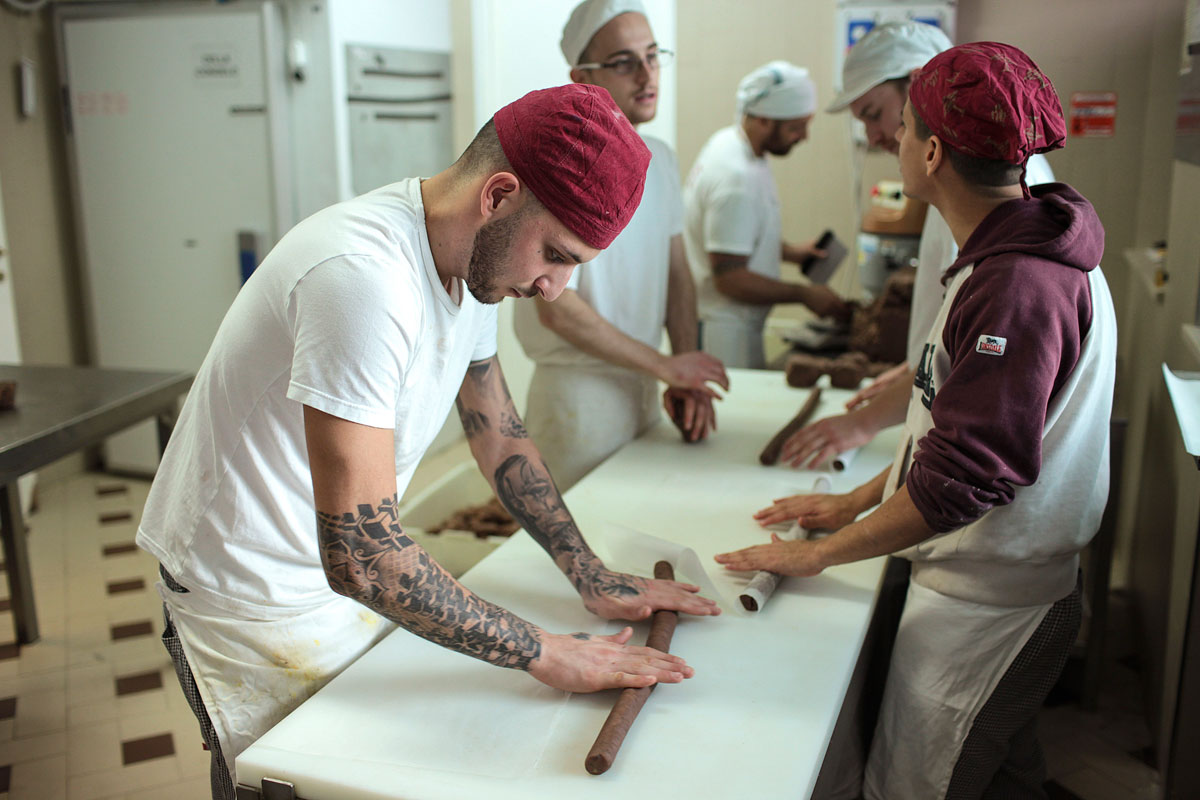 Photo © San Patrignano
San Patrignano is a drug rehabilitation community near Rimini in Italy, founded by local resident Vincenzo Muccioli in 1978. It welcomes people from Italy and around the world who have been suffering from the effects of substance abuse. Over the past 40 years, more than 30,000 people have completed the programme and walked out of the community drug-free.
'They sell over 35,000 of their legendary panettone'
It is run as a social enterprise, which doesn't rely on state funding and is completely free for residents to attend. In return, they all contribute to its running and make products that are sold to help sustain the community. This includes the bakery, established in 2004, which now trains 80 residents a year to proudly produce some of the best baked goods in Italy. At Christmas they sell over 35,000 of their legendary panettone, which is stocked at prestigious shops including Fortnum and Mason.
A social solution
Vincenzo owned a small farm near Rimini and together with a group of friends he started to invite local homeless people, many of whom were suffering from the effects of substance abuse, to come and live and work on the farm. What Vincenzo discovered was that giving them good food, shelter and a purpose had a very positive effect and that they no longer wanted to destroy their lives by taking drugs.
The San Patrignano programme has a success rate of 72%, an extraordinary result that can be attributed to their belief in a social, rather than medical, solution to addiction. Residents are not considered as patients or clients. Instead they become a part of a large, thriving community of people dedicated to helping each other to become drug-free for life.
New ways of living
There are currently over 1,500 residents living on the community's picturesque 250 hectare farm. Everything is provided, giving people the opportunity to focus on themselves and the challenges that they have had in life. This doesn't mean it's a holiday camp or quick fix, though. Residents stay in the community for a minimum of three years and there are strict rules to follow. During their stay, residents share a room with 15 to 20 others and have to work hard.
'Over 1,500 have been trained in the bakery'
Some people can find this very challenging but, whereas they may have turned to drugs to help them cope in the outside world, being in the community forces them to learn new ways of living and new ways of coping with extreme emotions.
Back to bakery
One of the most important steps that every resident takes is to learn a new skill that will prepare them for life after the programme. There are 52 different skills that they can learn, from plumbing to making wallpaper. San Patrignano has two award-winning restaurants that offer chef, waiter and sommelier training, while serving breakfast, lunch and dinner to 1,500 residents every day.
Then there's the bakery, which offers professional training to residents. Over 1,500 have been trained in the bakery and left the community with a skill for life, with many graduating to work in restaurants and bakeries all over the world.
The team is led by Giuliano Pediconi, a master in the art of natural bread making, who has helped the San Patrignano bakers nurture Attila, their sourdough starter. Their most popular breads include rye and walnut, oat and raisin, Kamut, Tuscan-style unsalted loaves, tomato and ricotta, split wheat and a Pugliese-style focaccia. They also craft hand-rolled grissini, flavoured with sage and San Patrignano's 9-month matured pecorino cheese. On the sweet side are tarts, spelt and chocolate biscuits, chamomile biscuits, and red wine biscuits made using Aulente Rosso Sangiovese San Patrignano.
A few years ago it was my honour to take my friend Marcelo Martins, head baker at The Little Pedlar in London, to San Patrignano. "The three days I spent in San Patrignano opened a whole new world of understanding of what natural fermentation is all about!" he said afterwards. "I specifically was there to learn one thing and that was how to make panettone. Little did I know that when you work with lievito madre [a sourdough starter] you learn more than just how to make panettone because your understanding of enriched doughs expands to a whole new level. If you don't have a passion for it there will be no panettone and that is that!" Being able to bake something that rises five times its initial size using all-natural processes - no cheating, no hiding - is very fulfilling."
Magical place
I first visited the community over seven years ago, since when I have set up the UK San Patrignano Association, which helps people from the UK to enter the community. We also assist residents who have completed the programme to come to live and work in the UK. To date, the Association has helped 13 people from the UK to join the programme, and 27 graduates to come and live and work in the UK. The story of San Patrignano is a great one and it has been a pleasure to volunteer for this magical place.
---
Originally published in True Loaf magazine issue 39, April 2019
Published 20 May 2019
Real Bread Campaign: The Real Bread Campaign finds and shares ways to make bread better for us, better for our communities and better for the planet. Whether your interest is local food, community-focussed small enterprises, honest labelling, therapeutic baking, or simply tasty toast, everyone is invited to become a Campaign supporter.
Support our charity
Your donation will help support the spread of baking skills and access to real bread.