Proof Bakery is a sourdough-powered community interest company in Coventry, England, which creates training and employment opportunities for refugee women. Its founder, Chernise Neo, tells us the story so far.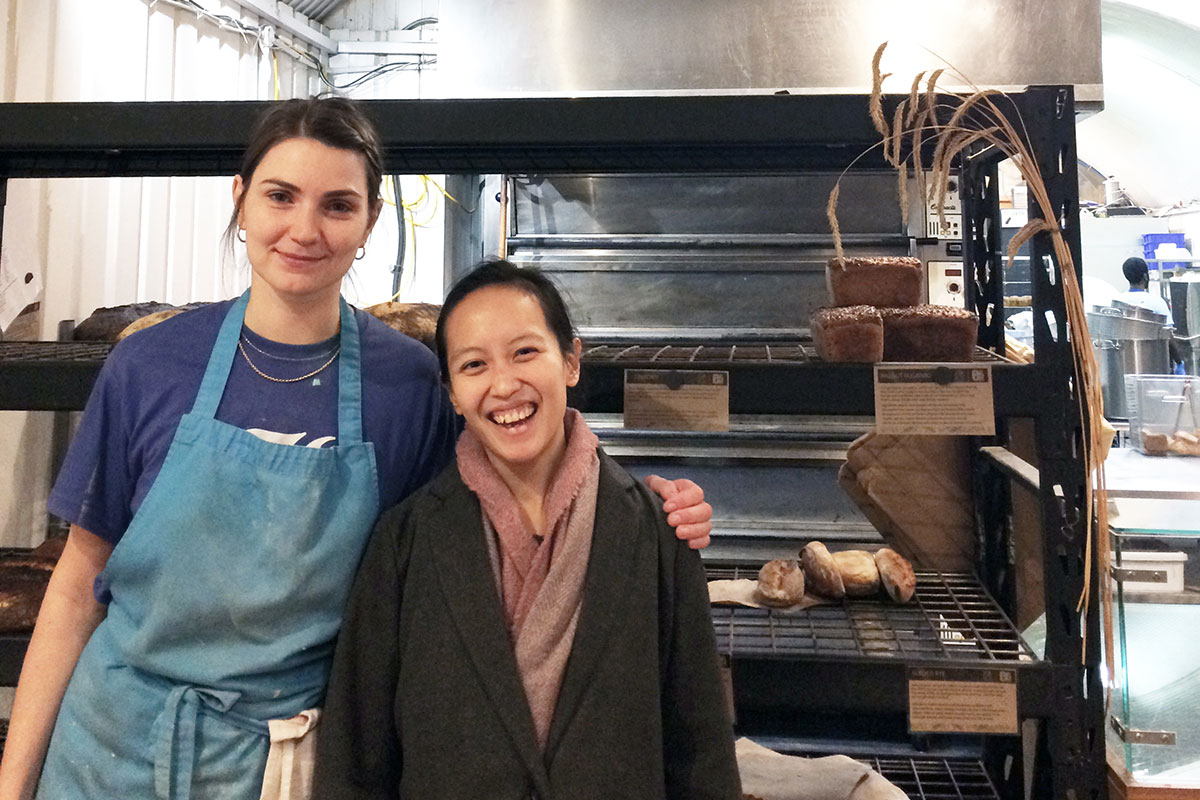 Lizzie Parle from E5 Bakehouse with Chernise Neo © Chernise Neo
I'm with a friend on the doorstep of an unfamiliar house, knocking. The front door is blue, paint peeling. No one answers. Eventually I push the door, it opens and we step in, looking around. It's December 2017, and the house is cold. We walk down a long, dim corridor and come into the kitchen, a warmly-lit, big space. Karen, the cooking class facilitator, greets us with a cheery hello and the scent of spices lingers in the air. We're here to teach a bread-making workshop to refugees at this supported housing project in my city, Coventry.
We set out recipe sheets, a proving basket, bowls, pastry scrapers, kitchen scales, ingredients and a dough I made to bake later. One headscarf-clad woman appears, and then another. Then a mother and daughter, smiling nervously. Before long we are reading and translating the recipe together, weighing and mixing dough, showing each other how we would do this in our countries. One woman can barely speak English, but when I show her my proving basket, her eyes light up. She says something in Arabic to her friend, who translates: "I had this basket in my kitchen in Syria."
Terrific bakers
That moment, indeed that whole day, tugged at my heart through Christmas that year. I'd been learning to make sourdough for years, taking classes, doing a placement in Glasgow, and baking and eating many loaves – some terrible, others delicious. I was also looking to hand on the consultancy I'd started and to find a new challenge. I had heard of artisanal bakeries starting up through loaf subscription schemes before, and had seen news clips of the Syrian war and lifeboats sinking in the Mediterranean. But now I had discovered that women who have experienced these scenes are here, in Britain, and that some of them are terrific bakers. I had met them and mixed dough with them, and that set the wheels whirring.
'That whole day, tugged at my heart'
Early in January 2018 I started pushing on new doors. A message about Feeding the City, a food social enterprise incubator, appeared in my inbox a day before their application deadline. Ours somehow squeaked through and we received £5,500 that covered our start-up costs, lots of training, and six other teams to journey with. At their training weekend that February, we decided to run baker training pilot programme to see if any refugee women would actually attend, and see if anyone would sign up to a subscription scheme to buy their loaves.
Feisty lady vicar
After three false starts and tons of encouragement from Feeding the City to persevere, we found a little kitchen at St Catherine's Church, led by a feisty lady vicar. Two women signed up to learn to make sourdough bread with us on a six-week pilot, and – shock – by the end of that time we were selling 34 loaves a week, when we had aimed to sell 20. Perhaps we shouldn't have been quite so surprised – Coventry is hardly over-run with sourdough bakeries!
Feeling buoyed, we spent two months fitting out the St Catherine's kitchen and speaking to referral agencies. In July 2018 our first full 10-week training programme for six women launched, and Proof Bakery has made and sold loaves weekly since September. As of March 2019, besides 86 loaf subscriptions, we make focaccia, cakes and biscuits inspired by our bakers' Middle Eastern roots. We supply two wholesale customers, teach sourdough classes, and are training a second group. We have taken on two bakers from our first batch, both Syrian war widows with children, to join our trainer Ruth and me. One of them dreams of opening a restaurant someday, but meanwhile they are learning to drive, to become more independent.
Rising to challenges
Our biggest challenge in the kitchen is consistency. Sourdough is a living thing that needs thought and care to thrive. After a disaster in August, when our loaves emerged from the oven as flat little bricks, we invited our mentor Lizzie Parle, head baker at London's E5 Bakehouse, who Feeding the City had found via the Real Bread Campaign, to visit for a day. She very generously gave us a crash course in temperature control, the care and feeding of a starter, and various tests of dough development – I will forever be grateful to her.
'Sourdough is a living thing that needs thought and care'
Outside the kitchen, another challenge is to understand the lives of the women, to offer relevant, appropriate training in a changing context. For example, our first group of trainees had school-aged children, so keeping training hours to between school runs worked well. Since then, we have had enquiries from women with preschoolers and so are now aiming to run a crèche.
Starting a sourdough bakery with refugees is a rollercoaster ride, one that I wouldn't trade for anything. Our goal this year is to break even in Coventry, and we hope in future to start Proof Bakery in other cities too.
---
Originally published in True Loaf magazine issue 39, April 2019
Published 3 Jun 2019
Real Bread Campaign: The Real Bread Campaign finds and shares ways to make bread better for us, better for our communities and better for the planet. Whether your interest is local food, community-focussed small enterprises, honest labelling, therapeutic baking, or simply tasty toast, everyone is invited to become a Campaign supporter.
Support our charity
Your donation will help support the spread of baking skills and access to real bread.