As part of the Campaign's Together We Rise initiative, Chris Young visited The Luminary Bakery, a social enterprise that offers employability and entrepreneurship training to women facing social and economic disadvantage.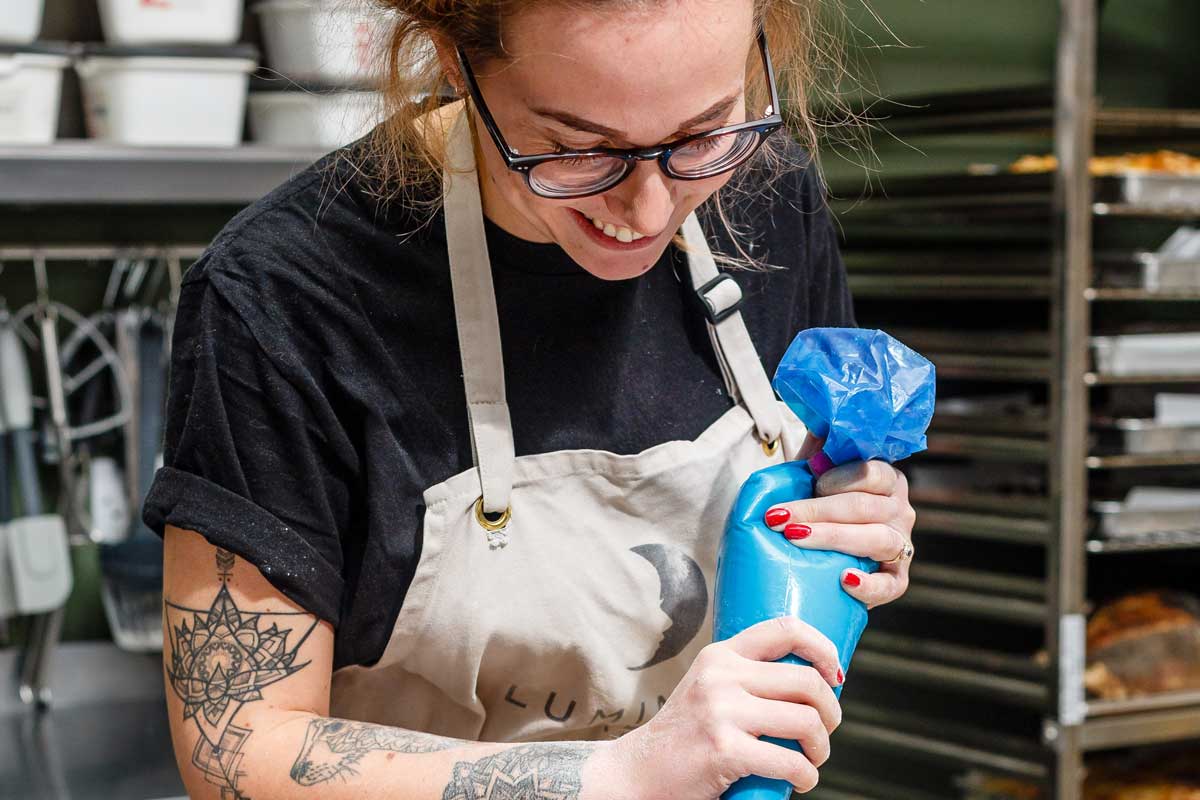 Alice Williams © Miles Willis www.mileswillis.co.uk
The Luminary Bakery was founded in 2013 by Alice Williams, who worked at the Kahaila charity café in east London. Working at Kahaila, Alice came into contact with women living through challenges including homelessness, sleeping rough and histories of substance misuse, domestic violence and working in the sex industry.
Alice told me that she found services available to the women included housing and drug support, but "not much about becoming independent, going from chaotic lives to become more settled and moving on." Seeing an ever-growing café culture in London, she knew that the demand for high-quality bread, cakes and pastries was also increasing, which aligned with her own passion for baking.
From soup kitchen to Stokey
The nascent Luminary team began baking one day a week in the well-equipped soup kitchen of a local church, though Alice and co had just one cupboard and one freezer draw for their things. "We carted ingredients from a supermarket by public transport as we couldn't afford delivery." At the same time, they began running baking classes with women at a hostel near Brick Lane.
The Luminary Bakery opened its own café in Stoke Newington, "quite an eclectic area, quite socially aware", in May 2017. Alice said they soon had "lots of regulars. We have lots of mums as customers, a good point of reference for our trainees who are mums."
Baking and business skills
The café kitchen is equipped with two Rational ovens, in which trainees mainly bake cakes, traybakes, scones and soda loaves, as well as Real Bread rolls and focaccia. The baking classes have evolved into a one-day-a-week, six month baking and entrepreneurship skills training programme. Alice says that this "feels the right length, allowing the team and trainees to get to know each other." The starting point for the programme was asking "what does a professional baker look like?" They then designed training to move women towards this end point.
"The starting point was asking what does a professional baker look like?"
The programme is divided into six month-long sections: The modules cover: tray bakes and confidence building; cakes and food hygiene; bread and food hygiene; pastry and life skills/personal development; alternative baking and life skills; market research and graduation. One trainee per group goes on to a paid apprenticeship in the bakery, one can work in the café and three more on the bakery's stall at Borough Market.
Challenges and support
For Luminary, the struggles are usually related to doing everything on a shoestring budget. Alice says: "Having limited staffing and resources can make every day tiring but hugely worth it."
In 2016, the team raised £16,000 through crowdfunding. They have also received a three-year grant from Comic Relief and support from The Barleycorn Trust, The Brooks Foundation, CriSeren Foundation, and The Clothworkers Trust among others, along with generous individual supporters.
Next steps
Alice told me that they were looking for a suitable site for a second café, where they could build a bespoke training facility. It would also have "space to provide childcare, which isn't readily available during night time and early morning bakers' hours." Growth of the business and greater profitability will mean reduced reliance on funding and allow more trainees to be taken on as apprentices.
They will also bake their own sourdough, which they were buying "from the brilliant Dusty Knuckle," because "that's what everyone wants."
Proof of the pudding
By the time I visited, forty five women had taken the full course, including two who had also taken the optional enterprise course. One alumna had gone on to help teach new trainees, while another had started her own Nigerian-style cake making and decorating business and classes. Luminary reports that 88% of trainees go onto employment, further training or starting a business.
Trainees self-assess their workplace skills, holistic development, mental and physical health and have reported growth in many other areas. The average reported improvements included a 143% increase in emotional and mental health. "The women's significant growth provides them with the tools they need to live safer more independent lives," said Alice.
"The bakery is my happy place"
Perhaps the best indication of Luminary's success is the feedback from its alumni: "Luminary's the best thing that could've happened to me, it gave me hope in humanity again," said one. Another told the team: "every time I leave Luminary, I feel proud of myself for whatever it is I have just baked. I take my bakes home and my family fight over having some and praise me after which makes me feel great. This has taught me that I have a talent and can do anything if I put my mind to it. I have found the baking to be very relaxing and therapeutic for me and helps me to believe that I can do something well." Another simply said: "the bakery is my happy place. It's a respite from the world outside."
Lessons learned

Get the business side of a social enterprise up and running first before starting your social mission.

Manage the business and social purpose interest separately, appointing a champion for each so that both get equal weight in decisions.

Do everything on the same site, so trainees can see the business running, get used to a professional environment and interact with customers.

Most of the pastoral work actually happens in the bakery. The people who know most about what's going on in the apprentices' lives are their colleagues who work alongside them every day.
---
Together We Rise
The Real Bread Campaign would love to hear from others creating therapeutic, social and employment baking opportunities for people having a tougher time than most of us. Please email realbread@sustainweb.org
---
Originally published in True Loaf magazine issue 35, April 2018
Published 8 Mar 2019
Real Bread Campaign: The Real Bread Campaign finds and shares ways to make bread better for us, better for our communities and better for the planet. Whether your interest is local food, community-focussed small enterprises, honest labelling, therapeutic baking, or simply tasty toast, everyone is invited to become a Campaign supporter.
Support our charity
Your donation will help support the spread of baking skills and access to real bread.