Time to hit the start button
Considering turning a baking hobby into something more? Ian Waterland did just that.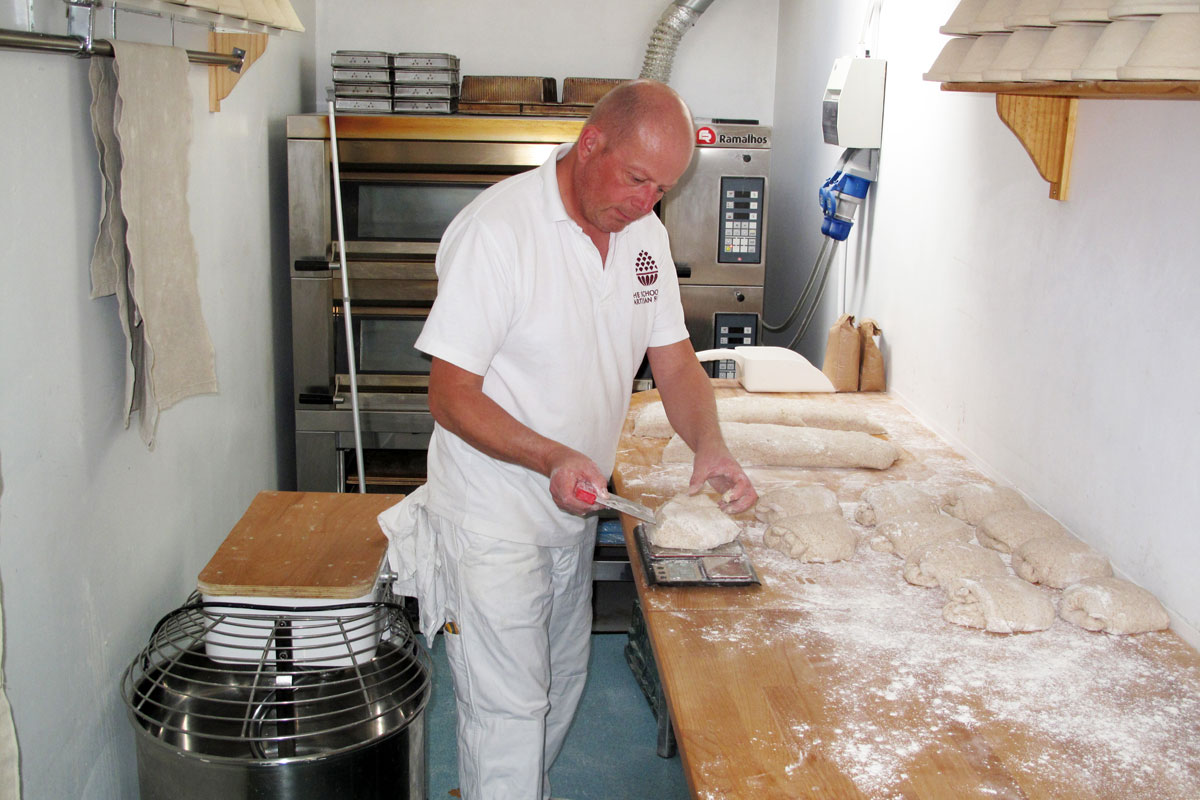 I had been working in mental health services for 28 years. I was frustrated working in the NHS and although I still enjoyed the face to face work with people, I needed a change. What I got was a total reboot.
Just dough it
Sometime in 2013 I heard about The School of Artisan Food on the radio. I thought my other half would enjoy doing something there, so I surprised her with a one-day patisserie course. Needless to say she loved it and when she came home she casually mentioned that there was a one year diploma in bread making and said the immortal words "why don't you do it?"
'I think this is a fantastic time for bakers'
Now, while I like eating Real Bread, and even making it occasionally, I had no clear idea about what I would do as a qualified baker. Out of curiosity, I went along to the school's next open day, loved it and signed up pretty much straight away. Being a member of the class of 2014 was leap of faith and an opportunity I grabbed with both hands.
Mastering microbakery
During the course, I wanted to start my own microbakery. Having studied and practiced for the best part of a year, and graduated with flying colours, I thought that I knew what I was doing. All I had to do was produce the loaves and people would buy them. I was confident and just 10 weeks after graduating, I sold my first loaf.
What followed was the steepest learning curve ever as I left the safe and nurturing environment of the school. I made a lot of mistakes. More than once, my former tutor Wayne Caddy got a frantic message during a teacake crisis or a sourdough catastrophe. Looking back now I think the mistakes were necessary and a normal part of what was an exhilarating and exciting process. You never need to be bored working in the bread world.
The power of no
One of the key things I have learned running Knead Good Bread is that sometimes you have to say 'no'. On average, I am asked once a week to supply a café or restaurant, run a market stall, sell at a food fair or make four of a particular loaf that someone really loved. For Tuesday morning. At 8am. Oh, and could I drop them off please?
I am not saying you should say no to all of these opportunities, but I am saying that you should only say yes when the opportunity fits with your business design, interests or priorities. Otherwise, you may find yourself running around like a headless chicken, working all hours for little return and not developing your business or yourself in a positive way.
I think your aim, whether running your own business or working for someone else, should be guided evolution, by which I mean continuous development and learning in a particular direction. I have worked hard to develop my business in a direction that meets my needs and is successful. It has evolved from direct retail to customers once a week, through to selling several days a week and building up a list of wholesale customers. To date I have sold around 30,000 loaves. I also teach bread making, run courses at the School of Artisan Food, and act as a consultant to new microbakeries.
Mindful baking
As well as starting a microbakery, while I was studying, I also had a vague idea that it would be good to share the positive and mindful aspects of bread making with people, particularly those living with mental ill health or facing other challenges. Last year, I completed 900 hours of breaducation for adults with learning disabilities. I did demonstrations at RHS Chatsworth and taught people with mental health problems how to make a loaf. I encourage all bakers to consider the opportunities open to them beyond the core of baking bread for sale.
As I told the most recent batch of School of Artisan Food diploma students at their graduation in October 2018, a whole new world of opportunities and experiences have come my way since I graduated from there in 2014. The knowledge and skills I gained there have more than equipped me to hold my own in any bakery or baking venture. This together with the ongoing support of everyone at the school, has literally changed my life.
I think this is a fantastic time for bakers. People's awareness of Real Bread has never been higher and it seems to me that the demand for proper bakers and bakeries is at an all-time high. The vast majority of loaves produced in this country, and shipped here from overseas, are still factory rubbish. The general population is beginning to shift towards bread that is better for us and better for the planet. All of these factors create a climate that is perfect for the budding baker to launch her or himself into the bread world right now. It's time to hit the start button.
---
Originally published in True Loaf magazine issue 38, January 2019
---
SHARE