In 2015 Ben Mackinnon sent us a postcard from Kenya on his involvement with a fellow supporter's social enterprise bakery project.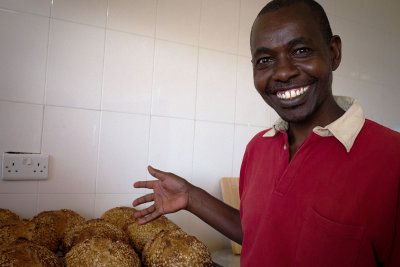 Ujima Bakehouse co-leader Alfonso. Credit: © Anne-Marie Shillito
The temperature outside The Ujima Bakehouse, with its broad and shaded veranda, hovers at around 24oC and Iím down to my jeans and a pair of sandals. Perched at around 2,000 metres above sea level on the edge of the Menengai crater in Nakuru, Kenya, baking on a January afternoon at Maili Saba Camp is quite a contrast to London, I muse.
How had I come to be in this baking haven? Slide back eighteen months and my sister takes a call from Dr. Madeleine Bastawrous (Mads, a former Real Bread Campaign office volunteer) enquiring whether our sourdough course at E5 Bakehouse would be suitable for someone hoping to open a not-for-profit bakery in Kenya.
A bakery with a difference
Chance dictated that I was the tutor on duty to teach that day, affording me a chance to find out Mads' story. It transpired that she, her husband Andrew (Baz) and their baby son had recently returned from two years living and working in Nakuru. There Andrew had been carrying out his PhD, a remarkable project developing affordable tools for diagnosing the causes of blindness in remote areas, and consequently vastly improving the chances of successful treatment.
Meanwhile, as wrapped sliced industrial loaves dominate Kenyan shop shelves, avid home baker Mads lost no time in experimenting with local ingredients to make Real Bread for her family. Soon, her loaves and cakes were helping to make firm friendships with neighbours and keep morale high amongst the project team.
As the two years drew to a close, friends were horrified to think that they would have to say goodbye to Mads' baked creations. A plan was hatched to set up a bakery with a difference. Not only would it make delicious Real Bread and cakes, but it would also offer training and skilled employment opportunities to local people and funnel all profits into providing free eye care to those who really need it. For every 100 loaves sold, one person will receive sight-restoring treatment and one orphaned youngster taking full responsibility for siblings is provided with training for employment.
Camping it up
During their stay, Mads and Baz would occasionally treat themselves to a break from work at the eye clinic at the beautiful Maili Saba Lodge. They discovered that the lodge was run by the Ujima Foundation, a charity that offers hospitality industry training to orphaned young adults who have become the breadwinners for their younger siblings. They met with Ujima's director Charles Odhiambo to discuss their plan and were delighted when he offered a building at Maili Saba Camp for the bakery.
Over the course of a year Mads and Andrew arranged for a building to be tiled and re-roofed, for 3-phase power to be connected and raised funds to purchase redundant equipment from a bakery near Lake Victoria.
Hearing all of this I was more than happy to offer my services in any way that I could and first travelled over there in December 2014. The bakehouse itself was still being finished and the equipment was yet to arrive and so the bread making classes were organised in the camp kitchen. All of the students were fantastic at handling the dough and picking up the concept of sourdough. Working with a range of different hydration country loaves, as well as bagels and ciabatta, even with a less-than-ideal charcoal oven we were getting some good results.
Six weeks later I was back, the second-hand oven (which had taken a knocking when we'd lifted it in by crane) was up and running, and we wasted no time recruiting staff. Brian Kihika is a smooth-talking young Kenyan with a degree in business, who had spent his teens in Texas, US. We recruited him as bakery manager straight of the bat. Next up was Justin, the first official baker on the team, who I had trained on my previous visit. I found that not only was Justin still there but that the pot of sourdough starter I had given him was alive and well, and the rumour was that he'd talked of little else apart from his dreams of being a baker. He was in!
We got to work testing a variety of recipes, eventually plumping for a 70% hydration overnight ambient ferment made with 20% starter, which we used to leaven a 70% hydration dough of 75% white and 25% wholemeal flour.
Healthy, tasty and filling
Once we were happy with the results, we took the Ujima bakes to local school fêtes and set up a stand in the local shopping centre for people to try. In fact, wherever we went we pulled a loaf out and asked people to taste it. The response was overwhelmingly positive. It seems that people were sick and tired of the same old factory loaf, and found this healthy Real Bread much more tasty and filling.
At the end of my second, three-week visit, we had a contract established with a local school for 100 loaves a week and had some people arranging deliveries. The next step is for the team to secure a bakery shop in the town and once thatís up and running, it'll be time to start training in croissants...
---
Originally published in True Loaf magazine issue 23, April 2015.
Ben Mackinnon was a Real Bread Campaign ambassador from 2019 to 2021.
In 2020, former Ujima Bakehouse head baker Jastan Kimani set up Naivasha Bakehouse, while his colleague Alfonso established Rosalfo Sourdough Bakery.
Published 22 Jul 2019
Real Bread Campaign: The Real Bread Campaign finds and shares ways to make bread better for us, better for our communities and better for the planet. Whether your interest is local food, community-focussed small enterprises, honest labelling, therapeutic baking, or simply tasty toast, everyone is invited to become a Campaign supporter.
Support our charity
Your donation will help support the spread of baking skills and access to real bread.