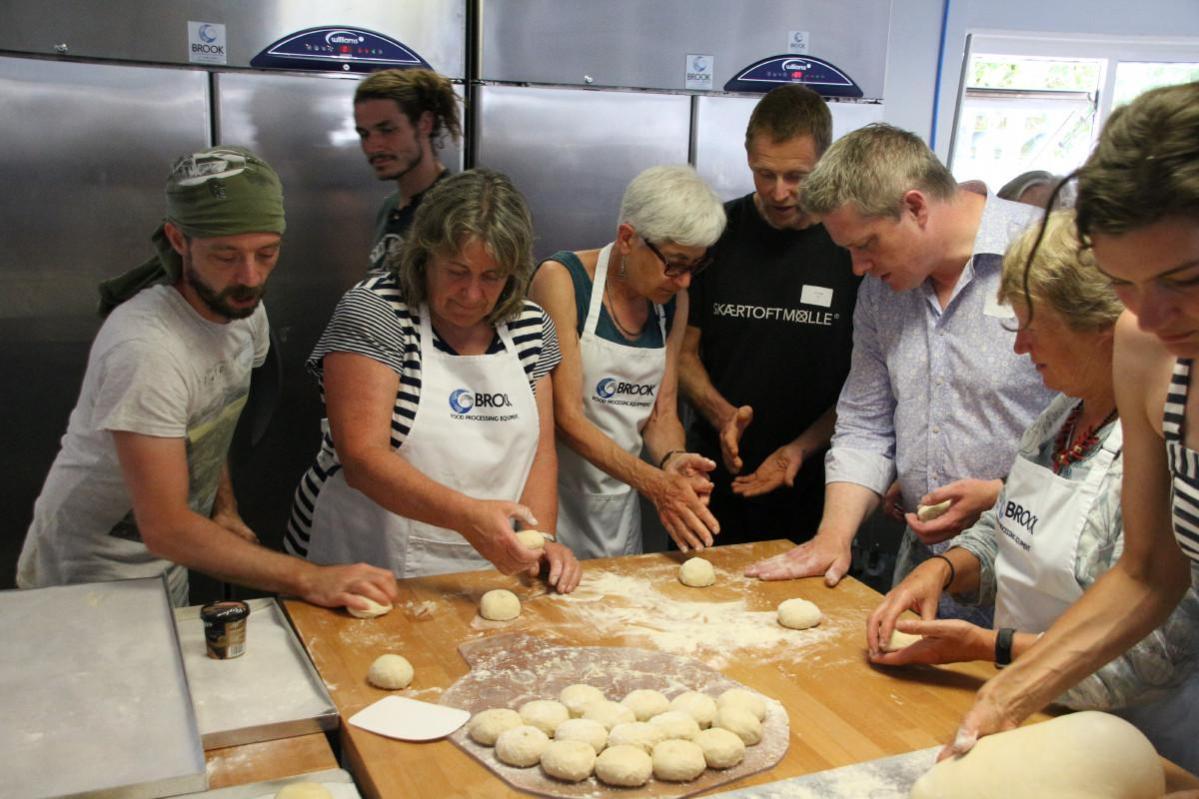 We have stopped amending/updating this archive page, so some information might be out of date and links might no longer work.
For suppliers of Real Bread kit and places to buy flour from independent mills please see the Real Bread Map.
Originally meaning one with whom you share bread, we reckon that companion is the ideal name for those with whom we share similar aims and values.
THIS IS NOT AN ADVERTISING SITE, SIMPLY A NON-EXHAUSTIVE DIRECTORY OF RELEVANT ORGANISATIONS/ITEMS OF WHICH WE'RE AWARE. WE'RE NOT IN CONTACT WITH ALL OF THEM, INCLUSION HERE DOES NOT NECESSARILY IMPLY RECOMMENDATION OR ENDORSEMENT BY THE REAL BREAD CAMPAIGN AND THERE ARE MANY MORE OUT THERE.
The Real Bread Campaign/Sustain has no control over the content of any external site. You venture beyond our pages at your own risk but that said - enjoy exploring.
See also
---

Real Bread Campaign supporters' subscription fees and local activity are vital to the continued existence of the Campaign
Bread Matters Formal partner to the Real Bread Campaign, run by our co-founder, Andrew Whitley
Former funders
Local Food The main funder of the Real Bread Campaign from 2009-2013
Sheepdrove Organic Farm Our other major funder from 2009-2013
Please always check the ingredients list of a bag of flour - even some organic flours have added enzymes and ascorbic acid.
Please also be aware of the issue of undeclared added enzymes
If you have any questions about a flour, or a mill's practices in general, please check with the miller in question.
For information on what has to be added to UK milled wheat flour by law click here.
For a current directory of places to buy flour from independent mills please see the Real Bread Map.
Artisan Bread Organic Stone milled rye, spelt, wheat. Rice, quinoa, buckwheat and linseed flours are all produced on a separate mill.
Bacheldre Watermill Range includes some stoneground organic and local flours
Burcott Mill, Somerset. Victorian watermill producing stoneground flour using British wheat and local British spelt. All Soil Association certified organic.
Denver Windmill - stoneground range includes locally-grown wheat, barley, spelt and rye.
Doves Farm Producers and suppliers of a range of organic flours, milled from combinations of UK and other grain. Range includes both stoneground and roller milled products.
Gilchesters Organics stoneground flour from organic grain grown on their own land in Northumberland. Range includes spelt and heritage wheats
Laxey Glen Mills: Use only wheat grown on a dozen family farms within a few miles of the mill on the Isle of Man. Range includes white, wholemeal, semolina and stoneground. This mill is exempt from the UK 'fortification' regulations and does not add anything to its flours.
Maple Farm Kelsale flour from organic rye, wheat and spelt grown and stone-milled on the farm in Suffolk
FWP Mathews Cotswolds based millers. Some flours organic and some from British wheat
Sharpham Park Gloucestershire-based growers and millers of 100% British, organically grown stoneground spelt flour
Shipton Mill Range includes some stoneground and organic flours, some produced using UK-grown grain
NR Stoates Dorset-based millers of stoneground organic flour, some lines using grain grown locally to the mill
Tamarisk Farm Mills organic 100% wholemeal wheat (Maris Wigeon) and rye flours from grain grown on the farm in Dorset
Wessex Mill Wantage, Oxfordshire a range of seeded and malted wheat, rye and spelt flours, some using wheat from around the mill. The names of the farms used in the grist can be found on the bag.
Winchester City Mill National Trust water mill using the River Itchen to produce 100% stoneground wholemeal flour from English bread wheat
Wright's based in Enfield. Range includes some flours milled from 100% British wheat
Yorkshire Organic Millers produces stoneground flour using only locally grown Organic grain (wheat and spelt), all milled on site and mostly sold locally
Other sources of information on mills
Brockwell Bake Association has a map of working flour producing water- and windmills
The Traditional Cornmillers Guild represents many of our remaining wind and water powered mills that produce stoneground flour, some using locally grown grain
Society for the Protection of Ancient Buildings has a specialist section for mills, some of which still produce flour
NABIM (National Association of British and Irish Millers) Website provides more information on the UK and Irish milling industries, including mills of all sizes
Where to find sourdough starters and other fresh yeast
Last updated 2012
Here are just some places to find sourdough starters and other types of fresh yeast.* Several of the books and websites further down this page also give instructions to start your own sourdough starter but if you don't fancy that, some supporters of the Real Bread community might be willing to help.
* In addition to lactic acid bacteria, sourdough cultures also contain one or more types of yeast.
Real Bread bakeries

- If you ask nicely when you're buying a loaf, a local Real Bread bakery might let you buy some fresh yeast or perhaps even some of their precious starter

.

Courses

-

If you go on a course that covers sourdoughs, they might well send you home with some starter.
Polish shops - We've been told that many shops selling Polish food sell fresh yeast, though can't vouch for this.

Supermarkets

- We've received many emails from people who suggest asking a local supermarket with an in-store bakery (one where they bake from scratch, not just a loaf tanning salon) for some. Success seems to vary from store to store even within a chain, with different branches quoting different prices and versions of 'company policy' and interpretations of the law.**
National Collection of Yeast Cultures - The experts on all things yeasty. One only for those of you who are very serious after getting hold of a particular strain of yeast and prepared to bulk up from a small sample (which costs consideraby more than a packet from the supermarket) to a useable quantity.
**It is perfectly legal to sell fresh yeast and sourdough starter in the UK. In September 2012, Defra's Customer Contact Unit advised us: 'As far as we are aware there are no restrictions on selling such foods [yeast and sourdough culture] provided the Food Business Operator complies with the General Food Law Regulation 178/2002 and any labelling regulations that may apply. The Food Labelling Regulations 1996 would apply to flour, water yeast and milk.'
Arjuna Wholefoods, Cambridge - fresh yeast
Astons Organic Bakery, London - starter
Bakery Bits, mail order - starter, fresh and dried organic yeast
The Bertinet Kitchen, Bath & mail-order - starter and fresh yeast
Bread Matters, nr. Edinburgh and mailorder - starter
Bushwhacker Wholefoods, London W6 - fresh yeast
Daily Bread co-operative, Cambridge - fresh yeast
Doughblogs, the internet - starter
Flour Power City, Borough Market and Tunbridge Wells - fresh yeast
Hobbs House Bakery, shops and by mail order - starter
The Loaf, Crich, Derbyshire - fresh yeast
Moncada Brewery, London - barm (For professional bakeries only. Sorry no home bakers)
Price & Sons, Ludlow - fresh yeast
The Scandinavian Kitchen, London W1W - fresh yeast
Shipton Mill, online - fresh and dried organic yeast (including 1kg blocks)
Tom's Feast, London - starter (Cleo the sourdough)
Unpackaged, London EC1 - fresh yeast
Wessex Mill, Wantage - starter
Wild Yeast Bakery, nr Gloucester - starter
Wye Bakery, Wye, Kent - fresh yeast
If you sell/give away starter or fresh yeast, please email us and we'll add you to our list.
Professional bakers get their yeast from wholesale ingredients companies, none of which we will name here as they make most of their money peddling the processing aids and other artificial additives we campaign against.
Dried yeast for Real Bread
Last updated April 2019
Loaves made using yeast with one or more additives are not what we call Real Bread.
The only brands of dried yeast that we know of in the UK that are free from artificial additives are:
BioReal
Saf-Levure Active Dry
DCL Active dried
Allinson used to produce a yellow tin of additive-free dried active yeast but discontinued this product. Their easy bake yeast (green tin) has two additives. Similarly, Doves Farm discontinued their blue tins of additive-free active dried yeast and their orange bags of quick yeast contain an additive.
We urge manufacturers to go additive-free so that Real Bread bakers can use their products.. If you choose to contact them directly, please let us know how you get on.
If you produce or sell pure (ie additive free) dried or fast acting yeast, please email details to us! realbread@sustainweb.org
For a current directory of suppliers of Real Bread kit to domestic and professional Real Bread bakers please see the Real Bread Map.
Abbey Catering New and used catering equipment company based in Havant, Hampshire. Armstrong Brick Ovens brick ovens, funnily enough
Baker Tweet a way for busy bakers to tell their Twitter followers that it's bun-time. Or bread time. Or whatever
Bakery Bits sells, well, erm, bakery bits - peels, bannetons, scrapers
bakeriesworld.com a large directory of suppliers of bakery equipment, ingredients and more
Becketts new and used professional baking equipment
Benier professional baking equipment
The Bertinet Kitchen a wide range of small equipment including scrapers, couche, lames, linen lined proving baskets and peels.
Blistering Barbecues wood-fied ovens to hire for events
Bluestone Outdoor Wood Fired Bread Ovens wood fired ovens
Bread Matters home and professional baking equipment, including dough mixers and electric and wood-fired ovens with capacities from 3 to 300 loaves.
Brook Food Processing Equipment new and used professional baking equipment
Brow Farm domestic flour mills and UK grown milling wheat
Caterlink New and used catering equipment company based in Peterborough.
Dingley Dell wood-fired ovens for sale or hire
Earth Ovens wood-fired oven-building courses
Forno Bravo wood-fired ovens for sale
Four and Twenty Blackbirds 'Brings historical cookery to life' period demos and workshops include flour milling and baking
Grains2Mill domestic flour mills
Highfield Farm mobile wood-fired pizza oven available to hire for events
Hot Rocks mobile wood-fired pizza oven available to hire for events
Invicta bakeware baking tins, sheets, trays, racks, provers, willow baskets, the kitchen sink...
Italiano Forni domestic and professional wood-fired ovens for sale and available to hire for events
Jamie Oliver Ovens (was Orchard Ovens) sell commercial and domestic outdoor ovens
Kiln Linings refractory products and other items for DIY oven builders
Lakeland manual grain mill, containers and other small items, many domestic
Modern Baking Systems new and used professional baking equipment (includes ratings system for reconditioned stock)
Panary wood-fired brick ovens for bread, pizzas etc. plus related equipment
Pizza Dragon wood-fired ovens to hire for events
Proauction New and used catering equipment auctioneers based in Bath
Scobie McIntosh new and used professional baking equipment
Silverwood heavy gauge aluminium baking tins, trays and other bakeware. Offers a bespoke service to commercial bakers
Surebake new and used professional baking equipment
Target Catering Equipment wood fired oven and offer a bespoke bakehouse design and build service
To The Trade New and used catering equipment company based in the Cotswolds
Tom Chandley Deck oven and other professional bakery equipment manufacturer and supplier
UK Juicers domestic flour mills
A Whitehouse and Son Ayrshire-based bakery engineers, supplying new and used equipment - stephenwhitehill [at] aol.com
WonderMill UK domestic flour mills
Wood Fired Ovens sole distributors of Four Grand Mere ovens in the UK
Wood World Wide by Williams handmade bread/chopping boards
See also our notes on finding and passing on second-hand bread machines, which are also relevant to other domestic and professional baking equipment.
Packaging
Companies that offer bread packaging that is one or more of the following: recycled, otherwise sustainably sourced, biodegradable.
Charlotte Packaging
Green Gate
London Bio Packaging
Planglow
Primus Ouwelfabriek BV (edible rice paper food labels) UK agent tel. 01732 838973
WF Denny
Vegware
You can find other producers and suppliers through the Foodservice Packaging Association
Community enterprise, co-operatives, transition and more
Community Supported Agriculture Soil Association guidance that can be adapted to bakeries
Food Coops advice on setting up a group to help you bring Real Bread and other fresh food into your community
Making Local Food Work offers business support, advice and mentoring for food-based community enterprises
Transition Network working towards establishing sustainable, resilient local food networks
Co-operativesUK assist third sector organisations to become incorporated (not just co-operatives) and offer long-term governance and legal support for those co-operatives that are members of Co-operativesUK
Towns-4-Towns lets towns share the initiatives that have worked in their communities so that nobody has to reinvent the wheel. Can help with funding
Local Food Advisor does exactly what is says, really
Slow Food UK movement that promotes the enjoyment and protection of locally-produced food products
Brockwell Bake Andy Forbes and co. upholding Real Bread values in and around Brixton
Taste Real Food UK not-for-profit voluntary association whose members care about and wish to enjoy, explore and promote the Taste of Real Food.
Local food directories
In addition to our Real Bread Finder, here are some other sites on which Real Bread bakers can advertise their wares. Some may charge for their services.
The Artisan Food Trail 'enables foodies, chefs, restaurants,local shops, etc. to source quality food with a difference.'
BigBarn.co.uk online market place for local food, with a love for keeping it real
FoodLoversBritain.com Local food expert Henrietta Green and her team focus on all things bread related
Free Range Review free local food producer listing site, with reviews by other users
Good Food Network free local food producer listing site. Allows bakers signed up to The Real Bread Loaf Mark scheme to use the mark in their GFN profile.
Ancient Grains Delwen Samuel and Mark Nesbitt archebotany (archaeology of plants) sit, including bread and beer in ancient Egypt, cereals and nutrition in the Old World
Arche Noah 'For more than 20 years ARCHE NOAH and its 10.000 members have been preserving and cultivating endangered vegetable, fruit and grain diversity.'
Brockwell Bake Association
DEFRA information on national seed register regulations
Grain works to support small farmers and social movements in their struggles for community-controlled and biodiversity-based food systems
Healthgrain Exploiting Bioactivity of European Cereal Grains for Improved Nutrition and Health Benefits, an Integrated Project of the European Union's Sixth Framework Programme's "Food Quality and Safety" activity (Priority 5)
Home Grown Cereal Authority
John Innes Centre Growing demonstrations of UK cereal landraces, landrace selections and early cultivars from the BBSRC Small Grain Cereal Collections
Kew Garden information about wheat from the Royal Botanic Gardens, a world leader in plant science and custodian of the Millennium Seed Bank
Our Daily Bread a blog 'following grains through the food system in the UK and Germany'
The Organic Research Centre Elm Farm works to "develop and support sustainable land-use, agriculture and food systems, primarily within local economies, which build on organic principles to ensure the health and well-being of soil, plant, animal, man and his environment."
Reclaim The Fields
Réseau Semences Paysannes [Peasant Seed Network]
Rothamstead the largest agricultural research centre in the UK
Seed Freedom
Seed Freedom
Sowing the Future
Stabilising wheat yields: Can genetic diversity increase reliability of wheat performance?
UK Food Group
Varietal innovation and the competitiveness of the British cereals sector, 1760-1930, John R. Walton, The Agricultural History Review, volume 47 part 1 (1999)
Via Campesina
WHEAT is a Consultative Group on International Agricultural Research global research program led by International Maize and Wheat Improvement Center (CIMMYT) to tackle a range of issues surrounding wheat growing around the world.
Wheat: the Bigger Picture the life cycle of wheat by the School of Biological Sciences, Bristol University
A selection of other online resources, jam packed with relevant info. At times, some of them stray away from our definition of Real Bread but they all appear to pretty much share our values.
The Artisan Content galore for the bread enthusiast
Bakery Matters online forum for professional bakers
Baking For Britain a baking fanatic's journey around the baking of these isles
BBC Food Bread recipes
BBC Food Bread making techniques (videos)
A Bread A Day blog documenting 'a year-long adventure in bread making'
Bread Secrets info, advice, a blog and more for breadheads at all levels
Breadcetera 'An obsessive's quest for professional quality baked goods from a home kitchen'
Breadtopia baking videos galore
Channel 4 Food Has a section of bread recipes
Cooking Bread American site with large recipe database
The Craft Baker 'Celebrating local loaves and providing a personal, positive response to the challenge of getting Real Bread back on our tables..'
Dan Lepard Recipes, a very active bakers' forum, advice and more from the well-respected artisan baker and teacher
Doughblogs Order your sourdough starter from the Doughman and keep track on how your fellow 'lovers of louche leaven' are getting on with theirs
The Fresh Loaf A well-equipped online community for bakers
Good Food Channel Has a Real Bread Campaign page and a section of bread recipes
Loaves of Love inspiring people to join together to form baking circles to learn and then pass on bread making skills
Recipes For Living includes a growing collection of gluten-free Real Bread recipes for sale
School of Slow Online video bread course by The Handbade Bakery
Virtuous Bread 'forging the link between eating well and doing good'
Well Bread Campaign supporter Dilly Boase on her adventures in bread
Why I Love Organic from the Organic Trade Board
Wood & Pizza Oven UK Forum a place to ask for and share wood-fired bread/pizza oven ideas and information
We often receive emails from people outside the UK looking for Real Bread locally and wanting to find or even start a similar campaign in their own countries.
Wherever in the world you are, you're very welcome to join us but here are some organisations and websites based outside the UK:
All Things Bread -USA
Artisan Baker Association - Australia
Bakers Without Borders - USA
Bread Bakers Guild of America - USA
#BreadChat - Worldwide
breadexperience.com - USA
Bread Houses Network - Bulgaria
Chicago Amateur Bread Bakers - USA
elforodelpan.com - Spain
Fikir Sahibi Damaklar (Slow Food Istanbul) - Turkey
lamemoriadelpan.com -Spain
Los Angeles Bread Bakers - USA
Maine Grain Alliance / Kneading Conference - USA
Northwest Sourdough -USA
Pasta Madre - Italy
Real Bread Ireland - Ireland
Der Sauerteig - German
Sourdough.com - Australia
Sourdoughbaker.com - Australia
Weekend Bakery - Netherlands
Wild Yeast - USA
If you run a bready organisation or website outside the UK that shares our Real Bread values, please get in touch and we'll post a link here.
And as soda loaves fall outside our area of interest, you could try...sodabread.info - Ireland
Bread should be treasured, not wasted - here are other organisations working to make sure that it isn't
Food Works
Food Cycle
WRAP
Love Food Hate Waste
Real Bread Campaign publications
Every year Sustain produces a wide range of reports, guides and magazines on healthy and ethical food. These include:
Slow Dough: Real Bread
The Real Bread Campaign's first recipe book contains around 90 recipes for genuine sourdough and other long ferment Real Breads. (Nourish Books, 2016)
Knead to Know: the Real Bread starter
The introductory guide to success in bringing Real Bread back to the heart of your local community by setting up a microbakery at home or other small baking enterprise. (2011 and republished 2013 by Grub Street)
Rising Up
The Real Bread Campaign report on the therapeutic and social benefits Real Bread making offers to people living with mental health issues, or otherwise facing a tougher time than most of us. (2013)
A wholegrain of truth? Industrial loaf names, claims and contents
A Real Bread Campaign investigation of 'wholegrain' loaves marketed by some of the UK's highest profile industrial loaf manufacturers found one loaf that declared merely a miserly 6% wholemeal flour. (2013)
Bake Your Lawn
Follow the Real Bread journey from seed to sandwich with our guide on how to take a handful of wheat and grow it, mill it, bake it, eat it. (2011)
Are Supermarket Bloomers Pants?
The Real Bread Campaign's investigation into what really lies behind supermarket in-store 'bakery' loaves. (2010)
Lessons in Loaf
A teachers' guide to bringing Real Bread making into the classroom, with suggestions for using bread as a topic across a wide range of curriculum subjects. (2009)
Bread Street: the British baking bloomer?
London Food Link's report into the state of the industry, which helped to pave the way for the Real Bread Campaign. (2004)
You can find more details about, and download, all of these and more publications here.
True Loaf
The quarterly magazine exclusively for Real Bread Campaign supporters. (2009 - present)
For information about becoming a Campaign supporter, click here.
Last updated 2012
Being such a staple, bread is the subject of many books. Here are just a few that look at the subject in quite some breadth and/or depth. Several are available in later editions and/or paperback. Some may be out of print but can be found through second-hand/antiquarian bookshops.
The authors of books marked * are Real Bread Campaign ambassadors or supportrs.
NB The categories are not exclusive: i.e. some books in the domestic list might be of use and interest to the professional and vice versa, and there is theoretical content in some of the more practical books.
Click here for details of Knead to Know - the guide to success in baking Real bread for your local community.
Domestic
Slow Dough: Real Bread, Chris Young, Nourish Books (2016) BUY NOW
Bourke Street Bakery, Paul Allam & David McGuiness, Murdoch Books (2010)
The Sunday Times Book of Real Bread, Michael Bateman and Heather Maisner, Rodale Press (1982)
Dough / Crust, Richard Bertinet, Kyle Cathie (2005 / 2007)*
The Italian Baker, Carol Field, Harper Collins (1991) and Ten Speed Press (2011)
How to Make Bread, Emmanuel Hadjiandreou, Ryland Peters & Small, (2011)*
The Fabulous Baker Brothers, Tom and Henry Herbert, headline (2012)*
Five Minute Bread, Jeff Hertzberg and Zoë François, Ebury Press (2011)
The Handmade Loaf, Dan Lepard, Mitchell Beazley (2004)
All You Knead is Bread, Jane Mason, Rylan Peters & Small (2012)*
Warm Bread and Honey Cake, Gaitri Pagrach-Chandra, Pavilion (2009)
Tartine Bread, Chad Robertson, Chronicle Books (2010)
The Staffordshire Oatcake, a history, Pamela Sambrook, Carnegie Publishing (2009)
River Cottage Handbook No. 3: Bread, Daniel Stevens, Bloomsbury Publishing (2009)*
The Traditional Cornmillers Guild Book of Recipes, TCMG, TCMG (availble from TCMG mills or by mail order)
Bread Matters, Andrew Whitley, Fourth Estate (2006)*
Professional
Knead to Know: the Real Bread starter, the Real Bread Campaign, Sustain (2011) and Grub Street (2013) BUY NOW
Manna, Walter Banfield, McLaren (1937)
Technology of Breadmking, Stanley Cauvain & Linda Young, Springer (2007) read preview online
Bread baking: an artisan's perspective, Daniel T. DiMuzio, John Wiley & Sons (2009)
Artisan Baking, Maggie Glezer, Workman Publishing (2000)
Discovering Sourdough, Teresa Greenway, e-book (2010)
Bread: A Baker's Book of Techniques and Recipes, Jeffrey Hamelman, John Wiley & Sons (2004)
Breadcraft, JR Irons, Hudson and Stracey (1934) read preview online
The Modern Baker, Confectioner and Caterer, John Kirkland, Gresham Books (1907) the text of Vol. 2 of six is availalble here
The Village Baker: Classic Regional Breads from Europe and America, Joe Ortiz, Ten Speed Press (1993)
The Bread Baker's Apprentice, Peter Reinhart, Ten Speed Press (2001)
Theory/history
Bread Street: The British baking bloomer?, Mel Barrett, Sustain publications (2004) out of print but available to download
Six Thousand Years of Bread: Its Holy and Unholy History, H.E. Jacob, The Lyons Press (1997) read preview online
Good Bread is Back, Steven Lawrence Kaplan, Duke University Press (2007) read preview online
English Bread and Yeast Cookery , Elizabeth David, Allen Lane (1977)
Loaf, Crust and Crumb, Silvija Davidson, Michael Joseph (1995)*
Bread: A Slice of History, John Marchant, Bryan Reuben & Joan Alcock, The History Press (2008)
McGee on Food & Cooking, Harold McGee, Hodder and Stoughton (2004)
Bread: A Global History, William Rubel, Reaktion Books (2011)
Traditional ovens
The Forgotten Art of Building and Using a Brick Bake Oven: How to Date, Renovate or Use an Existing Brick Oven, or to Construct a New One, Richard M Bacon, Alan C. Hood & Company (2005)
Build Your Own Earth Oven: A Low-Cost Wood-Fired Mud Oven; Simple Sourdough Bread; Perfect Loaves, Kiko Denzer and Hannah Field, Hand Print Press (3rd edition April 2007)
Building a Wood-fired Oven for Bread and Pizza,Tom Jaine, Prospect Books (1996)
Your Brick Oven: Building it and Baking in it, Russell Jeavons, Grub Street (2005)
The Bread Builders: Hearth Loaves and Masonry Ovens, Daniel Wing and Alan Scott, Chelsea Green (1999)
Kids
Most children's baking books in the UK seem to concentrate on cakes and biscuits, with only one or two bread recipes, and often even those are leavened with baking powder. Here are some that look more at Real Bread.
Baking Bread with Children, Warren Lee Cohen, Hawthorn Press (2008)
Bread Comes to Life: A Garden of Wheat and a Loaf to Eat, George Levenson and Shmuel Thaler, Tricycle Press, (reprint 2009)
Bread, P. B. Roscoe, Ladybird (1977)
The Little Red Hen (a traditional Russian folk tale, retold by many authors)
Tractor Ted Makes Bread (DVD), Tractorland Ltd (2001)
TES The Times Educational Supplement site has a whole range of bread-related resources for teachers
And of course there are the Campaign's own Lessons in Loaf teacher's guide and Bake Your Lawn grassroots guide, both available to download here.
You might also like to investigate these American lists of bread books for kids and children.
Please do let us know if you've found any bread books aimed at children particularly useful.
Finding books
Organisations that could help you find a local independent bookshop include:
The British Library - in theory has every book published in the UK in its catalogue
iilu.com lists an enormous number of bread books
ebooks
Many sites now offer digitised versions of books online. Some books (e.g. those that are old enough to be out of copyright) are offered for free.
Project Gutenberg
Google Play
Open Library
Other UK baking organisations
The following are other national organisations with loaf making interests. Their websites give details of their aims, activities and memberships.
NB None of these organisations is against the use of artificial additives.
Alliance for Bakery Students & Trainees
Bakers, Food and Allied Workers Union
British Society of Baking
Federation of Bakers
National Association of Master Bakers
Richemont Club
Scottish Association of Master Bakers
The Worshipful Company of Bakers
Ale
Farming
Food
Gravy
Pet food
Recycling
Again, neither the Real Bread Campaign or Sustain has any control over the content of external sites or endorses the views of organisations listed and that you venture beyond our pages at your own risk. That said, enjoy exploring.
Share
Get updates
Real Bread Campaign: The Real Bread Campaign finds and shares ways to make bread better for us, better for our communities and better for the planet. Whether your interest is local food, community-focussed small enterprises, honest labelling, therapeutic baking, or simply tasty toast, everyone is invited to become a Campaign supporter.
Menu
Support our charity
Your donation will help support the spread of baking skills and access to real bread.