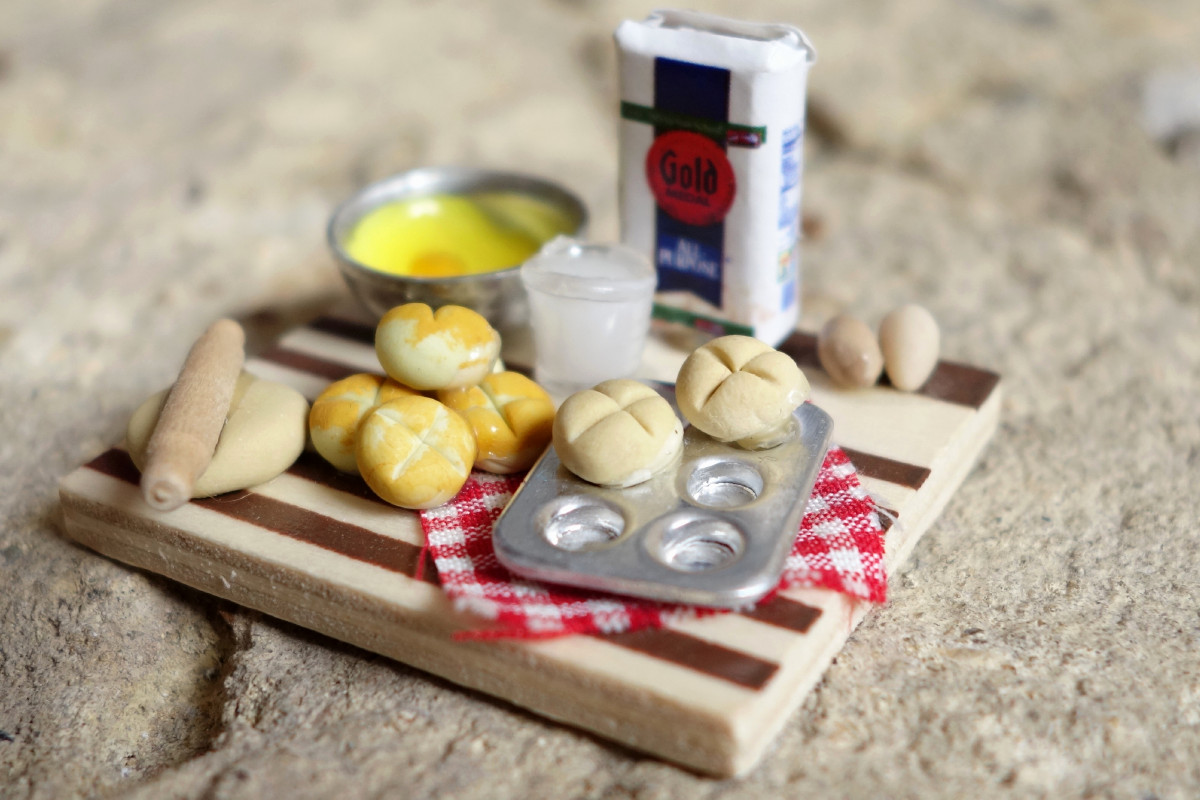 Photo: Chris Young / realbreadcampaign.org CC-BY-SA 4.0
Sick of industrial loaves? Pretty good flour arranger yourself? Well, as the cliché goes, 'let's put on a show right here!'
YOU can be your local community's baker from your own home kitchen.
Knead to Know...more
Our microbakery handbook gives you information on business models, legislation, money matters, equipment, ingredients, basic recipes, techniques, voluntary apprenticeships, courses, equipment and ingredient suppliers and much more... Click for details.
The following is just a taster of the sort of information you can find in the book.
See also:
Join us
Launched in 2008, the Real Bread Campaign has grown to attract perhaps the largest network of microbakers in the world.
Our supporters and other friends include many hundreds who run bakeries, mills and baking schools of all sizes. Many people in our international network don't bake at all - everyone is welcome!
This mutually-supportive bunch ask for, and share, advice and information using the #RealBread hashtag on social media, with supporters of our charity's work also having access to do so in The Real Baker-e forum.
We send our supporters and friends frequent updates, arrange discounts and offers, and organise real-life and virtual events.
...and that's all on top of all of our lobbying, campaigning and awareness-raising work.
What is a microbakery?
That depends who you're asking. In the UK, a microbusiness/enterprise is often understood to be one with nine employees or fewer. When people in our circles talk about a microbakery, they're generally referring to something even smaller. Many a microbakery we know is run by a sole trader making just tens loaves a week in the home kitchen oven, often on a part-time basis.
There are variations, such as roping in a family member, friend or three; using a garage, shed or even small commercial space; getting a semi-pro oven; baking hundreds of loaves; and perhaps operating on a full-time basis.
Your bakehouse
Call it a bakehouse or bakery, this is where the baking happens. Where you choose to do so depends upon the type and amount of baking you'll be doing and your business model.
For the budding newbie microbaker, the cost of a high street shop is usually prohibitive, so some creative thinking is needed to find a suitable and financially-viable space. Examples include:
Kitchen
Garage, shed or outhouse
Shared space (eg pizzeria or other eatery, community hall)
A shipping container
Railway arch, unit on a farm or industrial estate
When planning your bakehouse, things to think about include:
Clean and dry storage area(s) separate from your domestic stuff.
Recycling, composting and other waste disposal facilities.
Gas/electrical supply suitable for the equipment you use.
Water, drainage and sewerage appropriate to the size of your operation. Your service provider might insist that you pay business rates.
National and local regulations around running a small business, health and safety etc.
Equipment
When you think about it, all you really need to make bread are means to measure, mix, prove, shape and then cook the ingredients. This could be as simple as scales, bowl, hands, work surface and oven.
What you actually choose to do all of this with, and what other bits of kit you might choose to acquire, depends on factors such as the type of products you'll be baking, how many loaves you intend to produce at a time and the space you have to work in.
Microbakers making more than a dozen loaves in a baking session tend to start investing in mixers and semi-pro ovens, such as those made by Rofco, Tom Chandley and Lincat.
We work to secure discounts and offers on kit for Campaign supporters.
Ingredients
While there's truth in the old sow's ear / silk purse adage, given skill, knowledge and time, you can produce great Real Bread using commodity ingredients - eg roller-milled white flour from a large mill.
There are, however, good reasons to put thought into those you choose to use. We encourage bakers to use ingredients produced to higher environmental standards (such as certified biodynamic or organic) by smaller, local, independent producers.
We work to secure discounts and offers on ingredients for Campaign supporters.
What breads should I bake?
The consensus seems to be: At least to start with, offer just a few types, all made well. Satisfy your itch to experiment with a dialy, weekly or seasonal special.
Which types are up to you but you may have to strike a balance between what you want to bake and what people buy. Do you market research, before you open and by monitoring what does (and doesn't) sell well.
There's no use in stubbornly baking a mountain of your favourite sourdough wholemeal rye every week if most of it ends up in the bin. People want a white sandwich tin loaf, with no big holes? Start with high-quality flour, choose a long-fermentation method and give 'em the best one they've ever tasted!
You can find around 90 recipes in our book Slow Dough: Real Bread, and more here.
Bake well
Don't forget to look after your mental and physical wellbeing, especially if you are runing your microbakery as a full-time business. If you have staff members or volunteers, it's important (and in some aspects legally required) to look after theirs, too.
See also: Healthy baking in mind
Business plan
It's up to you whether sitting down to write a formal business plan is one of the things you do first or (if your microbakery is only ever going to be an income-generating hobby) at all.
Richard 'screw it, let's do it' Branson has written "I didn't really think too much about my first business plan – I just went ahead and did it. It turns out that this was the best thing I could have done." Then again, many other experts go with the old adage that 'failing to plan is planning to fail'
Business types
Factors to take into consideration when trying to decide include:
Why you are running the business
Where the balance lies between making a profit and providing affordable food and/or other community or social benefits
Whether or not you plan to share the ownership of the business
Who should take the financial and legal risks, responsibilities and rewards
Legal entities
It might feel like a dull or daunting question, but what legal structure do you want (or need) your bakery business to have? Common types for small bakeries to adopt include: Sole trader/proprietor, partnership, Cottage Food Operation, Community Interest Company. Beyond the legal structure, a bakery might be run as a co-operative, social enterprise, Community Supported Bakery.
I fought the law…
…and the law won. At times, doing things by the book might seem like a pain but make no mistake, it's nowhere near as painful as winging it and then getting caught.
Although there are hoops to jump through when you make the leap from baking for yourself to baking for others, and yet more if your business gets larger and you become an employer, most regulations are based on fairness and common sense.
At a basic level, you need to comply with business, food, hygiene, consumer information and other trading standards regulations. National or local regulations might require that you are registered and inspected when you start your business, and perhaps at intervals thereafter.
Insurance
If you are in business you need insurance. Depending where in the world you are, certain types of cover might be required by law. Others are just sensible to cover your liability if something goes wrong to minimise the negative financial on your business, you and others.
If you are running your microbakery from home, general car, property and contents insurance are probably not sufficient. You might be able to get an extension, or take out new or separate cover.
Money matters
All about the dough.
Pricing
We urge all bakers to charge an honest price for an honest crust. Three key factors to take into consideration when setting your prices are:
Costs: How much do you need to charge to ensure that you do not lose money? How much does it cost to produce a loaf when you factor in all of your costs?
Your local market: What can you charge? What are your competitors charging for products that are the same/similar to yours? What are your potential customers prepared to pay?
Target profit: How much do you want to make? Where does the balance lie for you between making money and making your Real Bread as accessible as possible?
Taxes
As certain as death. Do your research and make sure you collect and pay as required.
Taking payment
In order to maximise sales and provide great service to your customers, you need to offer payment methods that best suit the majority of them. You then need to balance this against the costs and other challenges to you of accepting each type and of accepting multiple types.
Banking
No matter how small your business, you will need to keep your personal finances separate from your business finances. Operating an independent business account allows you to do this. It is also of great benefit for your income tax records.
Accounts and other admin
You need to have good administrative systems to keep records of orders you have placed with suppliers, orders you have taken, sales, and also contact details for customers.
Grants and other funding
Have a sniff around to see if there are any grants or low-interest loans that could help your business. National, regional and local funds for startups and other small businesses crop up from time to time, as do pots of cash for social enterprises, not-for-profits, Community Interest Companies and so on. We publish those we come across in the The Real Baker-e.
Where to sell your Real Bread
You've done everything legally (and sensibly) required to run a food business and baked the Real Bread, so now you need a way for your customers to get their mitts on it.
Three of the most common ways that start-up microbakers do this are bakehouse door sales; a market stall; through a local shop, eatery or veg box / food hub; and a delivery service. You might choose to put a subscription or other ordering system in place for some or all of your baking and sales.
If you bake Real Bread for sale, you are welcome to add the details of where people can buy it to the Real Bread Map.
Marketing
So, you're baking the best Real Bread that you can bake, right? Selling honest loaves at an honest price? You've gone to great lengths to ensure that each loaf looks, smells and – most importantly – tastes fantastic? Great, because the Real Bread's what it's all about. Now, where are those customers? This is where marketing comes in.
What is marketing?
Marketing is more than just advertising. It's a process that starts (or at least should) in the very early stages of planning your Real Bread bakery or any changes to what you make and sell. Successful marketing can be summed up in Ps:
The right product
For the right person
In the right place
At the right price
With the right promotion
Marketing ingredients
Marketing can involve many different processes, such as
Market research
Differentiation
Promotion / advertising
Public relations
See also:
Links and more
You can pick the brains of fellow supporters, including professionals and microbakers, in The Real Baker-e.
If you are baking Real Bread for sale, please feel free to add your loaves to our Real Bread Map.
You might also like to take advantage of The Real Bread Loaf Mark.
The governmental website Business Link offers advice regarding setting up a home-based business
See also:
Some of the baking schools on our Real Bread Map run classes and courses designing for the budding bread business owner, notably:
The Artisan Bakery School
Bread Angels
One Mile Bakery
The School of Artisan Food (which runs a full diploma course)
Entitled Bread Skills, the 28 December 2009 edition of the BBC Radio 4 Food Programme focussed on the Real Bread Campaign's supporters and friends. It included interviews with The Handmade Bakery, St Mary's Bakery and the food writer Rose Prince, who was then planning to help her children set up a microbakery at home, which became The Pocket Bakery.
Share
Get updates
Real Bread Campaign: The Real Bread Campaign finds and shares ways to make bread better for us, better for our communities and better for the planet. Whether your interest is local food, community-focussed small enterprises, honest labelling, therapeutic baking, or simply tasty toast, everyone is invited to become a Campaign supporter.
Support our charity
Your donation will help support the spread of baking skills and access to real bread.