To mark International Women's Day, we look back on more than a decade of celebrating women behind the rise of Real Bread.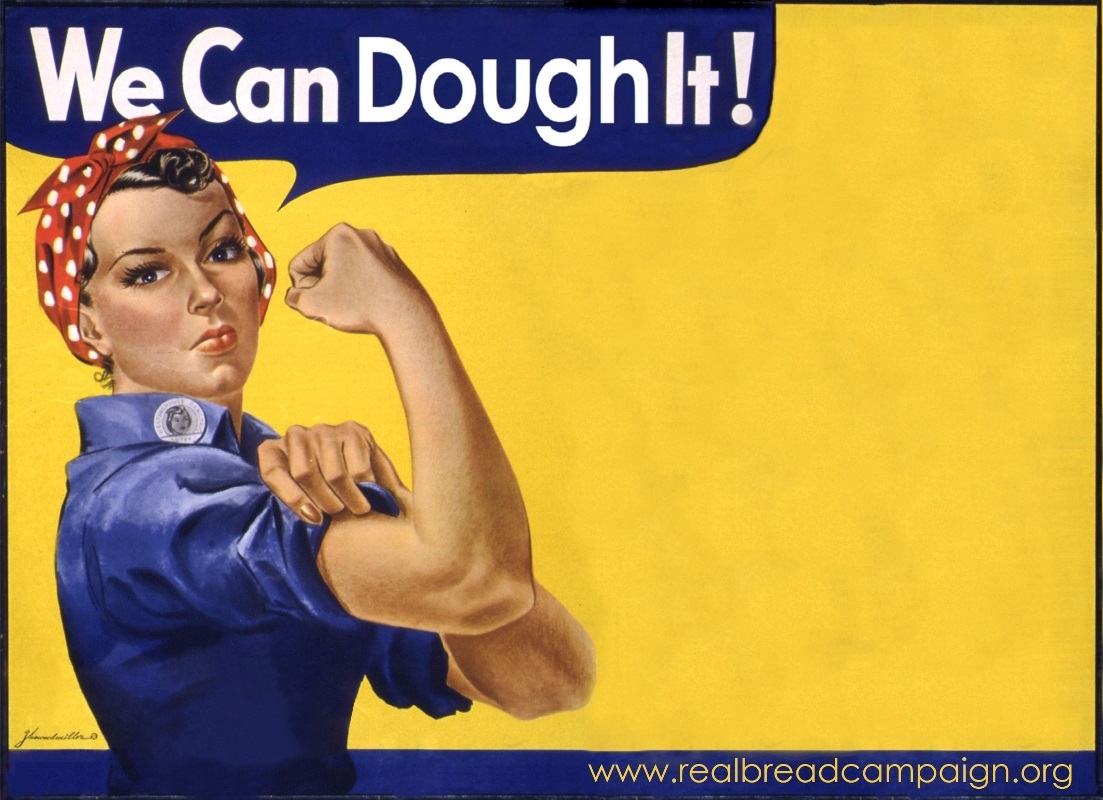 Adapted from J. Howard Miller's 'We Can Do It' (AKA Rosie The Riveter) Public domain
The rise of Real Bread has always been powered by women, rolling up their sleeves to grow grain, mill it, craft flours of all types of flour into delicious, nutritious bread of all kinds, and pass on their skills and knowledge to other people. How many people learned to bake from their mum, aunt or gran? There are so many sole-trader microbakers, small bakery owners, head bakers…
Keeping it real
Not that it's possible to be absolutely sure form a list of names, but it seems that women might be in the majority amongst our international network of Real Bread Campaign supporters. They include twelve out of our twenty one official ambassadors, and Alison Swan Parente, owner of the School of Artisan Food, a Sustain trustee and chair of the Real Bread Campaign, and the publishers of both of our books.
Then there are umpteen office volunteers who have contributed so much over the years, including Christine Haigh, who was instrumental in securing Big Lottery funding for the first few years, without which the Campaign might have faded long ago. Let's not forgetting Kath Dalmeny, head honcho of Sustain, whose friendship with Campaign co-founder Andrew Whitley brought the whole show to the charity in the first place, and who is always fighting our corner.
Here's to all of you and the rest of our friends and champions of Real Bread too numerous to mention individually!
Women Bakers Project
Campaign supporter Cindy Zurias's nascent initiative is designed to connect and celebrate baking professionals. "We can talk about our challenges and victories and let the world know about us." Contact Cindy to find out more
Mother dough
Since 2008, we've been celebrating Real Bread heroes through our website, True Loaf magazine, events, books, media work and social media channels. Here's just a small selection from our archives:
The joy of sharing bread: How bread making helps One Mile Bakery Exeter owner Boudicca Woodland's mental wellbeing.
Abolishing the night shift: Fran Bernhardt learns how lockdown gave head baker Cindy Zurias a unique opportunity
The rye-searcher: Social anthropologist and Bread Lab student researcher Laura Valli shares her love of rye
A breaducation: In 2019, we teamed up with Cassie Liversidge to lead hundreds of London school children on the Real Bread journey from seed to sandwich.
Small is bountiful: Campaign supporter Kim Bell set up Small Food Bakery on the edge of Nottingham city centre in 2014.
A cultured calling: Microbaker Ildiko Toth explains how making sourdough has become an important journey in her life.
Berkshire bounceback: Campaign ambassador Lucie Steel's experience of closing and re-opening her village bakery.
Forging ahead: Forge Bakehouse founder Martha Brown says it was definitely not her lifelong plan to open a bakery…
Quarantine comeback: As the world shut down, Real Bread Campaign ambassador Helen Underwood reopened her bakery.
Bake to the drawing board: Emma Parkin on totally overhauling the way her Real Bread bakery and café in Exeter operates during lockdown.
Bread Together: Mary Horbury is a member of the grassroots co-operative based in Chester city centre, which runs bread making activities with and for people of all ages, backgrounds and abilities.
Planet Leicester Bakers: Founder Michelle Stratford explains how the business creates safe spaces, brings people closer together around bread making to talk about difficult things, builds togetherness and trust, while exploring health and wellbeing.
The Good Loaf: Suzy van Rooyen is CEO of The Good Loaf, an artisan bakery and three community cafés in Northamptonshire, which provides training and employment opportunities to vulnerable women.
Bread people: Liz Wilson is a Bread Angel who runs the award-winning Ma Baker microbakery and baking school, through which she gets to meet all sorts of folk.
Creole crusts: Growing up in the Caribbean, says Chalet Bakehouse owner Lisa Williams, two staples in every home were rice and bread, and her home was no exception.
With bread all sorrows are less: On her progress from art school graduate to microbaker, Campaign ambassador Ameena Nur has experienced giddy highs and the deepest grief.
The ginger baker: Teenaged Campaign ambassador Kitty Tait's dad Alex recounts how they set up The Orange Bakery together.
To the honour of bread: An insight into the bread culture of the Ukraine by Tatiana Shrimpton.
Bread improver: Proof Bakery founder Chernise Neo begins the story of her a sourdough-powered community interest company in Coventry, which creates training and employment opportunities for refugee women.
Mindful microbakery: In reassessing her life and finding ways to manage periods of depression, Emma Chesters discovered bread making as a path to calmness and a new career.
Gut instinct: Why does it sometimes feel that everybody is avoiding gluten these days, asks Naomi Devlin.
Thoroughly modern Melissa: Oxford-based Modern Baker co-founder Melissa Sharp talks about researching the potential health benefits of sourdough baking.
Antarctic roll: Chef and baker Ariana Berry proves we'll go to the ends of the earth to bring you interesting flour arranging stories.
Local Loaf Lincs: Running a Real Bread bakery is as much about making links with local people as making loaves as Campaign ambassador Sonya Hundal has been finding out.
Lighting the way: Chris Young chatted to Alice Williams, founder of The Luminary Bakery, a social enterprise that offers employability and entrepreneurship training to women facing social and economic disadvantage.
I loaf NY: Molly Crossin sends a postcard from The Big Apple about the social enterprise Hot Bread Kitchen
Searching for shokupan: Alys Bannister investigates the intricate and complex history of bread in Japan.
www.internationalwomensday.com
As might well ask why there isn't, or when there is, an International Men's Day - It's on 19 November.
Our platform, your voice!
If you have a story to tell, knowledge to share or views to air, please get in touch. Find out more.
Published 8 Mar 2021
Real Bread Campaign: The Real Bread Campaign finds and shares ways to make bread better for us, better for our communities and better for the planet. Whether your interest is local food, community-focussed small enterprises, honest labelling, therapeutic baking, or simply tasty toast, everyone is invited to become a Campaign supporter.
Support our charity
Your donation will help support the spread of baking skills and access to real bread.