Growing up in the Caribbean, says Chalet Bakehouse owner Lisa Williams, two staples in every home were rice and bread, and her home was no exception.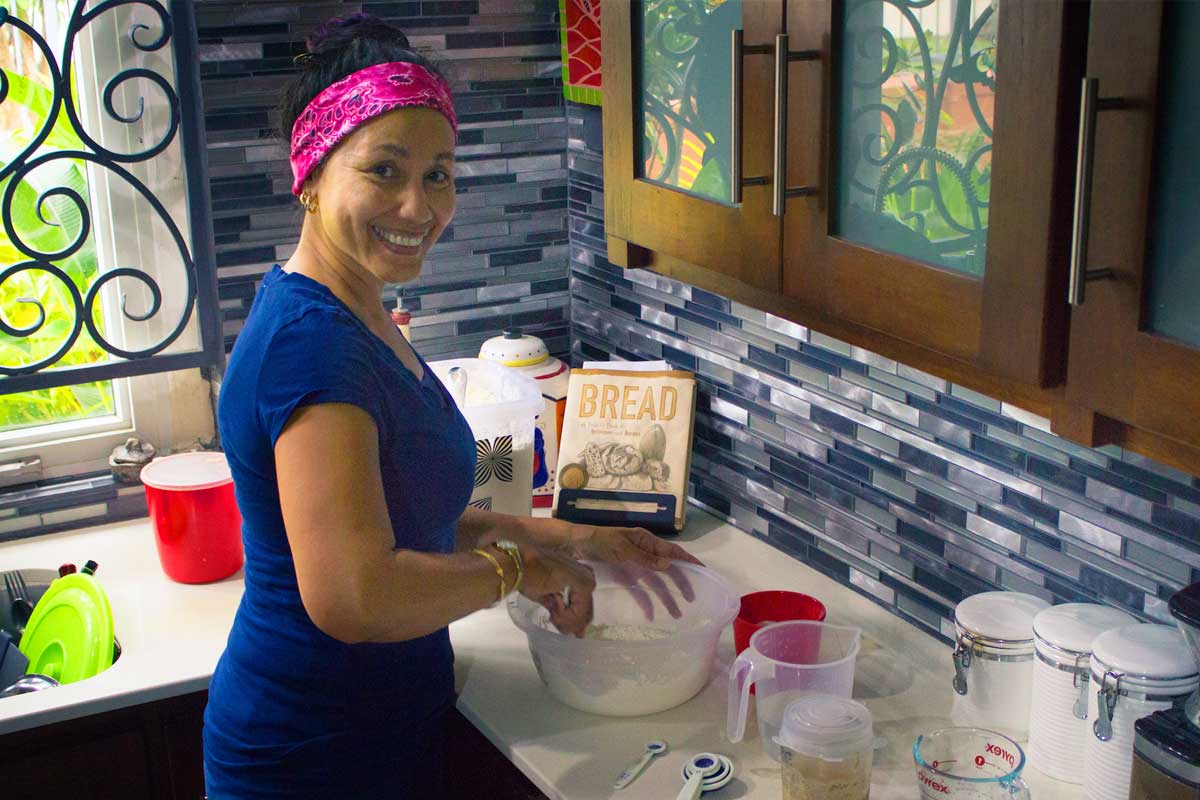 Photo © Lisa Williams
My homeland of Trinidad & Tobago has a cosmopolitan population. Our original Amerindian settlers from South America were conquered by people of many different nationalities and cultures, notably English, French, Spanish and Portuguese. Over the years they brought, and later mixed with, African slaves and indentured labourers from India and China, as well as the original settlers, to create our own unique identity today. It's no wonder that our taste in bread and our bread making techniques are as diverse as our population.
Imported traditions
Being located in the tropics, wheat and grain are not indigenous to our region so the early settlers made use of what was available. As the closest Caribbean island to the South American mainland, Trinidad was a transit point in the Caribbean network of Amerindian trade and exchange. These Amerindian tribes used flour made from a root vegetable yucca or manioc (which we call cassava farine) to make bread. This was made without any leavening agent, and yielded a flatbread that resembled a biscuit more than bread. It was dry, bland and crispy.
The arrival and influence of Europeans led to the introduction of wheat flour, which would come to dominate our bread making traditions. But one can still find rural communities where cassava bread is made and consumed. Cassava is an easy-to-grow root crop, which people can grate at home to create nutrient-dense, gluten-free farine. It is also mixed with wheat flour to make traditional tin loaves.
Imports and restrictions
National Flour Mills (NFM) and Nutrimix Mills have provided the bulk of basic wheat flour (milled from imported grain) to commercial and domestic bakers since 1966, in the case on NFM. Getting hold of other types of flour is a challenge for artisan and other Real Bread bakers. Stoneground, rye, spelt, organic and other flours are imported but importers are hindered by foreign exchange restrictions and the supply tends to be limited and unreliable.
Today, the country's two dominant cultures (Indian and African) have done much to shape our culinary tastes as well as the types of bread we consume. On the Indian side we have sada roti, a flatbread that is a staple in many homes and is a traditional accompaniment to breakfast.* The larger bakery chains have tried to create commercial versions, but it is still mostly made by hand at home or in small grab-and-go eateries. It is usually made with wheat flour, salt and baking soda/powder, though it can also be made with sourdough, which I have successfully experimented with in the past.
Hops bread
Also popular in T&T is hops bread, which was popularised by Englishman John Alfred Rapsey, according to local historian Angelo Bissessarsingh. In a 2012 Trinidad & Tobago Guardian article, he wrote: "John Alfred is credited with using an old technique he observed among the French Creole kitchens of Trinidad which involved leavening a dough roll with an extract of the male hop flower which gave it unusual crust and size. Originally, the loaves were baked wrapped in green banana leaves, which resulted in the finished product being delivered with dried leaf still stuck to it. Thus hops bread began to be commercially baked around 1893 and with each loaf being sold at a penny apiece (day-old loaves being sold in front the bakery for halfpenny). Because of the price, hops bread was originally known as 'penny loaves' and were a blessing to the impoverished barrack-yard dwellers of the city."
Locals would often buy their hot 'quart of hops' in brown paper bags, much like French people purchase their freshly-made baguette daily, from their community bakers, or at least used to. By some accounts, the best (and only authentic) hops buns were made in ajoupa (mud) or brick ovens, of which there are very few today. This ubiquitous bun is still made by small community bakers, as well as local supermarket bakeries and the larger manufacturers: Kiss Baking Company and Coelho Baking Industries. According to connoisseurs, the best hops bread has a thin crusty shell, which that shatters into crumbs on first bite to reveal a soft, airy crumb structure. Many community bakeries claim to produce authentic 'hopsy' bread, which the commercial bakeries have not truly mastered.
Now and the future
Today, a number of once-neighbourhood bakeries have expanded to capture a wider share of the national bread market. Pascal's, Chee Mooke and Linda's were all once single location bakeries that now have branches across the country. Chee Mooke, which is 85 years old, boasts the oldest surviving on-site bakery in the capital city of Port of Spain. It produces many traditional specialties, such as plait bread and butter bread, in addition to hops bread.
With growth away from their home base, I believe that many of these bakeries have lost the Real Bread ethos as they strive to ensure longer shelf life, and I'm not alone. The Benjamins are a family of Scottish descent, whose Benji's Bakery in Sangre Grande on Trinidad, has been baking bread for over a century. They began using a wood-burning brick oven in 1890s before converting to modern bakery equipment in the 1970s. According to 82 year-old Ancilla Benjamin: "flour was not as expensive like today, the bakery did not use as many chemicals and additives like now, and produced a natural, wholesome bread that tasted better and lasted long without refrigeration."
Homemade bread, which up to a generation ago was the norm in almost every home, has largely lost out to the convenience of in-store supermarket bakery loaves. While the artisan bread market has seen growth and new players within recent times, it remains a niche product, with bakeries like my own Chalet Bakehouse relying on word-of-mouth, social media and pop-up markets to get our Real Bread to the people who are willing to pay an honest price for preservative-free, handcrafted loaves.
*And my favourite paratha roti, aka buss up shut (because it supposedly resebles fragments of a bust up shirt), similar to south Indian porotta and Malaysian roti canai. [ed.]
---
Originally published in True Loaf magazine issue 41, October 2019.
Published 6 Jan 2020
Real Bread Campaign: The Real Bread Campaign finds and shares ways to make bread better for us, better for our communities and better for the planet. Whether your interest is local food, community-focussed small enterprises, honest labelling, therapeutic baking, or simply tasty toast, everyone is invited to become a Campaign supporter.
Support our charity
Your donation will help support the spread of baking skills and access to real bread.