Campaign ambassador Lucie Steel's experience of closing and re-opening her village bakery.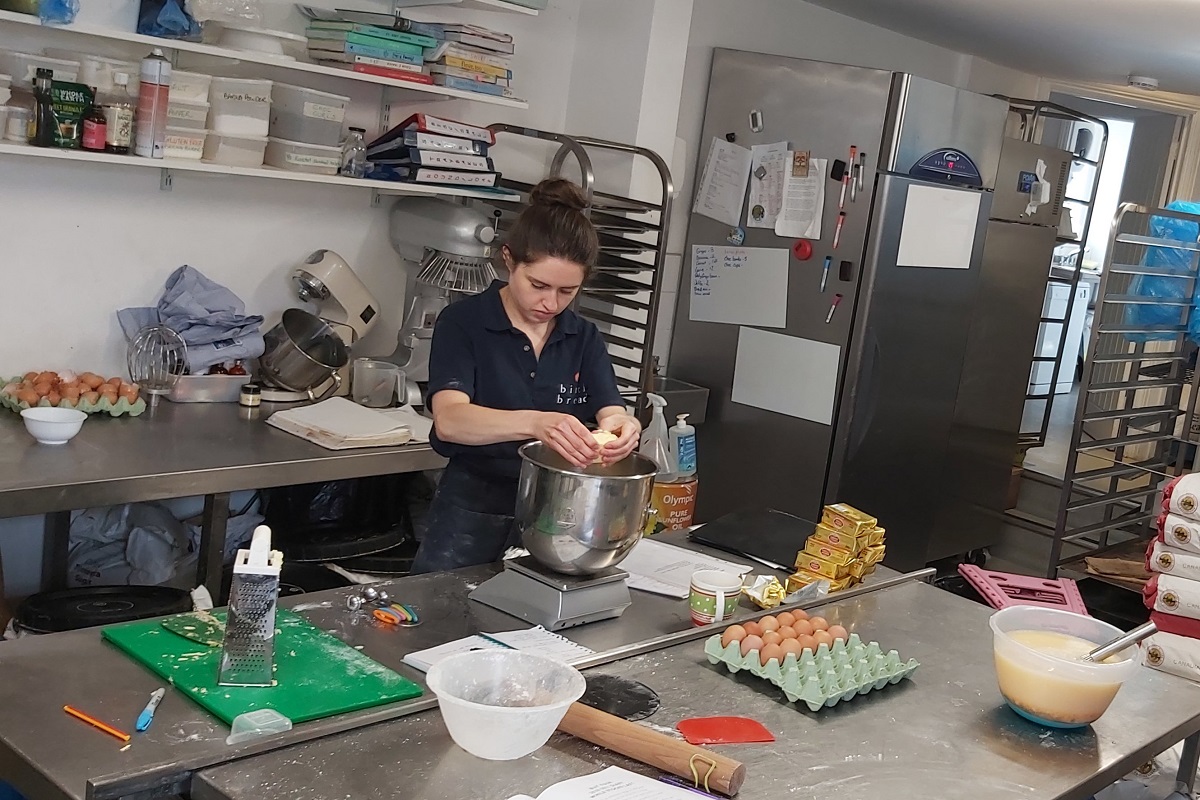 Spaced out bakery © Birch Bread
After being closed all of April, Birch Bread is back up and running on a reduced week from Thursday to Saturday. We haven't opened the shop area, instead serving through a side window that opens onto Pangbourne's main street. Customers waiting to be served queue down the street and seem happy to do so. On the first day we opened, some queued for an hour to buy Real Bread! It's been calmer since.
Local support
People seem SO pleased to have us back and we have been blown away by the support from our local community. People constantly amaze me with their kindness. A chance meeting on the street with a customer (socially-distanced, obviously) has resulted in our very own website!!! She has done this for free as she said she was bored on furlough and wanted to do something for us. Needless to say she will be getting free bread for the rest of forever!
Our team have also been truly awesome in their support for the bakery, working to a changed rota and with the measures we have put in place to safeguard them, their families and our customers. The three day opening is proving to be a success but our staff will need to go back to full time work soon. We are looking to open four days a week, plus one prep day. I'm waiting to see how things go with all the other shops now opening up and not planning to change until at least the middle of July. I don't think we will go back to five day opening, at least for this year. We can make the same amount of sales on three to four days, but with lower costs.
It's all very strange still in the village but folks have now got used to the queues for everything. The hairdresser next door will open at the beginning of July, so we'll need to look at our queue system as it currently goes past their window. We might need bigger pavements soon!!
Amazing gift
One very positive thing to emerge for us from the current Covid situation is that we have been given the opportunity to stand back, take a breath and re-evaluate how we operate as a bakery. As a very new business not yet in profit, being able to effectively start again with fresh eyes this is extremely valuable. As a baker and bakery owner, previously working 16 hour days six days a week, time to look again in depth at our business model has been an amazing gift.
Published 1 Jul 2020
Real Bread Campaign: The Real Bread Campaign finds and shares ways to make bread better for us, better for our communities and better for the planet. Whether your interest is local food, community-focussed small enterprises, honest labelling, therapeutic baking, or simply tasty toast, everyone is invited to become a Campaign supporter.
Support our charity
Your donation will help support the spread of baking skills and access to real bread.