Microbaker Ildiko Toth explains how making sourdough has become an important journey in her life.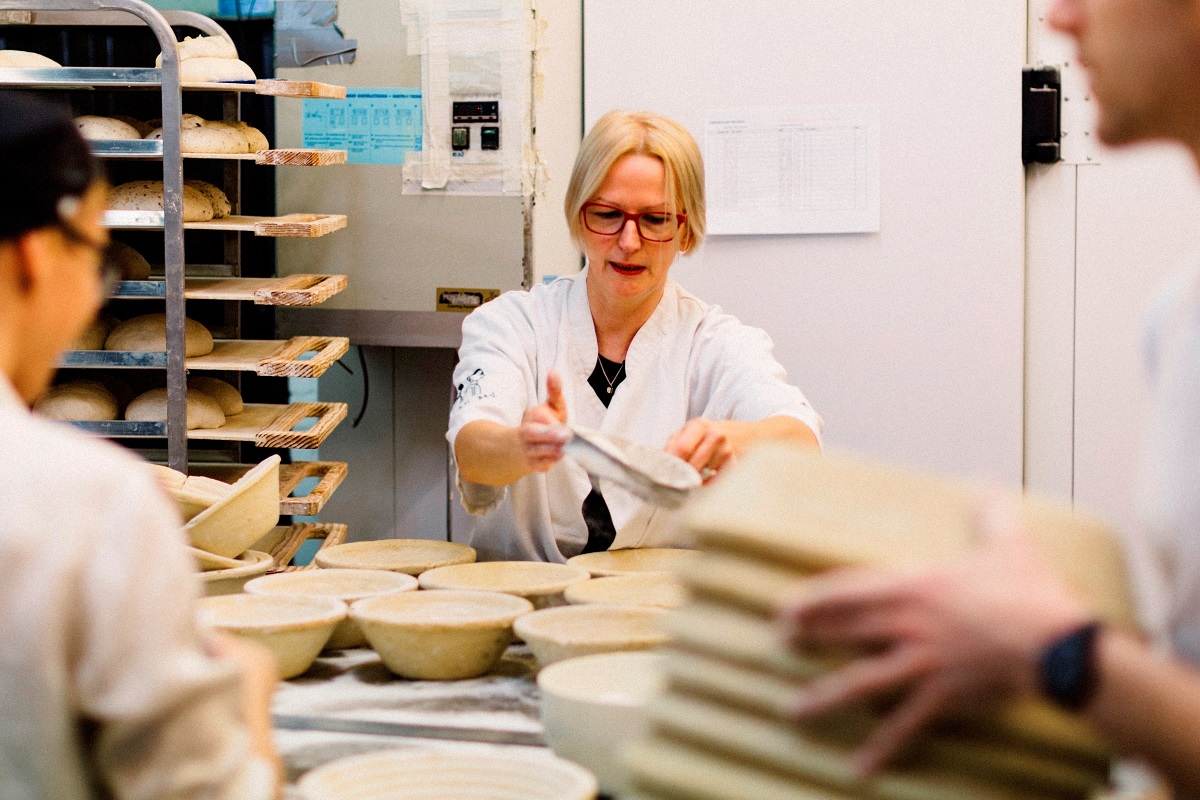 Ildiko at Better Health Bakery © Balint Samad
When my work environment changed and the atmosphere there became unbearable, I craved a complete change of direction. I struggled for a few years and explored many different avenues, but I just couldn't find that one thing I really wanted to do, what would make me happy and enable me to give something back to my community as well.
The right challenge
I've always had an interest in cooking, but baking intimidated me. Neither making cakes with many different steps and stages, or bread had ever worked out for me. Even so, one morning, I woke up with a word in my mind – sourdough. That same day, I Googled how to create a starter and enrolled on a course. Once my starter was active, I begin practicing, baking, learning. I had found the right challenge that I searched for and craved. Within a year I set up Cultured Bread* Bakery in my home kitchen in Chigwell, Essex, and started baking once a week to order.
Running a sourdough microbakery has helped me to connect with people in my local community and I have got to know so many amazing people in my neighbourhood. I have also made friends with fellow bakers far beyond, who have pushed me to keep learning. In 2019, I was encouraged to enter the World Bread Awards competition. To my absolute awe I won the Real Bread Campaign category, less than a year since starting my small business. It meant so much more than just winning. I proved to myself that I had found a calling.
Laughter, music and learning
It was on a walk along the Regent's Canal that I came across Better Health Bakery, a social enterprise run by a charity that specialises in rehabilitating people with mental health issues. They were looking for volunteers and I jumped at the chance to apply. I was fortunate enough to start helping out there once a week as a volunteer baker. I feel so at home there, being part of a group of dedicated people who really care about each other and the work we do. We all come from different walks of life, from accountants and nurses to musicians, actresses and postmen, but it's the sourdough process that bonds us.
The bakery is filled with laughter, music and there is constantly a lot of learning happening. We all observe and appreciate each other's qualities and have great respect for everyone's unique methods and techniques. It never ceases to amaze me that an ingredient as humble as flour can be turned into such a wide variety of beautiful edible goodies.
Friendship
The artisan baking community couldn't be a more friendly and open one. We learn, help and encourage each other, right across the globe. There can't be many jobs in which you can message someone at 5am and get an instant reply. 'Hey, at what temperature do you bake your focaccia? With or without steam?"
Through sourdough I have very strong bonds and friendships in many parts of the world. Social media makes it easy to connect with each other. I have made some nice friends with my fellow Bread Angels through our Facebook group where we support each other and ask for advice. I have also organised a small group of sourdough enthusiasts based around London and we meet on regular basis at each other's homes to bake and have great fun together.
An immense journey
For me, sourdough isn't a destination, it is an immense journey. Looking back on the short time I have been involved with sourdough, I've come a long way. I've considered myself many things in life, a baker was not one of them. The fact that I was never successful with baker's yeast, is probably a blessing now, it wasn't something that could confuse me while learning to understand sourdough fermentation.
As I am writing this, I am actually so excited. Tomorrow is our next meeting, this time it will be held at the multiple-award-winning M's Bakery in Bournemouth. We are having a special guest all the way from Hungary who is going to teach us the magic of sourdough pizza making. Budapest-based Szabolcs Szabadfi (AKA Szabi a Pék) is one of the very top masters we could ever wish to be learning from. I am excited to see where my journey is taking me next.
---
This feature was written in February 2020, before lockdown. In June 2020, Ildiko told us: "During lockdown I had some extremely busy weeks. It felt great that I was/am able to provide for the community around me. It kept me occupied as well."
Published 13 Jul 2020
Real Bread Campaign: The Real Bread Campaign finds and shares ways to make bread better for us, better for our communities and better for the planet. Whether your interest is local food, community-focussed small enterprises, honest labelling, therapeutic baking, or simply tasty toast, everyone is invited to become a Campaign supporter.
Support our charity
Your donation will help support the spread of baking skills and access to real bread.