Chef and baker Ariana Berry proves we'll go to the ends of the earth to bring you interesting flour arranging stories.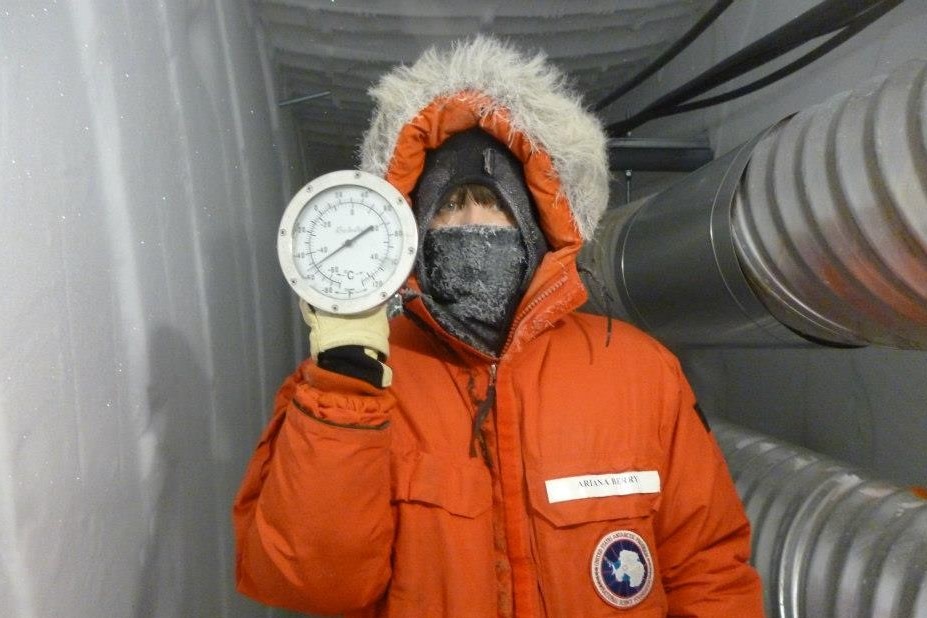 Photo © Ariana Berry
I have a theory that good bread bakers are curious creatures by nature. If ever there was an environment to spark their imagination it is the harsh and pristine landscape of Antarctica. Imagine living and baking somewhere double the highest altitude in the States and triple that of England's Scafell Pike. Someplace so cold that when you toss a mug of hot water into the air it turns into a big fluffy steam-puff instantly.
For the past two austral summers running I have served as the only dedicated bread baker in the whole of Antarctica, working mainly at McMurdo Station on the Ross Ice Shelf. McMurdo is the largest research station on the continent and supports both a core population and many international visitors. The total number of people living there can range from 150 very isolated people in winter to upwards of 1200 in the 'summer'.
Psychological benefit
Although some premade pastries are brought in, the vast majority of the bread enjoys a sacred freshly-made-from-scratch status. It would possible to ship in frozen breads but alongside practical considerations, the management acknowledges the comforting psychological benefit of a warm, handmade loaf.
We make our breads in a kitchen equipped not so differently from production facilities anywhere else. In fact the only major difference may be that some of the more southern stations don't always have freezers – we have the back doorstep for that! When you require, let's say, a box of frozen berries at Amundsen-Scott Station (the geographical South Pole), you walk out of the kitchen's swinging door and across the hallway to a back dock. You push open the door and gaze upon a pure white expense so encompassing that sometimes it's difficult to ascertain the horizon distinctly—quite a surreal field trip during a baking shift. Once you've recovered somewhat from the wonder of it all you turn left to grab your box of berries off of the metro rack and then hurry back to your warm ovens before you become blast-chilled yourself.
But let's get back to the bread, shall we?
In the wilderness
During my first year I was unsure of what to expect. I found out that bread is highly celebrated at McMurdo Station and plays a pivotal role in both daily meals and in holiday preparations. As Lead Baker I enjoy coordinating bread menus with the cook's dinner themes and special requests. In addition to the dinner breads we prepare 80-120 sandwich bread loaves a week, which are used in flight lunches for aircrew or sent off to nourish scientists and survival experts roughing it in the wilderness.
The diners display unshakable loyalty and so the bakery is a perfect playground for trying out new formulas or shaping techniques. We have made challah for Rosh Hashanah and Christmas stollen; brioches à tête and baguettes; griddled flatbreads and big, pillowy loaves. Often I'd make good use of a home or garden pump-sprayer to mist rustic loaves into a steam-induced crustiness and many times I created stencils to flour decorative images atop them.
In my second year I brought along a little bag of tricks containing several dehydrated sourdough starters, including a San Francisco white; Bahrain and East Coast USA wheats; and a German rye. There was also a sourdough starter cultivated in-house, which had a very mild flavour. I also squirreled in a special flour that was made from the dehydrated and crushed skins of merlot grapes and lent a lovely hue to a dinner bread or two. Like a dedicated karaoke singer's song choices, picks are not repeated unless proven crowd-pleasers. The biggest hits are generally standard French or sourdough loaves.
No waste in the wasteland
Being so far from supplies, little goes to waste. The bakers work together with the cooks to use up leftovers, like the time I used a cucumber-laced yoghurt and tzatziki bread was born. We often use leftover soups instead of water to elevate standard formulas into flavourful loaves. Sometimes supply flights from New Zealand bring damaged fruits and vegetables or are delayed by weeks and unload produce past its prime. One can make lovely breads from bruised apples or broken carrots! Occasionally the food warehouse team discovers a ridiculous quantity of forgotten, let's say peanuts, and then so next night we may feature a 'Homeland Peanut' loaf.
A rewarding challenge
Although the commute is something of a deterrent, it's difficult to deny the lure of such an absorbing and purposeful baking position. If I do find my way back there (and it is hard to imagine that I won't) I plan to bring a small grain mill along. Breads made from fresh flour are a real treat and having the ability to grind some grain varieties previously unavailable as milled flour could open doors to some tasty new options.
The true magic of breaking Real Bread in the Antarctic is how grateful people are in that isolated community for both the physical and spiritual nourishment. Never in my life have I encountered such grateful customers, colleagues and friends. What a truly rewarding challenge!
---
Originally published in True Loaf magazine issue 17, October 2013
Published 1 May 2019
Real Bread Campaign: The Real Bread Campaign finds and shares ways to make bread better for us, better for our communities and better for the planet. Whether your interest is local food, community-focussed small enterprises, honest labelling, therapeutic baking, or simply tasty toast, everyone is invited to become a Campaign supporter.
Support our charity
Your donation will help support the spread of baking skills and access to real bread.