In spring 2019, we announced our new official Campaign ambassadors. Amongst them is fifteen year old Kitty Tait. Her dad Alex recounts how they set up The Orange Bakery together.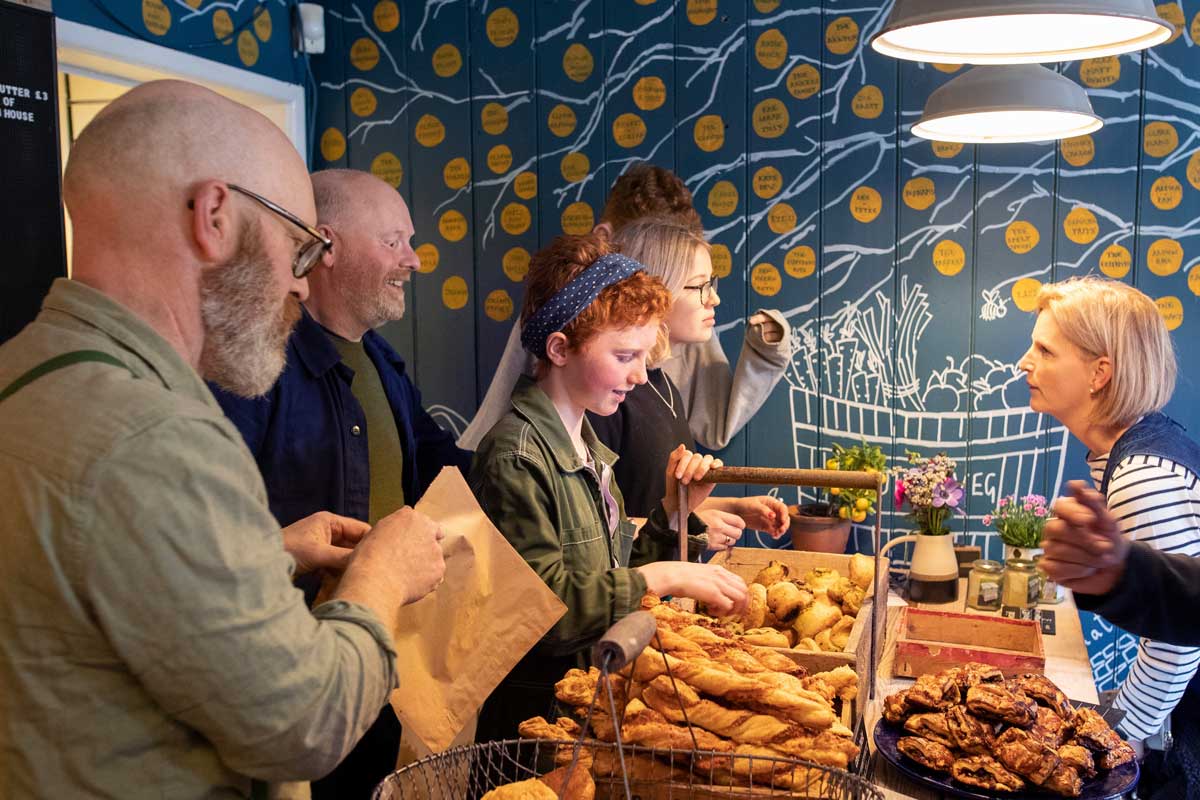 Photo © www.daisy-vcm.com
Looking out onto an attentive crowd of glitter-smeared festival goers in the Theatre of Food at Latitude this July, I was sweating nearly as much as my slab of puff pastry. It was hard to believe we were actually there doing a demo and I kept waiting for the fraud squad to come into the tent and say, 'C'mon guys, are you really meant to be doing this?' But we were, and we did, and it was great.
The magic of bread
Flash back to twelve months earlier and it would have been a very different scene. Kitty was very unwell and that hot, scary summer was a time of just getting by. Baking bread came after I had exhausted the list of all the other possible distractions for Kitty as she wasn't in school, but I didn't hold out much hope for it. I was a bit more invested in bread making as it was something I had been doing (with very mixed results) for years, but I thought it was destined to meet the fate of other pastimes that had failed to engage Kitty. I suppose I hadn't counted on the magic of bread.
'This whole extraordinary journey has been made possible by bread'
My attempts as a baker had been pretty inconsistent. The one unifying thread was mess and the ability to create one: See dough-encrusted tables, flour scattered like confetti. Until, that is, I discovered Jim Lahey's fabulous no-knead method. Everything could be mixed up in one bowl the night before, left to rise on its own, transferred to greaseproof paper and then tipped into a heated casserole dish. No fuss, no mess and an incredible look and flavour. This is what I showed Kitty, who hadn't baked much more than a potato before, and she was intrigued.
Orange dungarees
Five loaves later and she was already starting to improvise, wondering what she could add to the flour. She had already scoured the kitchens of her uncle and granny to track down extra casserole dishes and, without me knowing, approached a neighbour to ask if we could use their much nicer, bigger and, crucially, hotter oven. So the pattern was established; Kitty setting the pace, me finding out about things a little later.
We began to give our Real Bread away to neighbours in our village – Watlington in Oxfordshire - and soon others approached us asking for a loaf as well. We set up a simple subscription service, delivering loaves on our bikes. Kitty named The Orange Bakery after her favourite pair of orange dungarees, rather than her hair colour, as some people assume. We started to experiment with cinnamon buns and Nutella swirls, which seemed to grow in popularity the more people tasted them.
The customer base grew and grew and soon we realised that half our time was spent delivering rather than baking. We dug out an old cabinet, painted it with an orange handle and popped it by the front door. Our honesty box system was set up. Each customer had a set collection day and we bagged up the orders – which had now grown from white to brown to Marmite (brilliant) and even focaccia – in named paper bags and left things out in the cabinet. Amazingly nothing ever got stolen, although traffic jams were frequent as people jumped out of their cars to try and find their loaf - we soon learned to provide a map of the cabinet's contents.
Pop-up bakery
In the little spare time we had, we were travelling to explore other bakeries to make contact and seek inspiration. We soon encountered the extraordinary generosity of the baking community; they were happy to share time and advice with Kitty, treating her as an equal and not just some 14 year old girl. Instagram became an amazing tool for her to forge links even further afield. She was able to spend time working alongside the brilliant Laura Hart in Bristol and the effortlessly calm Kate Hamblin, owner of the eponymous Oxford bakery. Popham's in London donated an old mixer, which transformed production.
By this time, we had ploughed our subscription money into a little Rofco oven, which freed our neighbours up from mighty electric bills. It also meant we could start to bake in bulk. Meeting a big Christmas Eve order made Kitty think about whether she might be able to do a pop-up bakery. A friend in the village was going away for a month and kindly said we could use her studio room on the high street, which had once been a shop.
We then had to work out how to get enough people interested in what we had to offer. Inspired by a cousin, who had done a similar thing at uni, we decided to yarn bomb the town. Unfortunately, we never mastered knitting so instead resorted to orange pompoms. With the help of friends and supporters, we were able to amass several hundred of these woollen gems and, three days before the pop-up, we crept out into town and festooned everything we could find. Even now we still see pompoms in the most unlikely of places. All of the shopkeepers were very supportive, creating little displays.
We still didn't know if it had worked but, when we turned up with our crates of bread and goodies, we were met by an expectant crowd, which stretched back down the high street like a cartoon. We sold everything in 23 minutes. The same thing happened the following week and then the next. What we realised was that we had tapped into something very special. People had an appetite for good bread.
High street shop
Baking-wise we were now largely making sourdoughs, inspired largely by Chad Robertson's Tartine method. Kitty's feel and instinct for this extraordinary fickle and changeable beast was amazing and the feedback we were getting was enormously positive.
The idea of a permanent shop was a fantasy had been floating in my head somewhere in the mid-distance. Then one of the customers at our pop-up, who had been taken by the vibe and the products, mentioned that he owned a shop on the high street owned and wondered if we might be interested in taking on the lease, which was just about to be available. While I was still humming and hah-ing, Kitty had already signed us up.
This left the small matter of trying to find the money for installing electrics, plumbing and all the legal stuff that drapes over a great project like a wet blanket. It was good friends who persuaded us to think about crowdfunding. I mastered the landscape of Kickstarter, Kitty made one of her brilliant stop-animation films, and in early April 2019 we launched our bid for £5000. Amazingly, it took off and we reached our target in just days, eventually raising double that amount a few weeks later. Most funders were locals, but a good 20% were people we had never met, folk from as far away as New Zealand who just wanted to invest in a good idea. Their names appear on oranges on the tree mural on the bakery's wall.
With the help of some brilliant local talent, on 6 May we opened our doors and here we are, nearly three months later, and it seems to be working. We sell all of (our admittedly limited) stock nearly every day, with the queues still greeting us every Saturday. At the start of July we were able to hold a thank you party for all our crowdfunders, where we served pizza and beer made from what little leftover bread we have.
We have a lovely group of regulars, but increasingly welcome visitors who have put in the miles to come and see us. I'm a teacher and now home school Kitty, and we are managing to balance the bakery with the rest of her education. We have wildly ambitious plans for the future, which I'm sure I'll learn about in due course. This whole extraordinary journey has been made possible by bread, yet another example in a long line of its redemptive properties. So thinking about it, maybe I can stand down the fraud squad as this is real; very real.
---
Originally published in True Loaf magazine issue 41, October 2019.
Published 18 Nov 2019
Real Bread Campaign: The Real Bread Campaign finds and shares ways to make bread better for us, better for our communities and better for the planet. Whether your interest is local food, community-focussed small enterprises, honest labelling, therapeutic baking, or simply tasty toast, everyone is invited to become a Campaign supporter.
Support our charity
Your donation will help support the spread of baking skills and access to real bread.