Fran Bernhardt learns how lockdown gave one head baker a unique opportunity to achieve the previously unimaginable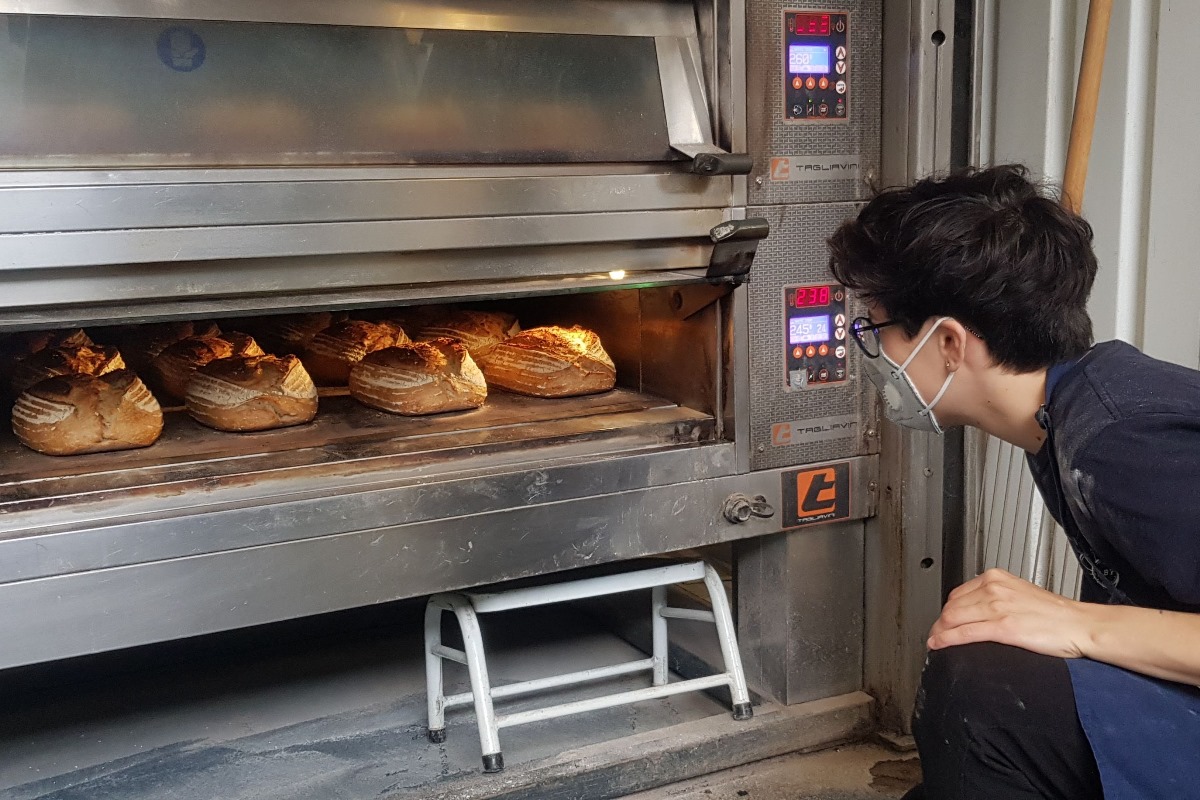 Photo: Cindy Zurias at work © Fran Bernhardt
The role of bakers has long been romanticised. They dedicate their lives to mastering their craft of creating perfect, golden, crusted bundles of deliciousness for people in their local community to savour. It all seems so idyllic until you learn about the realities of the job: The nights spent labouring over the dough, heaving batch after batch of loaves into and out of a hot oven with an aching body that longs for a good night's (or day's) sleep. Is that downside felt by bakers? "Absolutely!" Little Bread Pedlar's head baker, Cindy Zurias, exclaims. "With knock-on effects for our sleeping patterns, our mental and physical health, not to mention our social lives! So I thought - I'm going to see what we can do about that," says the sourdough specialist.
The ambitious former chef from Venezuela explains how, having left notoriously brutal Michelin-starred restaurant kitchens, she launched herself into Real Bread bakeries. She quickly made a name in the rarefied world of pandoro and panettone specialists, before working her way up to become head baker of one of London's biggest artisan bakeries.
Turmoil
When the pandemic hit in 2020, it was a frightening time for everyone in hospitality. The majority of LBP's business is wholesale, so when the UK Government shut down restaurants and cafés that March, a large part of the bakery's customer base was knocked out overnight.
This turmoil gave Cindy the chance to launch one of her bravest moves yet. Her work became focussed on providing essentials and optimising the business's ability to react to changing needs. Gone were the intricately-flavoured but demanding breads: the tortanos, the stout and rye, and the miches. The three-day Swedish loaf with fermented seeds was a favourite that was particularly painful to let go and Cindy describes how she savoured the last of them from her freezer. The labour-intensive loaves were replaced by a few types of everyday 'sandwichable' sourdoughs.
"I felt like I was constantly up against it," she recalls. "I was working all day in the bakery and then spending my evenings writing new schedules, recipes, and analysing numbers. And then we'd hear something new at the next day's Government briefing and we'd be predicting it would mean something completely different for our sales, so I'd start all over again. I was improvising and just hoping – in this time where no one knew anything for certain – that what I did today, would fit with what was needed when the bread was ready in three days' time."
No more lonely nights
The unpredictability had upsides, however. With everything in flux, Cindy felt freed from the usual pressures and decided to attempt something she'd been working on for a while – to remove the night shift. "It's a physical job and you need to think a lot. It's not just a recipe you follow. If you work nights or eight hours standing up each day, you're going to get pretty grumpy. You don't have time to date or have a hobby so your life is just reduced to work," she explains. "I thought if the sales are going down, we might as well change things for the team. I just thought – it's now or never."
Cindy admits preparing for the change was far from straightforward. "It's not just about having the guts to take the leap. It's about number crunching the data, knowing the speed and capabilities of your team and deep analysis of resource in the bakery." When she broke the news to her team, it was met with delight and a healthy dose of scepticism. Despite initial nerves, it worked and the team quickly adjusted to the change. "For the first time in years, you were rested, you had an opportunity to explore other things so it made it easier to enjoy doing what you do."
Sleep for survival
Could other bakeries replicate her success? Cindy thinks so. "It's completely possible. I did it with a massive artisan bakery – we can all do it. I'm so keen to see that other bakeries do because it opens up this trade – anybody who loves making bread can make a living from it without sacrificing everything else in their lives. I want to see Real Bread bakeries survive and I think this is one of the key ways to do it."
It will come as little surprise then that, despite (or perhaps due to) recent hardships, Cindy is optimistic about the future for Real Bread. "I think the pandemic taught us a lot about slowing down in many ways. Making bread at home made people appreciate the sweat, tears and skill of artisan bakeries. People have thought: 'I like eating Real Bread. We should be eating more of it, not the nonsense they sell in supermarkets, but I'm not going to spend three days making it.' So I hope that they are going to seek out and support their local Real Bread bakeries."
See also
Baking a Better Career
Speakers wanted for an online event in January 2021. If you've experience of making and implementing changes for the benefit of bakery team members, are game to give a short talk and answer questions to help inform and inspire others, please find the details here.
Roots to Work
You can find - and advertise - details of Real Bread (and other good food) job vacancies at www.rootstowork.org
Originally published in True Loaf magazine issue 44, October 2020.
Published 17 Nov 2020
Real Bread Campaign: The Real Bread Campaign finds and shares ways to make bread better for us, better for our communities and better for the planet. Whether your interest is local food, community-focussed small enterprises, honest labelling, therapeutic baking, or simply tasty toast, everyone is invited to become a Campaign supporter.
Support our charity
Your donation will help support the spread of baking skills and access to real bread.