On her progress from art school graduate to microbaker, Campaign ambassador Ameena Nur has experienced giddy highs and the deepest grief.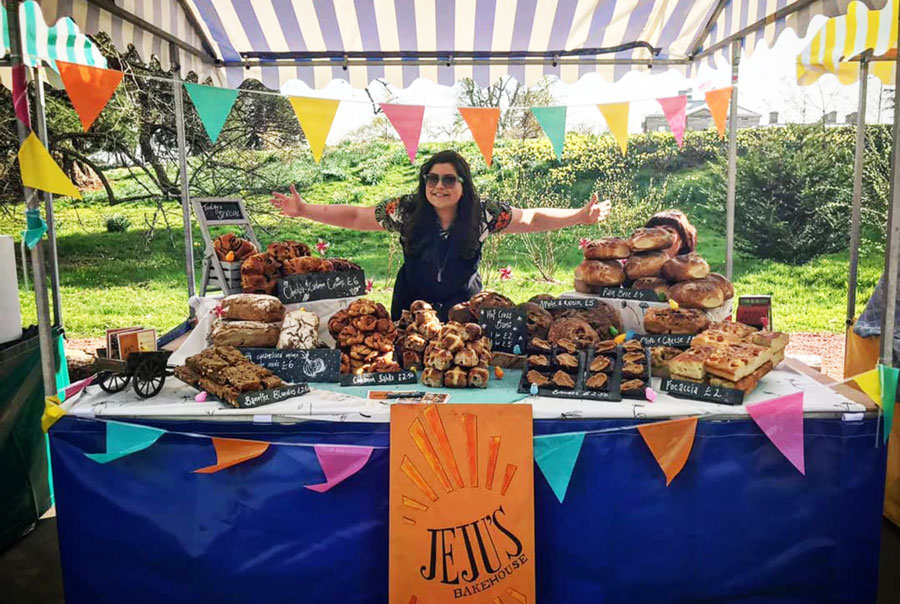 Photo © Ameena Nur
It's early spring in 2016 and there's a slight billowing of smoke emanating from the gears turning in my brain. It seems I may be having an epiphany.
Musical octopus
I hold a degree in illustration, which drew me into an assortment of jobs. Since leaving art school, I've made a twenty-foot high helter-skelter from willow canes, carved marionettes, created a stop-motion mock Olympics and made a miniature, musical octopus figurine standing five centimetres tall. A regular day at one absolute nightmare job had me dressed up as a mad scientist, dodging children with hands sticky in various unknown substances.
I decided I needed to put my energy, skills and passion into a job that fuels constant development, one that shifts and presents new opportunities for me to be creative at every turn. A job that allows me to be financially secure. Why couldn't I find it? Does this job even exist? And then I asked the best question: Can I create this job for myself?
Making the shift from illustration to what I call edible art was not as improbable as one might think. Both paths allow me to create something beautiful using my hands, whilst understanding the tools I use and medium I'm working in. There's knowledge, skill and attention to detail involved, not to mention the need for passion and enthusiasm for what you create. Of course, the added bonus with baking is the part where everyone gets to eat it.
I researched various baking schools before settling on the Advanced Diploma in Baking at The School of Artisan Food because of its apparently unique combination of baking and business classes. The stately, rural location was an added bonus for sure. I initially attended a one-day class and learned of the magic behind meringues. It was there that I spoke with a man called Wayne Caddy. Little did I know he would be one of the most influential teachers I think I'll ever have…
Falling in love with Real Bread
I applied, worked long waitressing shifts to save up, received all kinds of major help from my ever-supportive parents, got in and moved to Nottinghamshire. It was a crisp autumn day when I first arrived and as I crunched through the fallen leaves of the grounds, I thought I would find how to buttercream my way to success. What I didn't expect was instead to fall utterly and completely in love with the science and art of making bread. With every fold, bread proved to be challenging, exciting, and embryonic in many ways. Each bake brought forward new discoveries, flavours and techniques. Sourdough became a loaf worth sinking my teeth into. My eyes were fully open and I was enthralled by what I was learning. The next few weeks passed in laughter, singing and ridiculous amounts of flour.
Meet the family
Travelling back to Maybole in Scotland for the Christmas holidays, I couldn't contain my excitement to be at home and share all of my discoveries. I was looking forward to a cosy few weeks with my family, surrounded by love and more food!
A quick introduction to the family Nur: Father and mother are both doctors, and both wonderful and caring humans who strive to teach their four daughters to be their best selves. Being the second of the four, I have the advantage of being both a younger and an older sibling. I was three when my younger sister, Khodeja was born. Known and loved by her nickname Jeju, she had a rare genetic disorder, resulting in profound disabilities. Growing up with a sibling with special needs taught us sisters about compassion, patience, perseverance and the true meaning of unconditional love.
Stumbling into the abyss
The Christmas of 2016 saw an irreversible shift in our lives. Jeju passed away. Suddenly, we found ourselves untethered without our nucleus. Grief eats away at people. It permeates everything without consent and starves the soul. It changes you and shapes your day, your week, and your year. You stumble into the abyss it creates and some days you float, some days you plummet. It makes you question your Faith and if you're lucky, reaffirms it in ways you never thought possible. Though it manifests in various ways, one thing is for certain. It walks with you, always. And in some way, you learn to walk with it.
Returning to the school after that Christmas was an experiment as much as an escape. I stubbornly drove down south, accompanied by a dear friend who insisted on making sure I got to Nottinghamshire safely. I promised myself I'd go for at least a week. And then I promised myself another week. And another.
I broke down hourly, switched from cleaning obsessively to stepping over days of laundry and used dishes. I cried loudly and silently, forgot to eat, ate too much, stopped sleeping, and walked out of class numerous times. Through it all, the people around me rose to the occasion. My class-fellows and tutors became my family and lifted me when I needed it. I don't know how they did it, but in their own way, each person helped me.
I can never forget how many hands held mine as I came back to myself slowly. Baking bread with friends became a way for me to focus my thoughts. Sharing the responsibility and process of making great bread was healing. Feeding the starters, shaping the doughs, ensuring the breads were baked at the optimum conditions all reiterated how a simple action of making something worthwhile with my hands could bring peace.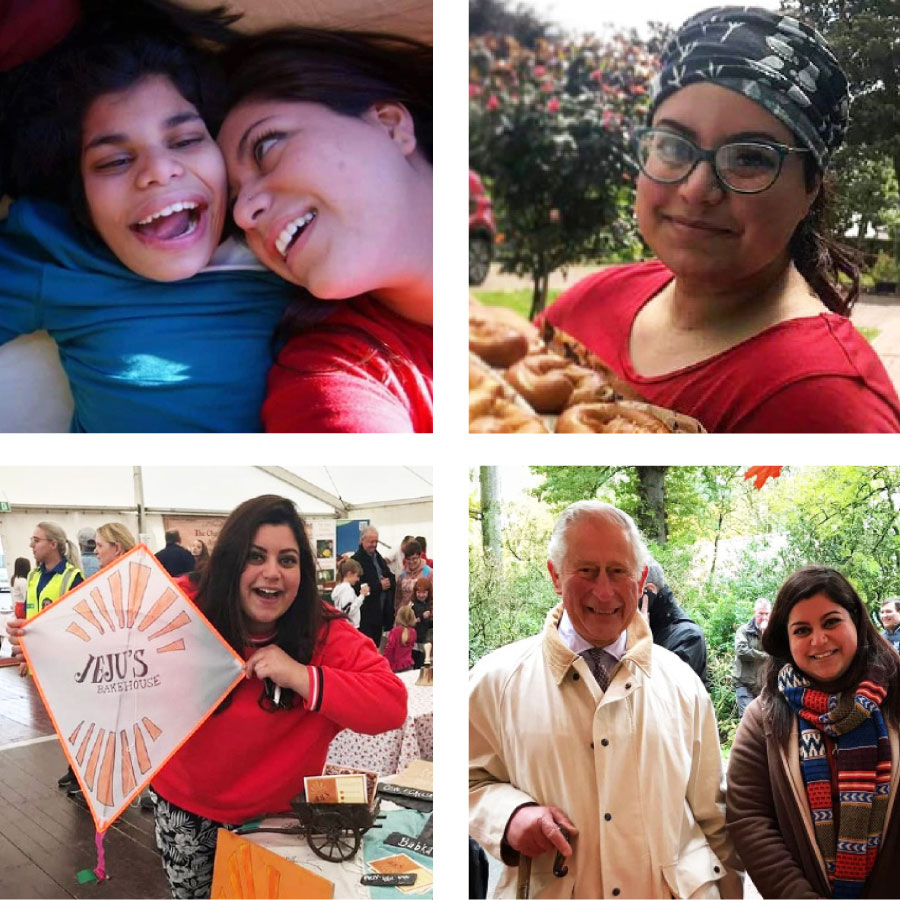 Photos © Ameena Nur
Sunshine
The rest of the course passed in a whirlwind of work experience at different bakeries, Excel spreadsheets, business plans and watching Mad Men on TV. During the course exercise of writing my business plan, I decided to name it Jeju's Bakehouse. I began designing the logo and realised the imagery that I was gravitating towards featured sunbeams. This stemmed from a phrase I used to describe my sister: Jeju is sunshine. Each time I see my logo it gives me hope, joy and purpose. I understand it's a huge responsibility to place on an image, but it anchors me on the days the sun doesn't shine in my mind's eye and I take solace in that.
There are many people I hold in high regard and recognise their contribution to my journey. A special mention to Yvonne O'Donovan, the wonderful business tutor at the school who I fondly refer to as my Business Mummy. Her countless words of wisdom and kindness armoured me against my worst critic: myself. Yvonne epitomises the meaning of a great teacher. She went beyond her job description and scooped up my negative thoughts up like a mama hen rounding up her unruly chicks and clucking at them until they behave.
As final exams approached, I tried my best to soak up all the knowledge our bread tutor, Wayne Caddy had to impart. Daddy Caddy, as I nicknamed him, has patience that surpasses a saint. Wayne was instrumental in motivating his students to become passionate about bread. Always teaching with a smile and a look of wonder, Wayne's enthusiasm was infectious. He saw his baker's dozen of students in our year through to the end and is undoubtedly the bread guru.
Circle of life
Fast forward to November 2017 when I took my microbakery took its first order under the name of Jeju's Bakehouse. Christmas, and revisiting those especially dark days of the previous December, were approaching and we only got through it because we had to. Retrospect often unveils hidden powers humans can possess and utilise in difficult times. In this instance prayer, support and love helped immensely.
After the success of Christmas orders, I felt I was in dire need of a proper oven and yearned to get back into bread, so in February 2018 I successfully applied to The Prince's Trust for a start-up grant. This was quite a lovely circle of life moment as, when my family moved to Scotland from Pakistan in 2001, the Trust provided carers for Khodeja and also ran a young carers group that helped us along the way.
The grant enabled me to buy a Tom Chandley oven from Peace & Loaf Bakehouse, a wonderful pre-loved beast, which I've named Bernice. Transporting half a ton of oven 179 miles from Barrow-in Furness to Maybole was an adventure and a half! The day brimmed with challenges, laughter, music, prayers, shouts and finally success; much like any day in the bakery, really. And so, I dove back into dough. As a side note, my favourite dough to handle is focaccia. The higher hydration and silkiness from the olive oil makes it a therapeutic joy to behold.
In May of 2018, I stocked my first ever market stall and since then I've been running business from our home kitchen. During the summer months, I take part in weekend farmers' markets and run classes to spread the word of Real Bread far and wide. The day I see a spark in my students' eyes during their breaducation, or pull the perfectly baked loaf out the oven, or see someone cut another slice of a sourdough loaf I've made is a day well spent.
Giving thanks
As Jeju's Bakehouse approaches its second birthday, I look back at everything I have learned and continue to learn every day. I thank God for the people He puts in my path. The ones who selflessly pick me up, those who make me laugh, share my posts online and comment on photographs with kind words, spend their hard-earned pennies on my bread and even those who bring their cute dogs to market days.
I wouldn't be where I am without my parents championing me every moment; without my father using his surgeon's brain to fabricate gadgets for the bakehouse and telling my customers that I make the best brownies in the world. Without my patient mother, who grows wonderful edible flowers for me and willingly gives up her kitchen to my efforts, asking inly a cup of coffee and a freshly baked cinnamon babka in return. I wouldn't find early mornings even remotely palatable without my youngest sister who always wakes up on her weekends to stand by me through snow, sleet, rain and wind, making me laugh uncontrollably throughout the day. I wouldn't be able to put up my feet for an extra hour if it wasn't for my elder sister who always gets roped into washing up the endless mountain of dishes anytime she visits. Her preferred payment comes in the form of brownie batter. And if it wasn't for my brother in law, I would never have realised the power of a pastry brush in the right hands. He's the best at egg-washing babka. Who knew that lawyers had such hidden talents?
Last, but not least, I thank God for Jeju. She works with me every day. She is there, always in my peripheral vision. Checking I've added the all-important salt to the apple and raisin dough. She listens as I answer the phone and blows raspberries as I take note of a customer's order. When I lie down after being on my feet for 17 hours, she cuddles up with me and pulls my hair. Even throws in a few slaps for good measure and thinks it's hilarious to take my glasses off my face and throw them over the side of the bed.
Jeju is in the Bakehouse, making sure I've not over-proved my rye. She laughs at me when I dance around the bakery and get flour everywhere. She finds it extremely amusing when the postman who delivers the 25kg flour sacks watches in disbelief as I lift them into the kitchen without breaking a sweat. She's there with a frown when I've burned the blondies, and sings out in delight as I stack the boxes of bread ready for market day. She's there as I carefully shape the pain brié. She agrees with me when I think it would be her favourite loaf. She's there for the best days and the worst. She gives meaning to my work and by gifting me her name; Jeju radiates happiness and sunshine in and out of the bakehouse.
---
Originally published in True Loaf magazine issue 41, October 2019
---
Published 16 Dec 2019
Real Bread Campaign: The Real Bread Campaign finds and shares ways to make bread better for us, better for our communities and better for the planet. Whether your interest is local food, community-focussed small enterprises, honest labelling, therapeutic baking, or simply tasty toast, everyone is invited to become a Campaign supporter.
Support our charity
Your donation will help support the spread of baking skills and access to real bread.