Forge Bakehouse founder Martha Brown says it was definitely not her lifelong plan to open a bakery…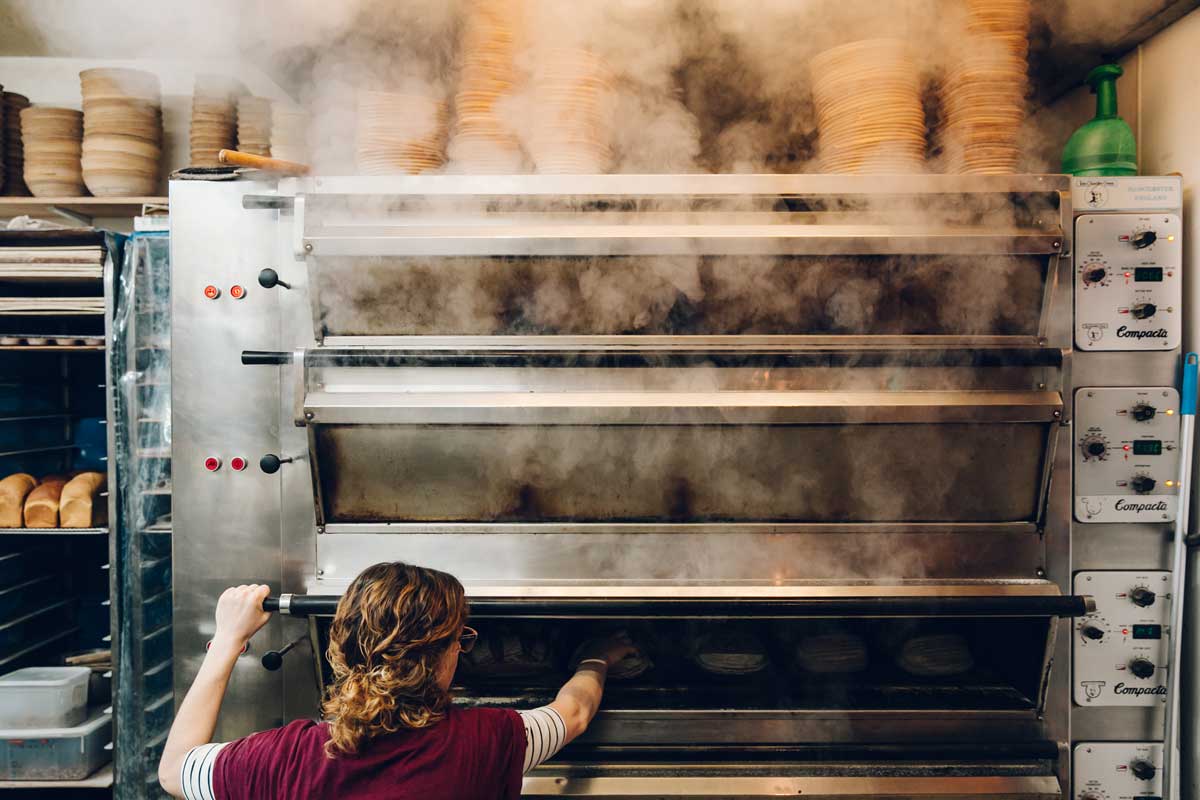 Forge Bakehouse © India Hobson
I thought I would follow a traditional academic path; A Levels and then university, but that didn't happen. I became unwell after my GCSEs and struggled to get any of the 4 AS Levels I had chosen. After a year and a half I was diagnosed with myalgic encephalomyelitis / chronic fatigue syndrome and, just after my 18th birthday, I dropped out of school. I worked part-time for a few years, then became so ill I was forced to rest fully. I spent four and a half years unwell. This was quite a chunk out of my formative years and it affected relationships with friends who were disappearing off into the world, while I stayed still in Sheffield.
No artisan bread in Sheffield
I started dreaming of running a food business in 2010 while working in an admin job. I had never worked in the food industry before, although food had always been a big part of my upbringing, with lots of English, Scottish and Cypriot influences from my family's backgrounds. Gatherings on both sides always revolved around food and we were encouraged from a very young age to try lots of new things and even allowed to experiment in the kitchen. I could bake cookies at home and decided that they were my way into food, but then while chatting to a friend he uttered the words 'there is no artisan bread in Sheffield'. I pretended I knew what artisan meant but later that night I had to Google it, which is when a year-long baking course at the School of Artisan Food popped up. I went to an open day a few months later and applied for the next year. After a tense few months waiting to hear if I was eligible for funding, I was accepted on the course and my version of university began.
Forge Bakehouse started life as a hypothetical business plan for a module of the course but, after looking at shops to rent to get a sense of prices, fellow student Ben and I realised it could be a reality. Even before the course had finished, we secured a shop in Sheffield and opened the bakery together in November 2012. Business partnerships are hard, even if you have the same vision. Getting to grips with actually running a business for the first time is difficult enough, but learning to work in a partnership is even harder, especially when you are so sleep deprived and overworked. Ben and I went our separate ways after the first year and I carried on the business solo.
Many transformations
The bakery has gone through many transformations and additions over the last seven years. We started life in a tiny shop selling only Real Bread and pastries to retail customers; on our first birthday we ran a pizza night. After two years we moved to a bigger premises, and six months later opened our tiny café in the same space - we also ran quarterly supper clubs. In December 2017 after six months of major building work (and way too much money spent) we opened a 32-seat café, with a proper kitchen in what had been a two-bedroom flat above the bakery.
We set out to simplify the offering in the bakery café, and stretch our creative muscles in our new first floor space. People did not agree with this! They wanted to eat and drink exactly what they had always done, where they always had. For six months it didn't work and it really hurt us mentally and financially. We changed things, merging the offering and the service, and people finally got it, we got busier and busier and started to run out of space yet again.
Creative opportunities
We've grown from three people in that tiny first shop, to over 30 across three storeys of a building, a pastry kitchen in the back yard and a weekly pop-up at Sheffield train station. We are open seven days a week, baking only sourdough and other long-fermented breads, as well as viennoiserie and pastries with every filling, jam and custard made from scratch. Our café also doesn't buy in much (if any) prepped ingredients, our all-day brunch menu and monthly Late Nights are handmade, even down to the ketchup and mayo. We've made it difficult for ourselves in this way, but it offers maximum control of the quality of our food and lots of creative opportunities for staff. I love the input of so many different people who have chosen to work for an independent business which I'm sure has its pitfalls. People management is by far the hardest thing I have taken on, and I'm only just getting the hang in small areas.
Pretty amazing
The input from customers has also been astounding. Their commitment to my tiny venture from day one means many of them have tried everything we've ever done - both good and questionable. In autumn 2019, we ran a crowdfunding campaign to allow us to extend our pastry kitchen. We asked our community to help us raise £25,000 and ended just shy of £30k.
Asking for money is HARD, keeping up interest in the campaign for four weeks and conveying our message to people so they can see the benefit – for us as a business but more importantly to them as our customers. We will now probably spend the next year fulfilling the rewards we offered. It's not an easy way of raising money, but it's pretty amazing to know how committed your customers are when they pledge money up front, knowing they won't receive their reward until the work is done, or not asking for a reward at all.
Though we'll be adding days to our train station pop-up, I feel we've reached a (just about) manageable size and I have no plans to open another permanent location - one is hard enough! To spread the knowledge, passion and soul of the business further afield makes me think it would lose some essence of what makes it special.
---
Originally published in True Loaf magazine issue 42, January 2020. We will publish a follow up article, written during lockdown, in issue 43, July 2020.
Published 15 Jun 2020
Real Bread Campaign: The Real Bread Campaign finds and shares ways to make bread better for us, better for our communities and better for the planet. Whether your interest is local food, community-focussed small enterprises, honest labelling, therapeutic baking, or simply tasty toast, everyone is invited to become a Campaign supporter.
Support our charity
Your donation will help support the spread of baking skills and access to real bread.