Real Bread Baker of the Year
Campaign supporter crowned by Baking Industry Awards.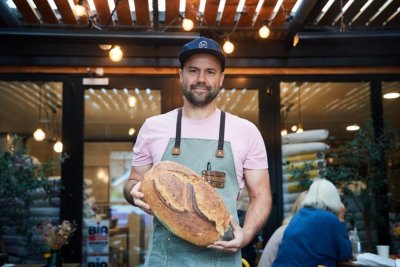 Tim Goodwin, The Street Bakeshop. Copyright: British Baker
Tim Goodwin, owner of The Street Bakeshop in The Street Bakeshop in Old Basing, Hampshire, has been named Baker of the Year in the Baking Industry Awards 2023.
Reporting on the awards, British Baker noted: 'The judges described him as a as a "100% worthy winner" of the award, noting that he has come on "leaps and bounds" since his previous win in 2021. His passion for quality and innovation shines through in every product.'
It is the second time in three years that Tim has been presented with this award, sponsored by Campaign supporter Brook Food, and the tenth time in eleven years that a Campaign supporter has taken the title.
Real Bread Campaign coordinator Chris Young said. "Congratulations again, Tim! It's always great to see a Real Bread baker getting the recognition they deserve."
Other Real Bread winners
Campaign supporters joining Tim on the BIA podium were:
Chris Young said: "Well done to them all, as well as the other Real Bread bakers amongst the finalists. I don't really need to trot out my well-exercised line that the best bakers don't use additives, as these results once again clearly demonstrate that fact."
A full list of winners can be found on the BIA website.
Past masters
Campaign supporters* previously awarded Baker of the Year in the BIAs:
2022: Peter Doughty-Cook, Peter Cooks Bread
2021: Tim Goodwin, The Street Bakeshop
2020: Steven Winter, Bread Source
2019: Aidan Monks, Lovingly Artisan
2017: David Wright, The Cake Shop Bakery
2016: Dominic Salter, The Sandwich Box
2015: Alex Gooch, Alex Gooch Artisan Baker
2014: Mark Bennett, Patisserie Mark Bennett
2013: Julian Carter, Hambleton Bakery
*At the time of the award, each was a Campaign supporter and/or worked for a bakery that was a Campaign supporter.
See also
Support our charity
Your donation will help support the spread of baking skills and access to real bread.