Wild Hearth Bakery's Highland hat trick
Third win at the annual Scottish Bread Championship.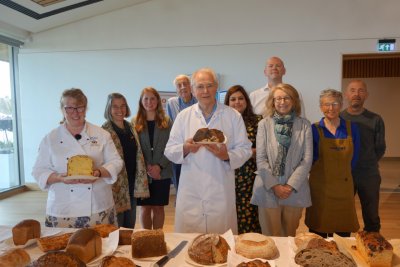 Scottish Bread Championship judging day. Credit: www.realbreadcampaign.org CC-BY-SA-4.0
A panettone classico, crafted by the team at Wild Hearth Bakery, has been judged joint Supreme Champion, the third time that the Comrie bakery has come out on top. The title was shared with a seeded home loaf by Edinburgh's Company Bakery.
Both bakeries took to Instagram to celebrate. Wild Hearth Bakery posted: "My goal is only to enter loaves that are technically challenging and/or further the local grain movement. There is a whole world of schrotbrots and pumpernickels out there that I'm keen to explore. They have potential to use local Scottish grains that have flavour but lack the strength to be 'high performance' bread flours in the usual sense. Onwards in pursuit of good bread, in whatever form it takes!"
Company Bakery posted: "We are absolutely buzzing […] the recognition for our team's dedication to their craft and commitment to the finest raw ingredients is really appreciated."
The overall winners were chosen from the eight gold medalists:
Seeded home loaf, Company Bakery
Rye multiseed, Company Bakery
Signature sourdough home loaf, Company Bakery
Khorasan and linseed boule, Heritage Bakehouse
Khorasan and poppy seed sourdough, Lesley McFadyean
Classic white sourdough, Mhor Bread
Panettone classico, Wild Hearth Bakery
Rosemary and tomato sourdough focaccia, Wild Hearth Bakery
Edinburgh Bakers' Trust has published the full list of results.
About the awards
Co-founded in 2017 by Scottish Food Guide and Andrew Whitley of Scotland The Bread, The Scottish Bread Championship is hosted by The Royal Highland Show. Additional sponsorship this year came from from The Edinburgh Bakers' Trust, a charity dedicated to supporting bread and grain projects.
They are the only national awards to require that all entries at least meet the Real Bread Campaign's basic definition of Real Bread by being made without any additives. The categories, designed to encourage and celebrate better bred bread, include bread: made by the sourdough process; made from grain grown and milled in Scotland; reflecting Scotland's historic and current food culture; excelling in nutritional quality; made from certified organic ingredients.
This year new category, The Cottage Loaf, was inspired by the benefits of baking at home for family, carrying on the theme of last year's Lockdown Loaf category.
Scottish Bread Championship organiser Wendy Barrie said: "We had sixty entries and an impressive standard of loaves - a wonderful showcase of artisan breads in the ring."
She added: "Entrants had to describe the concept behind their loaf, enriching the judges' experience with family stories and several reflecting their support of Ukraine. The loaves and their descriptions were inspiring, bringing families and communities together through good food and Real Bread."
Judging
Each pair of judges blind tasted around 15 loaves and awarding points for attributes including appearance, crust, taste and texture. They also judged how well they felt each loaf matched up to the description and intention stated by the baker on the entry form. Entries scoring sufficient total point were awarded bronze, silver or gold medals. All judges then came together to taste and discuss the highest scoring loaves in order to select a Supreme Champion.
This year's judges were:
Elizabeth Drummond-Young, Treasurer of Edinburgh Bakers Trust and a keen baker.
Tony Heath, former chef proprietor of Let's Eat, Perth.
Dr. Lyndsay Jaacks, researcher at Edinburgh University
Ameena Nur, Jeju's Bakehouse. Past Real Bread Campaign ambassador.
Maria Scholten, agriculturalist with an interest in rye and sourdough
Jock Sharp, Woodlea Stables. Twice a baker of the Supreme Champion loaf at Scottish Bread Championships
Marie-Amelie Viatte, Connected by Nature
Chris Young, co-ordinator of the Real Bread Campaign
See also
Support our charity
Your donation will help support the spread of baking skills and access to real bread.