Real Bread Campaign supporter Steven Winter crowned Baker of the Year.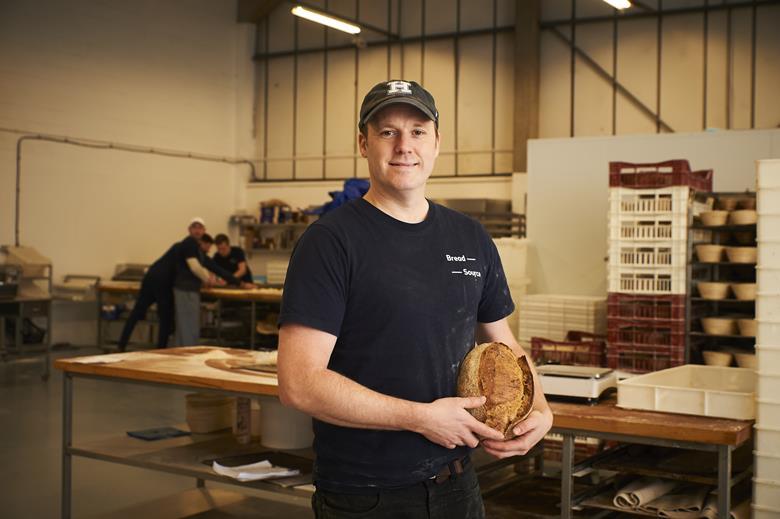 Steven Winter © Baking Industry Awards / British Baker
The owner of Bread Source in Norfolk was announced as winner of the accolade in the Baking Industry Awards 2020. It is the seventh time since 2013 that a Real Bread Campaign supporter has taken the top prize in British Baker's annual event. Bread Source was also a finalist in the Craft Bakery Business Award category.
Judge Ann Wells of category sponsor (and Campaign supporter) Brook Food Processing Equipment said: "Steven has shown a wow factor across the award criteria this year that stands out against the competition. It's difficult to know where to begin, because each element of his entry and success is positive and progressive.
Steven told British Baker that he seized the chance to "peak out from behind the curtain of business and be present and closer to customers." He also said that his role in the rise of Real Bread also involves "handing down my skills and knowledge through the generations to come."
The best bakers keep it real
Real Bread Campaign co-ordinator Chris Young said: "Congratulations to Steven and his team. Their success further underlines the fact that bakers don't need to rely on the crutch of additives and that the bakers recognised as the best don't use them."
Reflecting on the judging process, Ann Wells picked out Campaign ambassadors Peter Doughty-Cook and Duncan Glendinning, and supporters Paul Barker and Matt Wilding, saying: "this year our shortlist was really strong, and it's important to mention these entrants in particular, who all made things very difficult for us this year."
Campaign supporters previously awarded Baker Of The Year are: Aidan Monks, Lovingly Artisan (2019) David Wright, The Cake Shop Bakery (2017), Dominic Salter, The Sandwich Box (2016), Alex Gooch, Alex Gooch Artisan Baker (2015), Mark Bennett, Patisserie Mark Bennet (2014) and Julian Carter, Hambleton Bakery (2013).
More baking brilliance
Other Campaign supporters taking home awards on the night* were Seasons Bakery in Ingleton North Yorkshire and Denton, Manchester for their long-fermented sponge and dough toastie loaf, which claimed the Bakery Innovation Award; and Poppyseed Bakery in Eastbourne and Bexhill-on-Sea, whose carrot sourdough was named Speciality Bread Product of the Year.
Finalists also included Lovingly Artisan in Plumgarths and Altrincham; and Seasons Bakery, whose owner Daniel Nemeth was also a finalist in his own right for another category.
The winners and finalists in full (external link)
*well, told that they're in the post – it was a virtual event…
Support our charity
Your donation will help support the spread of baking skills and access to real bread.