Twelve of the seventeen category winners at this year's World Bread Awards, including overall champion and special merit award, were loaves baked by Real Bread Campaign supporters.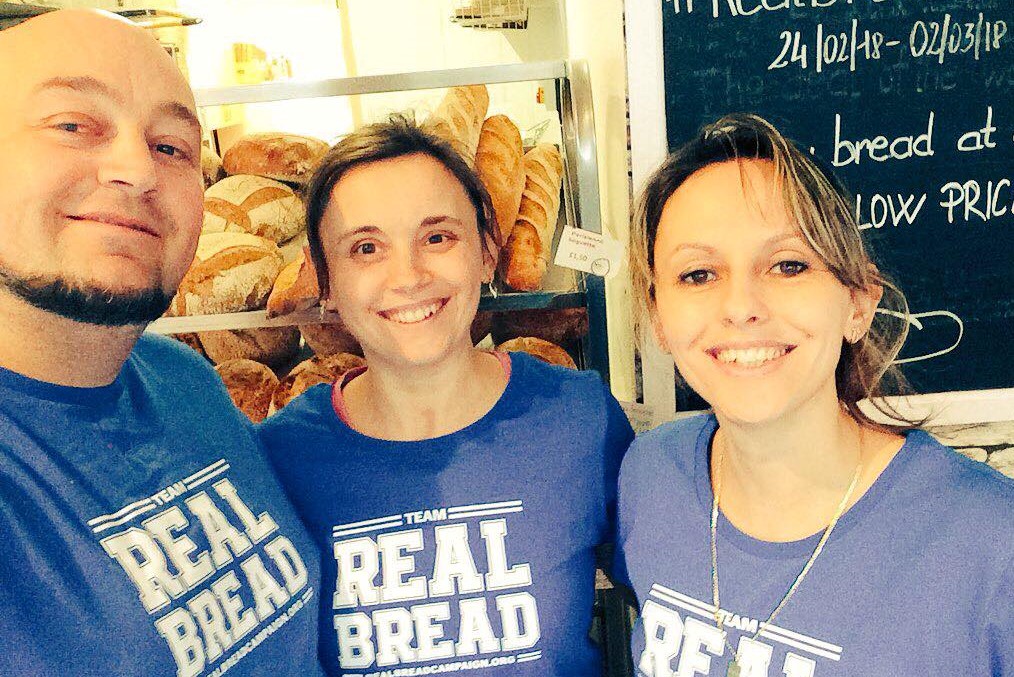 Bakers of the overall winner. Photo © M's Bakery
Back in September, 90 judges whittled down around 600 entries in a blind tasting to select the upper crust of loaves sent in by bakers from around Britain and Ireland.
The winner of the Real Bread Campaign category, a French country sourdough baked by Istvan Nadhazi of M's Bakery in Bournemouth, was also declared overall champion.
Istvan said: "I am so glad to be here, we are a very small bakery and it is such an honour. Congratulations to all the finalists in the room. We are brothers, baking brothers."
A challah queen tzanzhong orange blossom loaf created by Tami Isaacs Pearce of Karma Bread in London picked up the special merit awards, while Alex Bettler's Today Bread bakery in Walthamstow was named the people's choice.
The other loaves baked by Real Bread Campaign supporters that were chosen as category winners were:
Sourdough by Ed Clark, Pastonacre, Pastonacre, Norfolk
Seeded khorasan sourdough by Dominic Salter, Salt Bakehouse, Gloucestershire
Long fermented ciabatta by Martha Brown, Forge Bakehouse, Sheffield
Chocolate, cherry, almond and toasted coconut sourdough by Ian Hill, Riddle Me Rye, Edinburgh
Focaccia by Roger Haycock, Roger's Bakery, Huddersfield
Copenhagen by Paul Robinshaw, Flour Water Salt, Macclesfield
Roasted roots and herb sourdough by Mark Bennett, Patisserie Mark Bennett, Dorset
Country White by London homebaker Jessica Van der Schee
Cheddar and ale sourdough by Northamptonshire homebaker Graham Kinnear
Loaves baked by Real Bread Campaign supporters were also runners up in 13 of the 17 categories, and collected more than 30 of the 49 gold medals awarded.
Real Bread Campaign coordinator Chris Young said: "Once again, Real Bread bakers have proved that the key to baking the best bread isn't an arsenal of artificial additives but quality ingredients, skill, passion and time."
Campaign supporters winning other awards
Wild Bread Bakehouse in Faversham was named independent food & drink retailer 2018 in the Kent Life Food and Drink Awards, while Bake Off and Pie in Nottingham was shosen as Bakery of the Year in The Food Awards England.
You can find where to buy Real Bread crafted by all of these bakeries, and hundreds more, on the new Real Bread Map.
Support our charity
Your donation will help support the spread of baking skills and access to real bread.