Real Bread bakeries dominate UK's best poll
Seven of the top 10 are Campaign supporters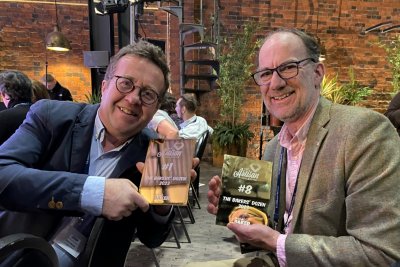 Real Bread Campaign ambassadors Aidan Monks and Peter Cook. Copyright: Ilgin Beaton / www.justsourdough.com
Lovingly Artisan, owned by Real Bread Campaign ambassador Aidan Monks and Catherine Connor, has topped a poll by British Baker of 'more than 100 specialists, including artisan bakers, consultants, suppliers and lecturers' to be named the best artisan bakery in Britain.
Eight of the thirteen bakeries on the list are owned/run by Real Bread Campaign supporters, including Aidan's fellow Campaign ambassador behind the eponymous Peter Cooks Bread.
Real Bread Campaign co-ordinator Chris Young said: "Congratulations to Aidan, Catherine, their crew and the teams at the other bakeries on the list. It's always fantastic to see Campaign supporters, and other Real Bread bakers, get the recognition they deserve."
Campaign supporters in the baker's dozen
1. Lovingly Artisan, Cumbria
2. The Street Bakeshop, Basingstoke
3. E5 Bakehouse, London
4. Bread Source, Norfolk
6. Northern Rye, Newcastle Upon Tyne
7. Poppyseed Bakery, Eastbourne
8. Peter Cooks Bread, Hereford
13. Freedom Bakery, Glasgow
The list also includes past Real Bread Campaign supporters Bread Ahead Bakery and The Dusty Knuckle. Both in London and Manchester's Pollen.
The awards were presented on 31 January 2023 at the first gathering of The Artisan Collective, 'an initiative created by British Baker to celebrate artisan bakeries and the people behind them while offering a platform to facilitate conversations and share skills.'
See also
Support our charity
Your donation will help support the spread of baking skills and access to real bread.