Working together - our success stories
We present these successes with pride, but also acknowledge that no single organisation – not even one like the Sustain alliance, working with so many member groups and such extensive networks – can claim that it, alone, won on a specific issue. Nonetheless, we are confident that Sustain made a significant contribution to, or 'led the charge', on the progress outlined below.
For more details, see below under the campaign and project headings.
---
Current campaigns and projects
Capital Growth
Supported creation of 2,012 new community food growing spaces in London by the end of 2012, now a network of over 2,500 community gardens, in schools, allotments, community projects and backyards
Backed by a wide range of groups, including the Mayor of London, the Big Lottery and the City Bridge Trust, Capital Growth has:
Created over 2,000 new community food growing spaces by providing grants, site visits, training, discounts, news, equipment and advice.
Supported over 100,000 people to get involved in food growing across London.
Established over 50 community apiaries (managed bee colonies), and ran a high-profile bee campaign with posters on the London underground and viral animations viewed over 40,000 times on YouTube,
By 2016, encouraged 28 London Boroughs (out of 33) to recognise the importance of food growing within local planning policy, with 24 encouraging food growing in schools - as detailed in the annual Good Food for London survey report.
Helped communities measure the volume and value of the food they produce, in 2015 calculating with our Harvest-ometer that London's community growers are contributing ultra-local fresh fruit and vegetables to 64,000 meals per year.
Produced a number of publications to help start and support food growing projects, including the Edible Estates document published in partnership with the National Housing Federation to help social housing providers to set up growing projects.
Ensured food growing, and specifically Capital Growth, are explicitly mentioned in the London Plan, the strategic spatial plan for London;
Run for several years a training allotment in Regent's Park and funded the creation of three other food growing training sites around London.
To see the latest progress, become a member, find a garden to volunteer with, or to get involved in our training and events, go to Capital Growth.
---
Children's Food Campaign
Improving food and food teaching in schools and protecting children from junk food marketing
The Children's Food Campaign is supported by over 150 organisations and has:
Led the successful alliance campaign for a UK sugary drinks levy, announced by Chancellor of Exchequer George Osborne in his 2016 Budget, and confirmed in the Government's subsequent Childhood Obesity Plan. The levy will raise around £520 million for children's health promotion, and should be implemented from spring 2018.
Our success with the sugary drinks levy followed Sustain's establishment of a Children's Health Fund, working with the Jamie Oliver Food Foundation, and with restaurants, to demonstrate that a sugary drinks levy is viable and effective, and raising funds for children's health projects.
Led the campaign that resulted in some of the strongest legislation in the world to protect children from junk food advertising on television, resulting in a 37% reduction in advertisements aimed at children for products high in fat, salt and sugar.
Protected children from product placement of junk food in UK television programmes.
Persuaded many leading supermarkets and other food retailers to remove junk food from their checkouts, to decrease 'impulse purchases' of unhealthy snacks that add unnecessary calories to people's shopping and cause conflict with children at the checkout. By 2016, we estimate that half of checkouts in the UK are now junk-free.
Supported legally binding nutritional standards for school meals and removing junk food snacks, secured 24 hours of practical cooking lessons for every secondary school pupil, and persuaded government to look at introducing food growing into every school.
This campaign builds on work to promote children's diet-related health spanning more than a decade and our expertise has become internationally renowned. To help us continue to improve children's food, go to Children's Food Campaign, and read more about its successes.
---
Campaign for Better Hospital Food
Campaigning for healthy and sustainable food standards for food served in UK hospitals, for the benefit of patients, NHS staff and hospital visitors
We established the original Good Food for Our Money campaign in 2009 to improve food standards in the public sector. With the backing of hundreds of organisations across the breadth of issues touched on by this campaign, we have:
Successfully persuaded the Government to introduce compulsory 'Government Buying Standards' for more than £300 million of food bought by central government ever year - including catering for Whitehall, HMP prisons and the Armed Forces (central government comprises about one-third of UK public sector catering).

Successfully persuaded the Department for Education and Skills to introduce compulsory healthy catering standards for state-maintained schools and new academy schools, and to encourage existing academies to comply, and to encourage consideration of sustainability standards (schools comprises about one-third of UK public sector catering).

Successfully persuaded the Department of Health to include healthy and sustainable catering standards in NHS standard contracts for hospitals in England, building on the Government Buying Standards, and requiring all hospitals to have a food and drink strategy, and take steps to address malnutrition in patients (hospitals comprise about one-third of UK public sector catering).

Helped NHS England to establish a new mandatory standard, with a financial incentive, requiring NHS hospitals to improve the food available to 1.2 million NHS staff, through on-site retailers, restaurants and vending machines.

Won the campaign to improve the compulsory seafood criteria in 'Government Buying Standards'. This means that more than £16 million of taxpayers' money per year should now be spent on sustainable fish, and none on endangered fish.

Supported Joan Walley MP to introduce the 'Public Bodies Sustainable Food Bill' to transform all public sector food by introducing compulsory nutritional, ethical and environmental standards.

Were awarded the Chartered Institute of Environmental Health (CIEH) 'President's Award' in 2011 for our contribution to supporting health in public sector workplaces.
To help us make positive improvements to hospital food, please go to the Campaign for Better Hospital Food.
---
Good Food in London
London Food Link is the voice for good food in the capital
London Food Link runs campaigns and initiatives to help create a healthy and sustainable food system for all, and helps join-the-dots between growers, makers, cooks, sellers, savers and enjoyers of good food across the boroughs. Since Sustain launched the network in 2002, London Food Link has:
Helped set up the Mayor of London's advisory London Food Board, the first official strategic approach to the capital's food for almost 20 years, and to develop the mayoral Food Strategy for London in May 2006. Two Sustain staff members will serve on the new London Food Board, overseeing a refreshed London Food Strategy, from 2017
Set up and run Capital Growth, London's ever-expanding network of 2,500 food growing gardens across London, involving over 100,000 people
Led practical projects and networks including Capital Bee, Good Food for Our Money and Good Food on the Public Plate
Established The Jellied Eel, London's leading magazine for ethical eating, with over 40,000 readers.
Improved the lives of 56,000 hens by persuading 14 of London's top visitor attractions to use cage-free eggs in their catering.
Ran a network of around 1,000 caterers and eating establishments in the capital and advised over 100 businesses through the Ethical Eats project, which also supported establishment of the Sustainable Restaurants Association
Helped and inspired people in their own good food enterprises and initiatives, and arranged social and networking events to inspire more
Published the annual Good Food For London report, supported by the Mayor of London, which tracks council progress on actions to improve access to healthy and sustainable food, which has seen 31 out of 33 London Boroughs improve their performance
Run an annual Urban Food Fortnight, and partnered with City Hall to run the Urban Food Awards, to celebrate best of London's local larder from the capital's food growers and small-batch producers
Launched the London Food Poverty Campaign to encourage London local authorities to take steps to reduce the reliance on foodbanks
Helped to win healthy and sustainable food standards for the London 2012 Olympic and Paralympic Games – the first for any major international sporting event. The legacy of this work includes creation of the hugely successful Sustainable Fish Cities campaign.
Real more of LFL's ongoing achievements and get involved in improving the capital's food system by joining London Food Link.
---
Sustainable farming and food
Helping the market for sustainable food to grow
In July 2010 the European Commission accepted our bid for funding to promote the organic sector. We went on to help win a second bid, and then in 2016 a third - worth 10.5 million Euros to the organic sector (in this third phase, now wholly managed by the Organic Trade Board, a Sustain member).
The "Why I Love Organic" campaign launched in early January 2011, and has worked successfully over six years to put the organic food sector back into growth.
The website Why I Love Organic has attracted tens of thousands of visits, reaching out to people who buy organic because of its many benefits.
---
Real Bread Campaign
Fighting for better bread in Britain
Since its launch in November 2008, highlights of our Campaign's success have included:
More than 10,000 children learning to make Real Bread thanks to our work
More than 5,000 bakers, and would be bakers, have benefitted from the guidance in Knead to Know, our book on success in bringing Real Bread to the heart of a local community
More than 3,300 people in over 20 countries have become Campaign supporters. This mutually-supportive international network not only helps to achieve our aims and spread our messages but is also the main source of funding for our work
Thousands of people learning recipes by, and the inspiring stories of, the Real Bread Campaign supporters featured in our second book, Slow Dough: Real Bread
Our Real Bread Week and Sourdough September becoming international annual events
Our Real Bread Finder map helping more than 750 small, independent bakeries to list (and countless shoppers to discover) places to buy Real Bread locally
Successful complaints about campaigns by industrial loaf fabricators, which the Advertising Standards Authority ruled to be misleading
Ongoing media coverage that celebrates Real Bread and its bakers, challenges obstacles to their rise and questions what hidden costs might lie behind the industrial loaf business
You can read more Campaign achievements here.
Newer projects include Together We Rise, designed to help thousands of people who live with mental health issues, or otherwise have a tougher time than most of us, to benefit from the therapeutic, social and employment opportunities offered by Real Bread making. We're also working on No Loaf Lost, aimed at going further than great, existing food redistribution and waste prevention initiatives by helping bakeries to reduce the amount of surplus they generate in the first place.
To support our work, please join us here.
---
Sustainable Fish Cities
Helping communities, businesses and institutions to play their part in marine conservation by buying, selling and eating only sustainable fish
Inspired by the success of persuading the London 2012 Olympic and Paralympic Games organisers to adopt a fully sustainable seafood policy, in January 2011 Sustain launched this campaign to promote the same standards to the wider catering sector. Highlights of our exciting progress include the following:
By 2017, foodservice companies that serve well over 0.7 billion meals per year have signed up to our sustainable fish policy, devised with Sustain members and conservation specialists. These companies are committed to 'excluding the worst, promoting the best and improving the rest' (see detailed standards on the Sustainable Fish Cities website below).
Local Sustainable Fish Cities campaigns are now running in sixteen towns and cities in the UK, and two places have achieved Sustainable Fish City status; Bournemouth and Poole (as one area), and Durham. The majority of meals eaten out in these places are signed up to sustainable fish.
One fifth of fish eaten out of home in Wales is now 'demonstrably sustainable', thanks to pledges from NHS Wales and National Procurement Service Wales.
Central Government now has a sustainable fish policy for catering, based on our standards, so only sustainable fish will now be served in Government Departments, prisons, and some parts of the armed forces – around 400,000 people per year.
Millions of UK schoolchildren, hospital patients, workplaces and restaurant diners are served only demonstrably sustainable fish, thanks to the pledge by Brakes, the UK's largest food wholesale supplier
The Hospital Food Standards, released in 2014, require all fish served in English hospitals to be demonstrably sustainable
Top sports venues have created an impressive legacy for the 2012 Games – all the following now have sustainable fish policies; The Olympic Stadium in Stratford, London Aquatics Centre, the Kia Oval cricket ground, the All England Lawn Tennis Club at Wimbledon, Twickenham Stadium, the O2 Arena, and top flight football clubs AFC Bournemouth, Brighton, Chelsea, and West Ham United. They have been supported by the strong sustainable fish policies of contract caterers – Apetito, CH&Co, Delaware North, Elior, Initial Catering Services, Harrison Catering Services, Restaurant Associates, Sodexo and Westbury Street Holdings have all signed up.
To help us spread the sustainable fish message to even more outlets, take the pledge at Sustainable Fish City.
---
Previous campaigns and projects
Organic farming and food
Helping the market for organic food to grow
In 1999 Sustain became the secretariat for the Organic Targets Campaign. In just three years we:
Succeeded in persuading government to establish an Organic Action Plan aiming to increase the market share of British organic produce from 30% to 70% of the market, by 2010;
Participated in government's (now abolished) Advisory Committee on Organic Standards, and in the group that monitored progress with its Organic Action Plan (OAP). The OAP group noted that less organic food was imported and organic farmers got better support for the public goods they provide.
---
Food and mental health
Forging new links between sustainable food and healthy lives
Sustain drew together information from a wide range of sources, for the first time, on the links between diet and a range of behavioural problems and mental illnesses. We:
---
Food Miles
Promoting sustainable development through local food
The growing market for local food owes some debt to our long-term work on exposing the damage to our environment and our health from food miles – the long-distance transport of food that should be locally produced and consumed. We:
Published, in 1994, the first report on the subject, The Food Miles Report: The dangers of long distance food transport, which stimulated widespread debate.
Published, in association with the Organic Research Centre, Eating Oil: Food supply in a changing climate, which won the 2002 Guild of Food Writers Award for Investigate Journalism.
---
Good Food for Our Money
Campaigning for taxpayers' money to improve food in hospitals, schools and the public sector
Established in early 2009, the Good Food for Our Money campaign rapidly attracted over 60 supporting organisations, and the number is still rising. With their help we have already:
Successfully persuaded the Government to introduce compulsory 'Government Buying Standards' for more than £300 million of food bought by central government (comprising one-third of all public sector organisations) every year;

Won the campaign to improve the compulsory seafood criteria in 'Government Buying Standards'. This means that more than £16 million of taxpayers' money will now be spent on sustainable fish rather than fish from endangered stocks or at risk of becoming endangered;

Helped Joan Walley MP to introduce the 'Public Bodies Sustainable Food Bill' to transform all public sector food by introducing compulsory nutritional, ethical and environmental standards. This is the first Bill of its kind.

Been awarded the Chartered Institute of Environmental Health (CIEH) 'President's Award' in 2011 for our contribution to supporting health in public sector workplaces.
To help us make positive changes with more than £1 billion of food bought in the public sector each year, please go to Good Food for Our Money.
---
Good Food on the Public Plate
Using public money to improve school, hospital, care home and local authority food
In 2004, Sustain worked with the Soil Association to run a two-year pilot Hospital Food Project, working with four London hospitals to increase the proportion of local and/or organic food used in routine catering.
After two years the Royal Brompton hospital was getting more than 15% of its catering supplies from sustainable sources, including locally grown fruit and vegetables, free range eggs, and organic milk, beef and oatmeal.
Independent health and economic evaluations showed that business improved for local farmers and other suppliers, and patients and others in the hospital knew more about, and appreciated the benefits of sustainable food.
Based on this success, Sustain continued to develp this initiative, working with local authorities, schools, universities and care homes, as well as hospitals.
During just one year (2010), independent assessors showed that the project contributed to some £1.4m of sustainable food being bought by London's public sector.
Working with Greenwich Cooperative Development Agency (GCDA), we helped to develop training in healthy and sustainable food for over 2,500 public sector food staff. The project is now run by GCDA as a successful social enterprise.
The project helped influential caterers to adopt sustainable food policies, including London Metropolitan Police, London Fire Brigade, Transport for London, City Hall and the University of Greenwich.
For details of Sustain's current work on healthy and sustainable public sector food procurement, go to Good Food on the Public Plate.
---
Making Local Food Work
Helping people take ownership of their food and where it comes from
This six-year programme began in 2007, coordinated by the Plunkett Foundation and involving the Campaign to Protect Rural England, Country Markets, FARMA, the Soil Association and Sustain. Making Local Food Work used social enterprise approaches to help create more economically viable local food systems, and Sustain was responsible for:
Helping seven community-run social enterprises that trade in locally grown food, in Gateshead, Hillingdon, Manchester, Walthamstow and Bridport in Dorset. One Manchester organic food-growing co-operative is now supplying the University of Manchester with fresh and sustainably grown vegetables.
Supporting a Growing Communities Start-up Programme. Launched in 2010, by 2016 there were 12 new community enterprises successfully trading in sustainable food around the country, based on the Growing Communities model and part of the Better Food Traders network.
Assisting over 200 food co-ops around the country, including with a popular online Food Co-ops Toolkit and Food Co-ops Finder (there were over 200,000 visits to these webpages over four years). We relaunched this work in 2016, in partnership with the National Union of Students.
The Local Action on Food network ran a range of well-received workshops to tackle issues commonly faced by community food enterprises.
For more information see Making Local Food Work, and join Local Action on Food.
---
Food for the London 2012 Olympic Games
Taking the opportunity to go for gold-standard food and farming
In 2006, Sustain worked with the Soil Association and New Economics Foundation to publish the report 'Feeding the Olympics: How and why the food for London 2012 should be local, organic and ethical'. In 2008, Sustain joined the London Food Board as members of the new London 2012 Food Advisory Group, developing recommendations for food standards for the London 2012 Games organisers (LOCOG).
Published as the London 2012 Food Vision in 2009, the standards have been enshrined in 2011 into the catering contracts for the 13 million meals to be served to athletes, spectators, staff, dignitaries and international journalists at the Games.
Sustain chaired the sustainable fish working group, involving industry, government and conservation groups. Its detailed and robust sustainable seafood standards have now been adopted by LOCOG, Central Government and many others (see Sustainable Fish City, below).
The London 2012 Food Vision commited Games caterers to using 100% sustainable fish, 100% Fairtrade tea, coffee, sugar and bananas, and only ethical chocolate, 100% free range whole eggs, a proportion of meat produced to higher standards of animal welfare, and a proportion of food from sustainable farming, such as organic.
Some of the London 2012 standards went on to be adopted by the Glasgow 2014 Commonwealth Games, the Rio 2016 Games, and in 2016 we have started discussions with organisers of the Tokyo 2020 Games.
To see how Sustain built on these achievements see our Food Legacy site.
---
The Grab 5! project
Promoting fruit and vegetables to primary school children
Grab 5! was a very successful and popular approach to helping primary school children in low income areas eat more fruit and vegetables. Funded from 2000 to 2003, the project:
Contributed to an average 30% increase in consumption (from 1.7 to 2.2 items) of fruit and veg among the 7-11 year olds in the schools where we worked in Lambeth, Leeds and Plymouth;
Developed a programme that ran in at least 1,000 schools in every region of the country, encouraging children to eat more fruit and veg;
Produced the Grab 5! Pack (still available here) and ran a wide range of activities, a sell-out national conference and national cookery competition.
---
Food and low income
Helping communities get better access to good food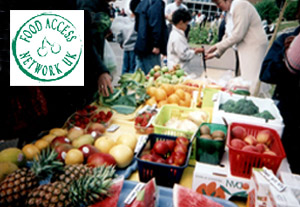 Over the years Sustain has worked in different ways to help people on low incomes more easily buy good food, particularly fresh fruit and vegetables:
The Buywell project, as part of Well London, helped convenience stores in deprived areas increase their sales of fruit and veg by 60% on average, with some increasing sales by over 400%.
The Food Access Network developed a Community Mapping approach to empower local communities to learn about their local food system and develop ways that they, and others, can improve it. Recently this has been taken up and adapted by the Campaign to Protect Rural England.
---
The future of food and farming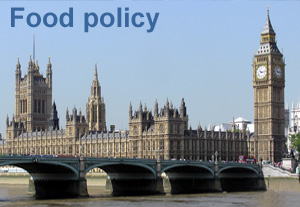 In the aftermath of BSE and Foot & Mouth Disease, Sustain was among those calling for an independent commission to ensure a more sustainable farm and food system. The Curry Commission was set up in 2001 by the Prime Minister and made far-reaching recommendations to change the current food and farming system.
The Sustainable Development Commission, commenting on Sustain's submission to the Curry Commission, praised it as as one of "the most innovative and integrated submissions" of 16 they analysed;
More recently, Sustain was among those contributing to the Cabinet Office Strategy Unit's report Food Matters, in 2008.

go to
Share
Get updates
Menu
Support our charity
Donate to enhance the health and welfare of people, animals and the planet.