Good Food for Our Money
The Good Food for Our Money campaign ran from 2008 to 2011. After several notable successes, this campaign has now evolved to focus on winning healthy and sustainable food standards for hospital food, in parallel with Sustain's existing work on the Children's Food Campaign to secure healthy and sustainable food standards for school meals.
---
Why did we launch the campaign?
Every year the British taxpayer spends approximately £2 billion on food served in public sector institutions in the UK. Most of this money is spent by the Westminster government on public sector food in England, with smaller proportions being spent by the Scottish and Welsh governments on public sector food served in Scotland and Wales.
Despite years of voluntary initiatives encouraging public sector institutions in England to set standards for the food they served, only a handful did so. It was clear from the failure of this voluntary approach that to improve the food served, the Westminster government would have to make it mandatory for all public sector food in England to meet standards.
If strong enough, mandatory standards would ensure that food served in the public sector:
promotes health, by reducing saturated fat, sugar and salt, and ensuring it meets recommended dietary guidelines
protects the environment, by increasing the amount of food which is sustainably grown (such as organic), using less oil and water, enhancing the soil and biodiversity, and resulting in fewer greenhouse-gas-emissions (GHGs), and
supports ethical food and farming practices e.g. by specifying animal welfare standards and guaranteeing that farmers who produce hospital food get fair pay and have safe working conditions.
Our successes
Working with a large coalition of organisations, the Campaign successfully pressed the Department of Environment, Food and Rural Affairs (Defra) to introduce Government Buying Standards (GBS) in June 2011 GBS require one third of public sector institutions – including central government departments, prisons and parts of the armed forces – to only buy food which meets a number of nutritional, environmental and ethical standards.
We were delighted that our campaigning also led to a change to the seafood standards in Government Buying Standards so that they reflect the tough sustainability criteria adopted for the London 2012 Olympic and Paralympic Games.
What happened after the campaign ended?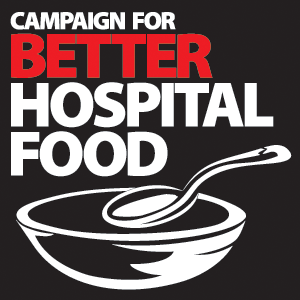 By the beginning of 2012, Government Buying Standards sat alongside mandatory nutritional standards for school food, which had been introduced in 2005. This meant that two thirds of food served in the public sector now has to meet mandatory food standards.
While this is a cause for celebration, we remain appalled that hospital food in England is still not subject to any mandatory nutritional, environmental and ethical food regulations, despite the fact that £300 million is spent by government on more than 300 million meals in the NHS each year.
This has led us to launch of the Campaign for Better Hospital Food which is calling on the government to set mandatory standards for hospital food in England. The campaign neatly takes over from where the Good Food for Our Money campaign ended, and we are determined to replicate its successes!
To find out more – and to pledge your support – please visit www.hospitalfood.org.uk.
End Cage Cruelty
As part of the Good Food for Our Money campaign, we launched End Cage Cruelty which called on central government (including government departments, prisons and parts of the armed forces) to buy only cage-free eggs. This campaign is so popular, that we are going to keep its Facebook page live. If you care about the welfare of egg-laying hens, please join the End Cage Cruelty Facebook community at www.facebook.com/endcagecruelty.