This guide has been developed by Neighbourhoods Green, Capital Growth and Planning Aid for London to share learning and good practice from communities and social landlords who have been involved in food growing initiatives on social housing owned land.
The guide offers a practical guide to support those working for or with housing providers in collaboration with local people, to establish food growing schemes.
A full online version is available through the Neighbourhoods Green website.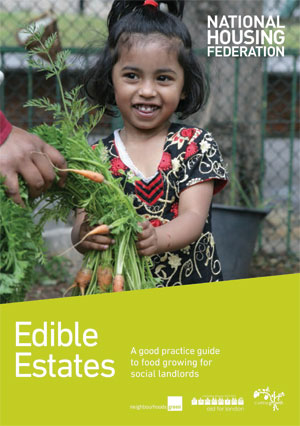 Edible estates
13pp - 2014 | 1803Kb
Capital Growth: The Capital Growth campaign, run by Sustain's London Food Link offers practical and financial support to communities around London to help more people grow more food, and to have greater access to land and growing spaces for community benefit. The Capital Bee project, part of Capital Growth, seeks pledges to promote bee-friendly behaviour, and supports establishment of community beehives.