See the main Real Bread Week page.
Bake some joy, make some noise!
Real Bread Week is the annual celebration of supporting your local, independent Real Bread bakery and baking your own.
What is Real Bread Week?
Launched by the Real Bread Campaign in 2009*, this is the annual, celebration of Real Bread and its makers.
Raising awareness
The main aim of the week is to share the benefits of baking Real Bread at home and of buying it from a local, independent bakery.
You can see highlights of media coverage we and our supporters have generated for the Real Bread Campaign here.
Raising dough to do good
The Real Bread Campaign is part of the food and farming charity Sustain.
We need to raise money so we can continue our work as the only organisation that is dedicated to championing Real Bread and its rightful place at the hearts of our local communities. This includes:
Our Together We Rise project designed to help people living with mental health issues, or facing a range of other challenges, benefit from the therapeutic, social and employment opportunities Real Bread making offers
Celebrating Real Bread bakeries and helping people find them locally
Creating guidance and networking opportunities for people setting up microbakeries, Community Supported Bakeries and Real Bread social enterprises
Campaigning for an Honest Crust Act in support of eveyone's right to be able to make better-informed choices
Campaigning to put Real Bread in classrooms and On The Menu in schools, hospitals and other public sector canteens
Arranging discounts on classes and ingredients to help more people bake their own Real Bread
Can we count on your support?
Good.
*We originally called it Real Bread Maker Week as it was launched it to encourage people to dig out unloved bread maker machines as a very affordable way to get more people enjoying Real Bread. We later opened it out to be a celebration of all Real Bread makers, be they at the back of kitchen cupboards, those running bakeries and the ones at the end of everyone's sleeves. We shortened the name to Real Bread Week in 2015, as that's what many people called it anyway.
See also:
Raise some joy
It's time to support YOUR local Real Bread bakers!
Celebrating Real Bread
Here are three ways you can kick the additive-laden industrial loaf habit:
Download the Real Bread Week guide here.
Make some noise!
Whatever you do during the week, be that raising dough for the Campaign, helping to spread the word about the rise of Real Bread locally, supporting your local, independent Real Bread bakery by buying a loaf, teaching someone else to bake or simply making a loaf at home, please share what you get up to!
Out in the virtual world, you can join the conversation and share photos at any time on Facebook and Campaign supporters can chat with each other in The Real Baker-e. The hashtag to use on Twitter is #RealBread.
What's going on near me?
You can find details of local Real Bread activities (and add details of your own) on our events calendar
When you join in the fun, please share your #realbread news and stories on Twitter
You can also post photos and tales on the Real Bread Campaign Facebook wall.
Buy Real Bread tshirts and aprons
These designs are no longer available but we might have new designs in the future. Please keep an eye on The Real Baker-e, Breadcrumbs and Twitter for updates...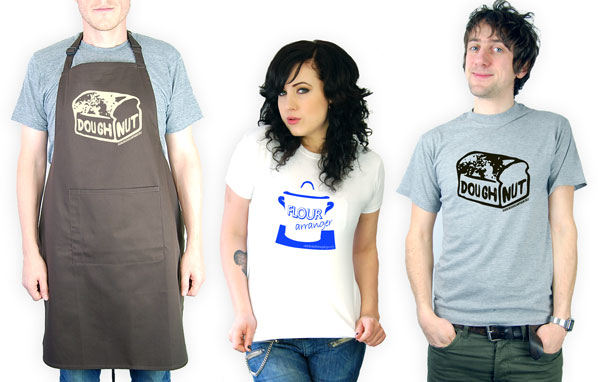 One of the easiest things you can do is to buy one (or more…) of the great, limited edition, fundraising t-shirts and aprons being produced by our friends at Balcony Shirts. The two designs are available in a range of colours, with the tshirts offered in several sizes.
For each one sold, Balcony Shirts will donate a few quid to help our charity keep running your Real Bread Campaign. If you run a bakery, perhaps you'd like to buy a load of them to kit out your whole team....
These designs are no longer available but we might have new designs in the future. Please keep an eye on The Real Baker-e, Breadcrumbs and Twitter for updates...
Send us your doughnations
If you ran a fundraising event or activity during Real Bread Week, it would be great if you could send what you raised to us by the end of May, please. You can do this in two ways:
For amounts under £100, please send a cheque: made payable to Sustain (NOT the Real Bread Campaign) and sent to us at Sustain, Development House, 56 - 64 Leonard Street, London EC2A 4LT
For amounts over £100, please email us for our bank details: realbread [at]sustainweb.org
We'll be publishing a roll of honour of all fundraisers. If you'd prefer your name not to appear on the list, please let us know.
Donate
Unable to organise an event yourself but still want to support our charity? Well you can make a donation here.
Fun fundraising
How will YOU be helping people to celebrate Real Bread Week this year?
Whether you're a professional or amateur baker (or even a non-baker), there are plenty of ways to help other people in your local community enojy Real Bread and raise dough for the Campaign at the same time. Here are just a few ideas of events and activities.
You could organise a Real Bread:
lunchbox masterclass to share all the great Real Bread alternatives to soggy factory loaf sarnies with parents at a local school
tasting dinner or pizza night – perhaps in association with a local pub or eatery
beginners' workshop
afternoon tea or elevenses
tea and toast breakfast
club event to bring friends colleagues and neighbours
together to bake
quiz night
The more the merrier
Perhaps you could involve a community group such as your local:
WI group
Scouts or Guides
Work colleagues
School
Farmers' market
Country Market
Community shop
Sharing network
Slow Food group
Dough raising
Here are just some of the ways people helped raise money for the Campaign in 2014:
Artisan Foodworks: Holding an open day on 13 May including a raffle to win £50 of artisan food goodies
Bread Ahead: Running a raffle as part of their Crumb Together in the Capital evening on 16 May
Bread at Home: Fundraising quiz on 16 May
Bread Matters: £1 for every copy of Andrew Whitley's new book, DO Sourdough, bought through their website during the week
Greenfield Bakers: Offering sourdough starter in return for a donation to the Campaign dusing a milling day at Cogglesford Mill on 11 May
Jo's Loaves: Taking donations for her Real Bread starter kit
Manna From Devon: Running woodfired make and bake days on 15 and 16 May
Rugby Real Bread: Donating 10% of their weekend sales on 16 and 17 May
Thorough Bread: donating 10% of their sales on 10 May at Plymouth Local Producers' Market
Tracebridge Sourdough: Hosting a wood-fired pizza lunch, baking competition and auction on 11 May
The Wee Boulangerie: Trialling a new loaf made from wheat grown and milled in East Lothians and from 10-15 May are offering it in return for donations to the Campaign.
Find details of these, and all other, local Real Bread activities (and add details of your own) during the week and beyond on our
events calendar
FREE Real Bread Week guide
Want more ideas for Real Bread events, activities and fundraising at any time of year?
Look no further than our FREE (though donations are very welcome!) short guide, which contains:
Ideas for Real Bread events and activities
Making your event/activity a success
Practical and legal bits
Money, money, money
Poster templates
Labels for collection tins
We have published two versions of this PDF guide, which you can find alongside our other publications here.
Inspiration for your event/activity
Here are just some of the things people did in previous years..
Perhaps something here will make you think 'aha - now that's something I could do, too!'
2014
Real Bread Maker Week: A celebration at Bread Ahead with Campaign ambassador Aidan Chapman, Bread Ahead owner Matt Jones.
Do Sourdough book launch by Campaign co-founder Andrew Whitley at The Hub King's Cross
East Bristol Bakery, Joe's Bakery, Hart's Bakery, and Mark's Bread forming the heart of Bristol Bread City as part of Bristol Food Connections
How to Start a Microbakery course at Cocoa & Heart in Bexleyheath
Woodfired Make and Bake at Manna From Devon in Kingswear
Real Bread Open Day at Artisan Foodworks in Burscough
Campaign cofounder Andrew Whitley Sharing the Power of Sour for Good and All as part of The School of Artisan Food's Food for Thought weekend in Nottinghamshire
Slow Food UK is running a Real Bread quiz from 14-22 May, with prizes from Campaign supporters Bread Matters, Doves Farm, Astons Bakery & Pump Street Bakery.
2013
For details of these and many, many more events throughout the year, please visit our calendar.
National Mills Weekend
As the Real Bread Campaign champions all-natural local loaves, it's no coincidence that we organise the start of Real Bread Maker Week to coincide with National Mills Weekend, which in 2014 is 10 and 11 May.
Share
Get updates
Real Bread Campaign: The Real Bread Campaign finds and shares ways to make bread better for us, better for our communities and better for the planet. Whether your interest is local food, community-focussed small enterprises, honest labelling, therapeutic baking, or simply tasty toast, everyone is invited to become a Campaign supporter.
Menu
Support our charity
Your donation will help support the spread of baking skills and access to real bread.