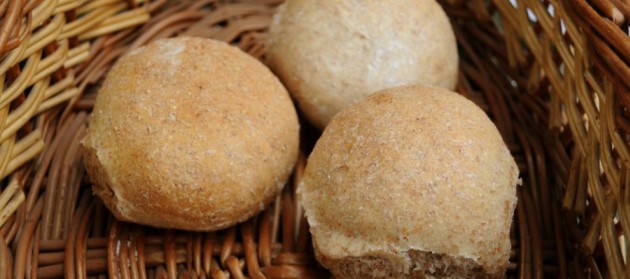 Find (and add) details of Local Loaves for Lammas events in your area here.

If you have any Local Loaves for Lammas pictures or stories that you'd like to share, please feel free to post them on Facebook, Flickr or Twitter or email them to realbread@sustainweb.org
See also
---
Taking its name from hlafmaesse, the Old English for loaf mass, Lammas is an ancient harvest festival. A traditional highlight was eating bread baked using flour milled from the first grain of the year.
The origins of Lammas are uncertain. Many sources link it to the earlier pagan festival Lughnasadh, held in honour of the god Lugh. As with other prexisting rites and rituals (e.g. evergreens at Christmas; Easter's name and symbols of fertility), Lammas was absorbed and adapted by the Christian church, ranking as one of the most important dates of the year. Historically, between Lammas and Lady Day in March, people were granted common rights on certain areas of land, which might include the right to graze livestock or grow certain crops. Though Lammas survives in place names, most of the associated rights have been revoked or forgotton.
Though no longer as well known as it once was, Lammas is still celebrated by many people in Britain, other parts of Europe and elsewhere in the world, notably by certain Christian and pagan communities.
In 2009, the Real Bread Campaign launched Local Loaves for Lammas. As well as encouraging everyone to bake or buy Real Bread, It's also a chance for kids to find out that Real Bread starts its life in a field not a factory.
Britain's calendrical shift in 1752 essentially destroyed the centuries-old link between Lammas Day and a natural seasonal event (the first harvest of wheat), which is the main reason why this holiday (historically more important than Christmas) was gradually forgotten.

When the UK changed from the Julian to the Gregorian calendar (2nd September, 1752 was followed by 14th September), the calendar date that wheat ripens was pushed back by ten days. The traditional start day of the harvest (Lammas Day - 1st August) was now ten days too early. In the modern calendar the start of the harvest a couple of centuries ago was August 11th. The first crops to be harvested (with sickles) were rye and mixed wheat and rye (maslin), followed by pure bread wheat (rye ripens 1-2 weeks before wheat). This was followed by the barley and oat harvests (usually with scythes) in late August and September, and then by the reaping of rivet wheat (again with a sickle) in September (rivet is very late to ripen).

Over the past century, as a result of plant breeding, the ripening time of wheat has moved forward by about two weeks (and of barley by much more than this). Wheat is now ready to combine at the end of July/early August (weather permitting), but not always on 1st August.

John Letts, botanical archaeologist and co-founder of the Oxford Bread Group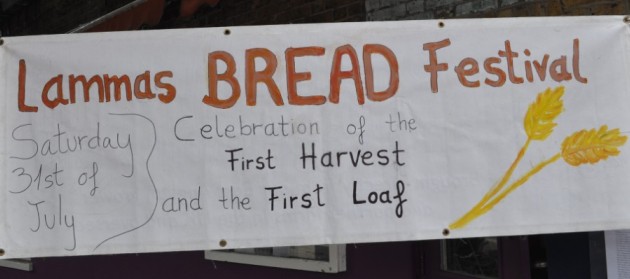 We reckon that Lammas a fine time for anyone who loves Real Bread to celebrate the natural and seasonal heritage of our buns, baps and bloomers and join the festivities with their own local activities and events.
Without any definitive recipe for a Lammas loaf or hard and fast rules for ways to make it local, the aim is for companies and other organisations taking part to do so in a way that works best for them.
Some ideas of how you can celebrate Lammas:
Bakers
Bake a Local Loaf for Lammas, ideally with flour that has been milled as locally as possible from the most locally grown grain possible.
Team up with other local producers to organise a Real Bread picnic for your community
Running a Real Bread making class, perhaps to teach a traditional local recipe
Millers
Bag up limited edition Local Loaf flour, preferably (and harvest permitting) using locally-grown new season grain
Team up with local growers and bakers to produce a truly Local Loaf for Lammas
Everybody
Bake your own special Lammas loaf or dig your bread machine out of the cupboard to make a loaf or two
Hold a Real Bread baking competition
If baking's not your thing, then visit our Real Bread Finder to track down local loaves
Organise a Real Bread picnic for family, friends and other members of your local community
Hold a Lammas feast or create a Lammas set menu - e.g. first harvest/seasonal with a strong bready element
Fun, tasty and messy hands-on learning by breadmaking with the kids
Run a tasting/pairing masterclass pairing a range of locally-baked breads with cheese, beer, wine, charcuterie etc. to show that Real Bread isn't generic and different types work with different foods and drinks
If you are lucky enough to have a local Real Bread bakery, suggest they bake a special Local Loaf for Lammas
Again if you are lucky enough to be near one, visit a local wind or water mill
Learn to make a corn dolly (www.strawcraftsmen.co.uk/) to decorate your home, bakery, mill, market stall etc.
Go morris dancing, or perhaps just watch some morris dancers and then eat proper toast.
For more inspiration, have a look at our archive pages of what people got up to in previous years:
Taking part in Local Loaves for Lammas offers your business or organisation the opportunity to get some positive media coverage. This helps raise public awareness not only for you locally, but also for everyone else working in support of the rise of Real Bread.
If your Local Loaves for Lammas event has been featured in the media, please email the link to us and we'll add it here for people to read.
You can find highlights of Local Loaves for Lammas media coverage in 2011 here.
...and in 2010:

The Sunday Telegraph
The Ecologist
London Evening Standard
British Baker
Fine Food Digest
The Eden Valley Messenger
Shropshire Tourism
The Reading Post and Wokingham Times
Hertfordshire Mercury and Harlow Star

Share
Get updates
Real Bread Campaign: The Real Bread Campaign finds and shares ways to make bread better for us, better for our communities and better for the planet. Whether your interest is local food, community-focussed small enterprises, honest labelling, therapeutic baking, or simply tasty toast, everyone is invited to become a Campaign supporter.
Menu
Support our charity
Your donation will help support the spread of baking skills and access to real bread.