Main Real Bread Maker Week page
See also
---
Roll of Honour
Thank you to the Real Bread microbakers and everyone else who helped us to raise dough with their Real Bread Maker Week activities.
So far we've received doughnations (thanks to Andrew Whitley for that pun...) totalling more than £2500 from:
Artisan Foodworks: £20 from classes booked during the week
Balcony Shirts: £1360 from the sale of limited edition Real Bread t-shirts
Bread At Home £15 from the sale of Real Bread to colleagues at work
Bread Matters £77 from a raffle
Cinnamon Square: £60 from a special children's bread making workshop
Cocoa and Heart: £25 from a Real Bread workshop
Jo's Loaves: £20
Leicester Born and Bread:£25 from sales during the week
Lewes Bread Club: £160 from their big bake
Real Slow Bread £10 from sales during the week
Wild Bread: £40 from sales during the week
Plus special thank yous to the Real Bread baker (who asked we don't publish a name) who donated £100; and the donors and successful bidders in our auction, which raised £840 in total.
If you raised money or would like to make a donation and see your name on this list, then please...
Send us the dough!
If you ran a fundraising event or activity during Real Bread Maker Week, please send what you raised to us by the end of May. You can do this in two ways:
Online by debit or credit card: click here.
By cheque: made payable to Sustain (NOT the Real Bread Campaign) and sent to us at 94 White Lion Street, London N1 9PF
We're planning to publish a roll of honour of all fundraisers. If you'd prefer your name not to appear on the list, please let us know.
Donate
Missed Real Bread Maker Week but still want to support our charity? Well you can make a donation here.
Just Text Giving
Thanks to JustTextGiving, donating dough is a piece of cake!
Make a donation to us in seconds using your mobile.
e.g. to donate £10, simply text RBMW13 £10
to 70070
That's it. Done.*
As the Real Bread Campaign is part of the charity Sustain, it'll appear on your bill as 'Sustain: for good food'
Over 16s only. If you're lucky enough to have someone else pay your mobile bills for you, you must get his or her permission first.
* You can replace £10 in the message to donate £1, £2, £3, £4 or £5 instead.
Donation not going through?
JustTextGiving advised us that the most common reasons for the text not going through are:
Incorrect format. It's not case sensitive but the code needs to be correct, then followed by a space and then the amount.
The donor's mobile phone network sees 70070 as a premium rate number (even though it's not) and blocks the message. I'm afraid that this is something that you'd need to resolve with your network, which is frustrating for you, us and JustTextGiving
The donor tried to give an amount other than £1, £2, £3, £4, £5 or £10.
Join us
If you haven't joined us yet, then that's a good way to support our work and get a few benefits for yourself in return. Read more about Campaign membership here.
Share your stories and photos
We'd love to read about how your Real Bread Maker Week shenanigans went and see the photos.
If you'd like to share, please email them to realbread [at] sustainweb.org and we might just use them to help us show the world what enthusuastic people we have in our network and some of the great things you all get up to to support the rise of Real Bread.
To help the word spread further than the people we know already, it's also great to share on Facebook, Twitter and the like.
Inspiration for your event/activity
Here are just some of the people who let us know their Real Bread Maker Week 2013 plans in advance. Perhaps something here will make you think 'aha - now that's something I could do, too!'
For details of these and many, many more events throughout the year, please visit our calendar.
Online auction
From 11-17 May 2013 we held an online auction, which raised more than £840 to help fund our charitable work.
Thanks to eveyone who bid and congratulations to the highest bidders.
The six fantastic lots we're kindly donated by the following lovely people:
Bread Matters: One day Real Bread masterclass with Campaign co-founder and author of Bread Matters, Andrew Whitley.
Hobbs House Bakery: One day Real Bread masterclass with Fabulous Baker Brother Tom Herbert at Hobbs House Bakery's new cookery school.
Marriage's: Three 16kg bags of flour (Chelmer White, Wholemeal Dark Rye and Wholemeal Spelt) ideal for the enthusiastic amateur or skilled professional Real Bread baker.
The Phoenix Bakery: One day Real Bread masterclass with regular River Cottage tutor Aidan Chapman at his own bakery.
The School of Artisan Food: One day Real Bread masterclass with How to Bake Bread author Emmanuel Hadjiandreou.
Shipton Mill: 'Meet the Miller'. An unique personal tour of Shipton Mill with owner John Lister to see stone flour milling in action.
LIMITED EDITION Real Bread charity t-shirts
Sorry - you missed 'em!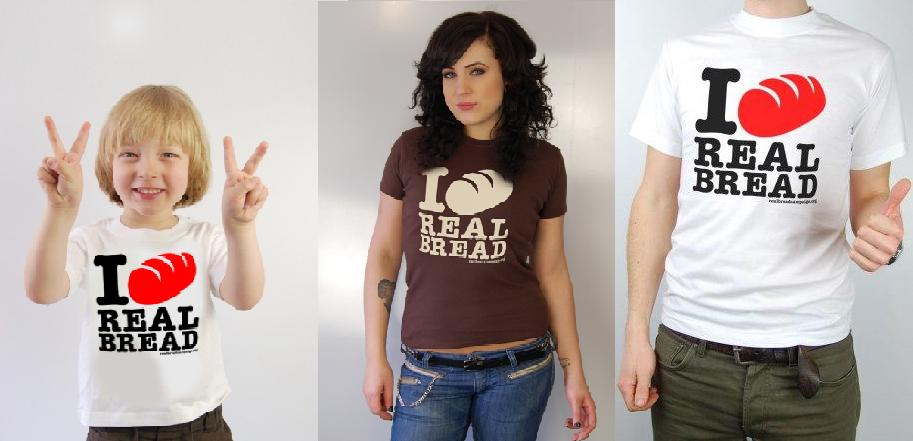 The very nice people at Balcony Shirts created an exclusive range of limited edition t-shirts for Real Bread lovers.
The shirts were available until 31 May 2013 and, being very nice people, Balcony Shirts donated £4 to the Campaign (£3 child sizes) for every one sold.
WIN £150 to spend on baking goodies!
This competition has now ended
Thanks to eveyone who entered #realbreadcomp.
Congratulations to
@NickBoggon who won £150 to spend at bakerybits.co.uk with
this photo
. Nick tweeted 'A very unusual place to find #realbread!'
And an honourable mention to @DavesDough '100% hydration Real Bread'
This competition has now ended
We need your help to get everyone in the twitterverse and beyond supporting the Campaign buy buying their own Real Bread t-shirts.
Simply take a photo of you wearing yours in the most unusual place you can think of* and tweet it by 31 May 2013 with the following message:
Me in my @BalconyShirts @RealBread t-shirt: I want to win £150 of @BakeryBits! #realbreadcomp
Thanks to Campaign member Bakery Bits, our favourite will win a £150 voucher to spend on baking equipment and ingredients at their online artisan baking specialist site BakeryBits.co.uk
*Remember to stay safe, please people...
Ts & Cs
To be eligible for the prize, you need to post a message on Twitter during May containing a photo of you wearing an official Real Bread Campaign t-shirt from Balcony Shirts somewhere unusual.
The text of the message must read Me in my @BalconyShirts @RealBread t-shirt: I want to win £150 of @BakeryBits! #realbreadcomp [a link to your photo will also appear in the message]
The winner will be picked from all entries received by nFriday 31 May 2013
The prize cannot be exchanged for cash
The judges' decision is final
Tip
As the idea is to generate some interesting photos, the compatition asks you to wear your t-shirt somewhere UNUSUAL - your front room/kitchen just won't cut it...
WIN: Doves Farm Real Bread Campaign Bundle!
This draw has now closed.
Campaign member Doves Farm has just launched the online exclusive Real Bread Campaign Bundle. 'It's your chance to try some of our ancient grain flours which bake incredible bread.'
The bundle includes einkorn flour (1kg), Heritage flour (1kg), wholegrain spelt flour (1kg), strong wholemeal bread flour (1.5kg), Original Dry Yeast (125g) and a professional dough scraper/cutter.
For more chances to WIN great prizes throughout the year, please join the Real Bread Campaign. FIND MEMBERSHIP DETAILS AND JOIN NOW!
Offers etc.
These offers have now ended
Here are just some of the special offers people made in support of Real Bread Maker Week.
Marriage's is offering 20% off own bread flours sold via their online shop during Real Bread Maker Week - use discount code REALBREAD13 at checkout.
Brook Bakery School is offering 1/3 off of every Real Bread class booked and paid for between 11 and 17 May.
Doves Farm has created The Real Bread Campaign Organic Bundle, available exclusively through their website, representing a 20% saving than if the flours, yeast and dough cutter are purchased separately.
For details of these and more offers, please visit our calendar.
National Mills Weekend
As the Real Bread Campaign champions all-natural local loaves, It's no coincidence that Real Bread Maker Week coincides with National Mills Weekend.
Whether you're baking at home for yourself, or baking Real Bread for other people in your local community, there are many benefits to seeking out a local traditional flour mill. These include:
Getting delicious, nutritious, stoneground flour direct from the producer
Buying flour that has been produced by wind or water power - two genuinely sustainable and environmentally sound sources of energy
Supporting an enterprise that is owned and run by local people - and in some cases will be a co-operative and/or charitable institution
Helping to safeguard local heritage for future generations
A fun and educational family day out
National Mills Weekend is run by the Mills Section of the Society for the Protection of Ancient Buildings. Many of the mills that are open to visitors are members of the Traditional Cornmillers Guild, and will be running activities to help you get the best out of making Real Bread with traditionally-milled stoneground flour.
Share
Get updates
Real Bread Campaign: The Real Bread Campaign finds and shares ways to make bread better for us, better for our communities and better for the planet. Whether your interest is local food, community-focussed small enterprises, honest labelling, therapeutic baking, or simply tasty toast, everyone is invited to become a Campaign supporter.
Menu
Support our charity
Your donation will help support the spread of baking skills and access to real bread.