Helping SME bakeries to make Real Bread accessible to more people in their local communities.
Real Bread For All has been written by the Real Bread Campaign to help and encourage small, independent bakeries explore ways of bridging the gap between what it costs them to produce and retail Real Bread, and what people in their communities on tighter budgets can afford.
Everyone in the UK should be able to afford Real Bread but for a growing number of people this simply is not realistic. At the same time, many Real Bread bakers are struggling to earn an honest crust without increasing their prices.
The free guide is informed by examples from bakeries that have addressed the challenges of offering Real Bread at a lower price in ways that don't undermine its true value and at a time that's increasingly tough on their site of the counter as well.
What's inside
Key issue that the guide are:
Making the more affordable bread appropriate to people's needs, be that sliced sandwich loaves, flatbreads
Working out who'll cover the costs, which might be a combination of the business, its customers and perhaps suppliers, maybe with support of local/regional companies or organisations.
Putting bread in the hands of people who need it, which might involve looking at selling from places other than the baker's shop or farmers' market stall.
Making contact with local organisations that work with people experiencing poverty and, ideally, involving people with that lived experience.
Cracking your comms with your customers, staff and people to whom you're offering lower-priced bread.
The guide also includes notes on public catering. This represents a huge opportunity to put Real Bread on the subsidised plates of around a quarter of the population, including school pupils, hospital patients, prisoners, students, care home residents and service personnel.
As well as reaching out to small Real Bread bakeries, the Campaign is calling on larger companies that benefit from greater economy of scale to remove all additives from at least some of their products, which would give hundreds of thousands, perhaps millions, more people the chance to choose Real Bread.
Contents
What bread?
How much?
Who pays?
Where to sell?
Who else could you work with?
Marketing
Examples so far
Calling the Big Bakers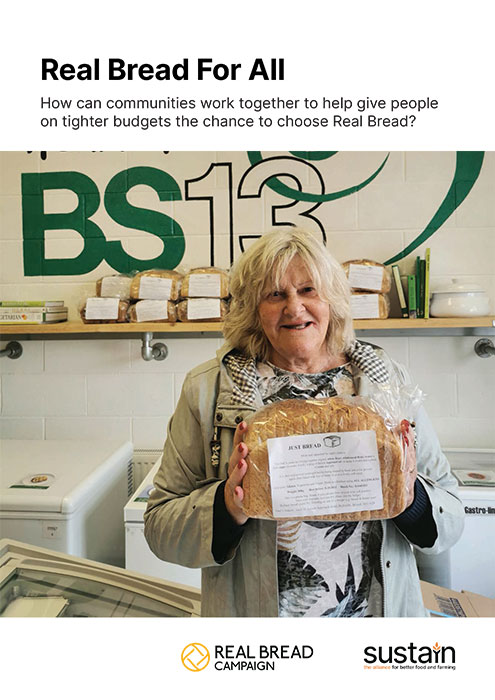 Real Bread For All
16pp - 2023 | 512Kb
Published 15 Aug 2023
Real Bread Campaign: The Real Bread Campaign finds and shares ways to make bread better for us, better for our communities and better for the planet. Whether your interest is local food, community-focussed small enterprises, honest labelling, therapeutic baking, or simply tasty toast, everyone is invited to become a Campaign supporter.