Ready to connect and take action in your part of the world?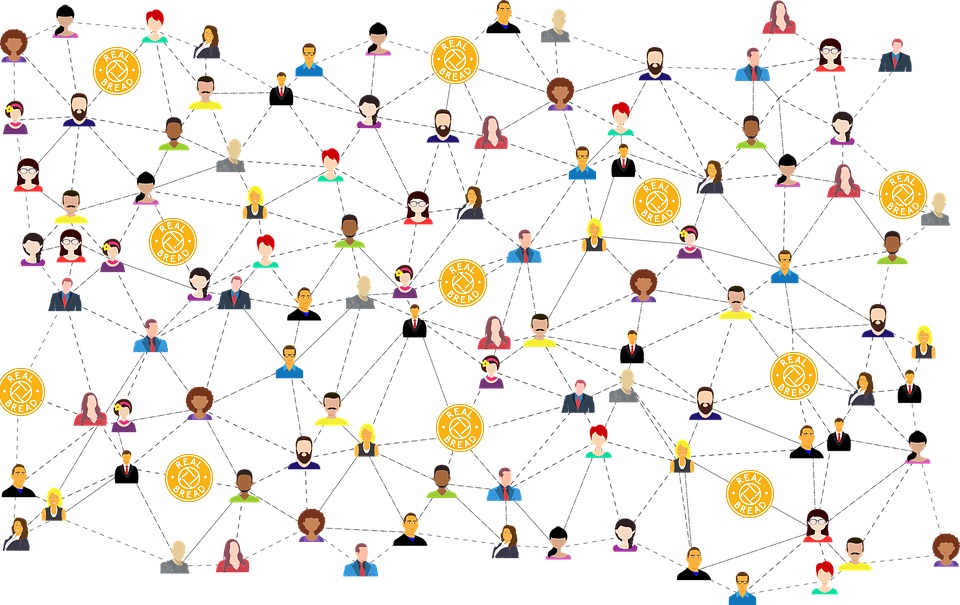 Original image CC0 via Pixabay
The Real Bread Campaign is run by the UK food and farming charity Sustain. Since our launch in November 2008, we've gained supporters and other friends around the globe.
The focus of our work is in the UK and it's now time for us to accept our limitations. While we continue to welcome everyone to join our international network, and can help to spread information and inspiration worldwide, our small charity doesn't have the capacity, connections or local knowledge to run effective lobbying and projects in other countries.
Could this be where you come in?
Local action
The international passion for Real Bread, and shared dismay at much of what is marketed as 'bread', was highlighted to us most recently by more than 80 Campaign ambassador applications we received in July 2021 from people in around 20 countries. We also see our annual, international Real Bread Week and Sourdough September initiatives generate media coverage around the world and social media posts from more people in more countries each year.
We've long understood that the people best placed to identify problems and appropriate solutions in a country or region, then build a network and rally local support for the cause to take action, are those living through those issues in that place. Knowing local histories, cultures, languages, politics and food landscape are key to building strong networks of people who, collectively, decide the key issues to address and the most appropriate action to take.
The Real Bread Campaign's role
We can help to inform and inspire people outside the UK to set up their own national, regional or more local Real Bread campaigns/projects/groups to address the specific challenges they face.
This will probably involve us:
Sharing knowledge and advice built up from more than 12 years of running the Real Bread Campaign in the UK.
Asking people we know in a country if they would like to be put in touch with the prospective organiser(s) of a new, national Real Bread network/project.
Our role might also include facilitating conversations between would-be founders/leaders of national/regional Real Bread campaigns/projects/groups, with those in other countries.
In the beginning
As a starting point, this background information might be of use, or at least interest, to people setting up Real Bread networks.
Inspired and informed by the work of the Real Bread Campaign's co-founder, and Bread Matters author, Andrew Whitley, the way that the charity Sustain started to build our network included setting up a website to present our beliefs, aims and plans. We also created the Real Bread Map to help bakers list, and shoppers to find, places to buy additive-free loaves. This now also includes baking classes and places to buy equipment and flour from independent mills, and is accompanied by our events calendar. We set up a mailing list with an open invitation for everyone to sign up for free email updates from us.
We then started contacting professional bakers, millers, farmers, food campaigners/activists and other people who we thought might share our interests, aims and beliefs. We invited them to meetings to discuss, and help us decide, the key issues that needed addressing, what action to take, and to start finding examples of good practice we could help to share.
Real Bread Campaign mission
This is the bigger picture upon which the annual work plan is based.
---
A theory of change
Problems

Solutions / activity

Results

The majority of what is sold as 'bread' in the UK, and the system from which it comes, is not as good for people, communities or the environment as it could and should be.
Inadequate labelling, marketing legislation and food education means that many people are unaware that not all loaves are created equal.
Access to Real Bread is limited in many places by lack of supply.
Some people face a financial barrier to buying Real Bread.
Apparent lack of diversity and inclusion in the artisan baking sector.

Raising awareness of what's wrong and what can be done to improve the situation.
Securing full and transparent ingredient labelling of all loaves; and legal definitions of bread and related marketing terms.
Promoting the proven community wealth building, health (mental and physical), environmental and other benefits of non-commodity production and supply.
Promoting Real Bread enterprises.
Research into making grain, flour and bread more nutritious; and reducing - or avoiding - negative health impacts experienced by some.
Providing skills, knowledge and encouragement to people starting and growing Real Bread enterprises.
Real Bread skills and knowledge taught in schools and made available more widely.
Finding and promoting ways of improving financial access without undermining nutrition or other product qualities, or good food jobs.
Finding and promoting ways to reduce the negative, and increase the positive, environmental impact of production from seed to sandwich.

More people are in a position to make better-informed food buying choices.
The health and nutritional values of bread are maximized.
The negative environmental impact of bread is minimized.
More people have access to Real Bread:
Independent, locally-owned Real Bread bakeries are able to thrive at the hearts of many more communities.
People have the knowledge, skills and incentive to bake their own.
More people are able to afford Real Bread.
We have done work on some of the solutions / activity, while others remain on our to-do list.
Our vision
In the future we are working with others to help create:
There will be a legal definition of bread, a key criterion of which will be: made without additives.
To help create a more level playing field on which small businesses can survive and thrive, and shoppers can make better-informed buying choices, there will also be legal definitions of loaf marketing terms: These will include fresh/freshly-baked, wholegrain, artisan, craft, sourdough and heritage. A bakery will be legally defined as a place where bread is made from scratch, not a loaf-tanning salon.
A full declaration of all ingredients and additives on the label or point of sale display will be mandatory for every loaf, bun, wrap, sandwich etc. including those sold loose / unwrapped.
The majority of products made and sold will be bread, rather than additive-laden substitutes.
Much of this bread will be made by independent bakeries that sustain more jobs per loaf, keep money circulating in local economies and help to keep their high streets alive.
Being a Real Bread baker will be a fulfilling and aspirational career choice, available to people of every heritage and background.
Bakeries and the baking industry as a whole will be diverse and inclusive. Ownership, profit, power and opportunity will be distributed more equitably.
There will be a (micro)bakery or other place to buy Real Bread within walking or cycling distance of the majority of people.
The owners and bakers of most of these neighbourhood bakeries will be members of local grain webs that also include farmers, millers and the people who buy their products.
Many bakeries will be run as social or community enterprises.
All bread will be free of pesticides and other agrochemicals because all grain, particularly wheat, will be grown by biodynamic, certified organic or other low-to-no-input farming,
Micronutritional values and flavour of grain will be valued as much as yield and protein levels.
Everybody will have the Real Bread knowledge and skills to make their own as it will be taught in all schools from primary age as part of ongoing food education, and available to the generations of adults who missed out on this when growing up.
Everyone will be able to afford fairly-priced Real Bread and, in the meantime, bakeries will run initiatives to make bread accessible to people on low or no income.
Therapeutic bread making, delivered by community-based businesses and initiatives, will be available on prescription.
The carbon footprint of the seed to sandwich chain (for both bread and industrial loaf products) will be net zero
No bakery will frequently have surplus bread to be redistributed or generate avoidable food waste at all.
Network
We consider our wider network to be our friends. They include people signed up to our free mailing list, people who have added their details to the Real Bread Map and people who follow/like us on social media.
Within this are our supporters, the people who help to fund our charity's work by making an annual payment of between £22.50 and £110 a year. This money contributes to the costs incurred* by Sustain in running the Campaign.
*Salary, National Insurance etc for a part-time dedicated staff member; finance, design, IT and management support; office rent; IT costs; printing and more.
Money matters
At first, the Real Bread Campaign was run by volunteers, supported by members of Sustain's staff. As a charity, Sustain was able to secure a grant to employ a dedicated, full-time member of staff for the first five years.
Since the end of our initial funding, the only income we receive has been from:
The plan remains that, eventually, we will generate enough income to employ at least one full-time member of staff, plus all of our other costs.
Volunteers and inclusion
With this very limited budget, one key to our success has been people willing and able to contribute their skills, time and knowledge on a voluntary basis. This includes contributing to our magazine, books and other publications; hosting and speaking/demonstrating at events; help in the office.
We know, however, that many people want, need and deserve payment. Our reliance on volunteers limits some people's ability to participate and, therefore, means that our work and network is not as diverse, equitable and inclusive as it should be. We are looking at ways to improve this.
Communication
In addition to our free enewsletter, and our supporters' magazine True Loaf, our main method of communication is via social media platforms. Originally Twitter was the most useful but we have found interaction has dropped and that people in our network are now more active on Instagram. We also run a public Facebook page and The Real Baker-e group for our supporters.
Our official ambassadors and other supporters help us to establish connections with even more people and spread our message more widely.
Public / media relations
We...
Run activities that are not only in line with our aims but also have PR potential.
Build relationships with key people in relevant media outlets, then send media releases to them.
Encourage supporters who run Real Bread businesses to get involved in these activities and do their own PR work locally helps them get publicity for their own enterprises, Real Bread (and issues/questions surrounding the industrial stuff) in general and the Campaign as a whole.
Build relationships with influencers within the bakery sector, and others with wider recognition.
Governance
The Real Bread Campaign is run by Sustain, which is a registered charity. While Sustain is a membership organisation (its members being other organisations) the Real Bread Campaign is a project that invites people to become supporters of its work.
Rather than a formal membership structure involving an AGM and voting, the Campaign's work is informed by supporter surveys and other feedback mechanisms. These also include a working party of invited experts, chaired by one of Sustain's trustees.
Diversity, equity and inclusion
Our statement on how we work towards everyone having the chance to choose Real Bread and to be included in our work and world.
Progress
A potted timeline of the first 10 years of the Real Bread Campaign.
Other Real Bread networks
One last thought: Is there already an organisation / network in your part of the world doing what you think needs to be done already?
Updated July 2022
Ireland Real Bread Ireland took its inspiration from the Real Bread Campaign but has a different organisational model. Rather than being part of a charity, this is a standalone network that is run by its members, all of whom are either professional bakers, bakery owners, millers, bakery teachers or otherwise have a Real Bread related business interest. The organisation promotes Real Bread and bakeries and facilitates peer-to-peer connections and support between its members. Read more.
New Zealand Real Bread Aotearoa network is run by the owner of Mad Hatter Bakery on Auckland's north shore.
Pakistan Real Bread Campaign Pakistan is run by Gauhar Bano , owner of The Loaf microbakery in Lahore. Read more.
Ready to start network building?
If you'd like me to put you in touch with anyone else we know in your country, I'm happy to pass your details on to them.
If there are other things that you would find useful in setting up your own Real Bread national/regional initiative/project/campaign/network, drop me a line and I'll see what we might be able to help you.
Chris Young has been the Real Bread Campaign coordinator since March 2009.
Published 13 Sep 2021
Real Bread Campaign: The Real Bread Campaign finds and shares ways to make bread better for us, better for our communities and better for the planet. Whether your interest is local food, community-focussed small enterprises, honest labelling, therapeutic baking, or simply tasty toast, everyone is invited to become a Campaign supporter.
Support our charity
Your donation will help support the spread of baking skills and access to real bread.