People sharing Real Bread traditions that reflect their identity and heritage.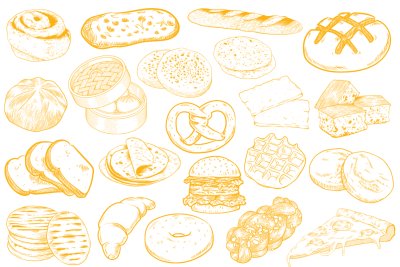 A to Z of Real Bread. Credit: Canva
As we've been saying for a while now, people of all identities and of every background around the globe make and enjoy Real Bread.
This crowdsourced A to Z of Real Bread types, bread making techniques, specialised bits of baking kit is part of our celebration of the wide diversity of additive-free bread and people who make and enjoy eating it.
Do you want to help fill in the gaps?
This is a work in progress at an early stage. We want to celebrate Real Bread and its makers from every continent, with as wide a variety of identities and backgrounds as possible.

If you'd like to submit an entry about (or recipe for) a Real Bread or bread making tradition/technique that reflects your identity and heritage, find out how here.

We've included some suggestions of things people might want to contribute, but there are many, many other gaps you might be able to fill.
A Real Bread A to Z
This list includes some translations and transliterations into the Roman/Latin alphabet.
Historically everything on this list was made as what the Campaign defines as Real Bread (that is without chemical leavening or other additives) and most are still made that way. In some cases, however, some producers now choose to make versions that fall outside the Campaign's basic definition of Real Bread.
Agege bread:
Aish baladi: Read more
Bagel/beigel:
Damper: "Originally made with plain flour, salt and water, it is now common add butter, which makes it tastier, and to use self-raising flour. Damper was traditionally baked in a lidded, cast-iron pot, either covered in campfire embers or placed in a hole in the ground and surrounded with them. Growing up, this was the only bread I knew as being 'Australian'. We would always have it on the fire when Dad took us camping for school holidays." Raeoni Daly @little_sister_bakes
Fougasse: Recipe
Hot cross buns: Recipe
Injera/enjera:
Khachapuri:
Kisra:
Kulich: Recipe
Lagana: "A Greek flatbread traditionally made on Clean Monday (Καθαρά Δευτέρα), the first day of Lent in Eastern Christianity. Originally it was unleavened but nowadays it is usually raised using baker's yeast. It is typically oval-shaped, the top is dimpled and sprinkled with sesame seeds." Anna Soumeka @annabakesinmcr
Lardy cakes: "These Wiltshire celebrities are made from spiced, yeasted bread dough layered with currants, sugar and lard. As the dough bakes in the oven, the sugar and lard drip down to create a sticky pool at the bottom of the pan which, when turned out, hardens into a delicious toffee crackling." Anna Cairns @annaharribakes
Lavash:
Pan de muerto: Recipe.
Panettone:
Paximadia: "A double-baked Greek rusk, traditionally made using a sourdough starter and extra virgin olive oil. Depending on the area, the flour can be barley, rye, wheat or a combination. Perhaps the most famous version is from Crete made from barley flour. It is used in dakos salad, with freshly-grated tomato, mizithra (a Cretan soft cheese), oregano and olive oil. Being dried, they can last at least a year and are usually softened with water or olive oil before eating." Anna Soumeka @annabakesinmcr
Pita: "A simple, versatile, tasty Middle Eastern flatbread. I'm part Palestinian and grew up eating pita for breakfast and other meals with za'atar, olive oil and sometimes labneh as well. I still eat this often - it's delicious!" Nadim Othman. Recipe
Pogača: "From a family of Balkan breads of the same name, the version from the Dalmatian region of Croatia is a huge (sometimes 5.5kg), round, golden wheat loaf, made for sharing. It is baked on the piping hot hearth (like focaccia, the name derives from the Latin for hearth) under a metal, bell-shaped peka with embers piled on top. Rare are the bakers still using this traditional method today. They must be as skilled in managing multiple wood fires as at mixing, proving and shaping the dough, sometimes baking up to 60 loaves a day, all by hand." Dragan Matijevic @theartisanbakeryschool
Pulla: Recipe
Ruisleipä: Recipe
Salt rising bread: Read more.
Shokupan:
Simit: Recipe
Staffordshire oatcakes: Recipe.
Tangzhong:
Tohax:
Tsoureki: "A brioche-like, braided Greek bread made for Easter. It is commonly flavoured with combinations of orange zest, vanilla, mahleb, cardamom and mastic. It usually has a hardboiled egg, dyed red, on top. The name is thought to derive either from Turkish or Armenian and there are variations all around the Balkans, and other European countries." Anna Soumeka @annabakesinmcr
Ube ensaymada: "The ensaymada is a common and well-loved Filipino bread, often eaten as an afternoon snack. Typically made from a brioche dough, these buns are coiled shaped and then baked in an ensaymada mold. After baking, the rolls are coated with margarine or butter and sugar, or sometimes with grated cheese. The version made with ube (purple yam, pronounced ooh-beh) has become a popular choice. The ube is a quintessential Filipino crop, thus making this bread, which was introduced to the Philippines during the Spanish colonial period, distinctly Filipino." Eloi Baquet
Vetkoek: "This is the Afrikaans name for what is essentially deep fried bread dough, crispy on the outside, soft and fluffy on the inside. The word literally means 'fat cake'. In Zulu and Xhosa they are called amagwinya or magwinya. Most South Africans have a family recipe, now mostly made with instant yeast. I make them using sourdough." Gerda Janse van Vuuren. Recipe.
Yudane:
See also
Published 19 Feb 2023
Real Bread Campaign: The Real Bread Campaign finds and shares ways to make bread better for us, better for our communities and better for the planet. Whether your interest is local food, community-focussed small enterprises, honest labelling, therapeutic baking, or simply tasty toast, everyone is invited to become a Campaign supporter.
Support our charity
Your donation will help support the spread of baking skills and access to real bread.