We want to help you throw the spotlight on Real Bread and bakers from your cultural heritage.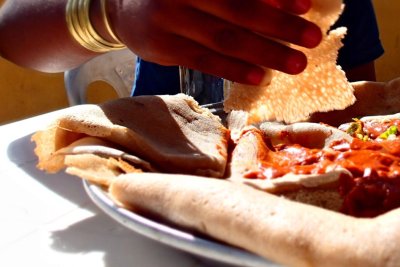 Injera (Ethiopian/Eritrean teff sourdough Real Bread). Credit: Jasmine Halki Cc-BY-2.0
This is our invitation and request for you to help the Real Bread Campaign create a virtuous circle of greater diversity and inclusion. Our intention and hope is that giving greater visibility to people and bread types / traditions historically under-represented by the Campaign will help to make people feel more welcome in our network.
More generally, we aim to help break down (mis)conceptions of what Real Bread is, and of who makes and enjoys it.
Real Bread, oh so White?
Historically, the focus of the Real Bread Campaign's work has been on additive-free bread of (White) north European heritage. Reasons for this include the Campaign being based in the UK, where those baking cultures predominate; and that the Campaign was founded by, is run by, and has mainly attracted, people from those backgrounds.
Change is long overdue.
While we will continue to champion Real Bread, and bakers, of White European heritage, we want and need to do more to celebrate Real Bread and bakers of other countries, cultures and colours as well.
What is Real Bread?
Additive free. That's it.
Whether leavened or not and then baked, steamed, fried, roasted or griddled, as long as it's made without chemical raising agents, so-called processing aids or other additives, it's what we call Real Bread.
Our inclusive definition encompasses all sorts of bread made and enjoyed by people of every age, nationality, colour, sex, sexual orientation, gender identity, ethnic heritage, differing ability, neurological status, religion, class and economic background, who speak every language worldwide.
It can be a genuine sourdough boule, lovingly crafted by a true artisan in a professional bakery, but equally can be homemade aish baladi, bao, chapatti, hardo, injera, khobez, nan-e-sangak, porotta, roti, tortilla de maiz… the list goes on around the world.
Your bread
What place and meaning does Real Bread of your cultural heritage have in your family, identity and day-to-day life?
Or is that all a bit full on? Maybe a better question for you might be: what sort of bread do you make and enjoy at home or professionally? Who taught you how to make it? What would you like people less familiar with that bread to know about it?
Another question might be: Has bread from your culture/heritage been messed around with in the same way that the sandwich tin loaf (for example) has been? Has the language/imagery used around that bread been hi-jacked to sell bastardised versions of it?
If you have thoughts on what you might like to share, please drop Campaign coordinator Chris Young a line with a very brief outline. If you've not written much / at all before, don't worry – Chris is happy to help with suggestions of points you might cover and to help tweak and polish your finished article before publication.
Maybe you'd prefer to simply share a family recipe on our website, with a short paragraph about its importance to you.
Everyone is welcome!
Though the focus of this invitation has been colour and ethnic heritage, if you feel that people with whom you share other elements of culture, heritage, background or identity are also underrepresented in our work, please do grab the mic. We have a platform and you are welcome on it. Here's our more general invitation to share your story, knowledge and opinion.
Another point we should make is that none of this excludes you from writing about your relationship with bread of another heritage. We're not saying that people of Indian lineage should only make, enjoy and write about naan, or that Black people and sourdough boules don't go together (!) for example.
This is part of an ongoing process and we welcome your comments, suggestions and participation in it – please feel free to drop us a line.
See also
Statement on diversity, equity and inclusion
The wandering baladee-r
Published 10 May 2022
Real Bread Campaign: The Real Bread Campaign finds and shares ways to make bread better for us, better for our communities and better for the planet. Whether your interest is local food, community-focussed small enterprises, honest labelling, therapeutic baking, or simply tasty toast, everyone is invited to become a Campaign supporter.
Support our charity
Your donation will help support the spread of baking skills and access to real bread.