Not all Real Bread is White
An open-to all celebration of Black bakers and Real Bread business owners to help inform and inspire more people to join the movement.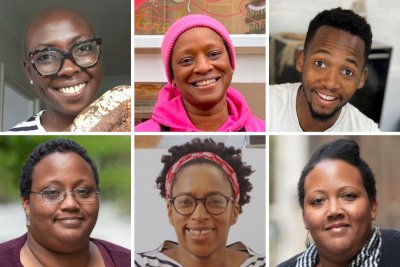 The panel and hosts. Copyright: Aba Edwards Idun, Kate Farr, Leo Maxlhaieie, Impact Hub Kings Cross and Markus Drayss
Monday 7 November, 4-6pm (GMT)
Read full details and watch the recording
Do you work in, run or own a Real Bread (micro)bakery? If you do, or are thinking of doing one of these things, then this FREE webinar is for you!
You'll have the chance to hear from Black owners of Real Bread businesses, followed by a Q&A session. There will also be an opportunity for members of the online audience to share their own knowledge and experience of setting up, running or working in a Real Bread (micro)bakery.
We will explore issues including barriers to becoming a business owner, and what the Real Bread Campaign (and wider Real Bread movement) can do to help more Black people feel welcome in our networks.
The event is being organised by the Real Bread Campaign in association with Sustain's good food jobs site, Roots to Work.
Update: More than 80 people registered for this webinar. We look forward to continuing the conversation about how we can help to improve diversity (in all senses), equity and inclusion in our work, network and the wider world of people who identify as being part of the Real Bread movement.
See also
Support our charity
Your donation will help support the spread of baking skills and access to real bread.