South African savoury doughnuts.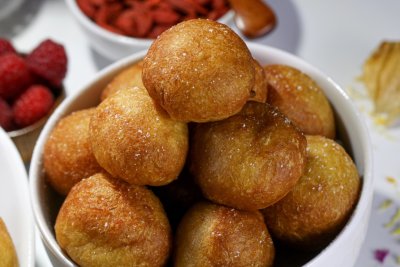 Puff puff, a close relative of vetkoek. Credit: Keesha's Kitchen, Pexels, CC0
The heritage of these has been traced back to Dutch oliebol, which were introduced to South Africa by explorers, traders and colonists from the late 17th century. Similar fried breads are found in a number of African countries and places to which African people were transported as slaves or migrated voluntarily. Some versions are savoury, others are sweet.
This version of vetkoek is by Gerda Janse van Vuuren, who says: "This is the Afrikaans name for what is essentially deep fried bread dough, crispy on the outside, soft and fluffy on the inside. The word literally means 'fat cake'. In Zulu and Xhosa they are called amagwinya or magwinya. Most South Africans have a family recipe, now mostly made with instant yeast. I make them using sourdough."
Ingredients
Makes 9 pieces
400g white bread flour
270g water
250g wheat sourdough starter (100% hydration. Mature and very active)
1.5tsp sea salt
Oil for deep frying.
Method
Mix together the flour and 240g of the water, cover and leave to rest for half an hour.
Add the starter, reserved water and salt, then work in until fully combined.
Stretch and fold the dough three times, at 30 minute intervals, until smooth and stretchy.
Put the dough in a sealed container and place in the fridge overnight or until needed.
Divide the dough into nine equal pieces, roll into balls and rest for about an hour until balls have risen by about 30-50%.
Heat oil until very hot - around 180°C / 375°F.
Stretch the dough balls into ovals and drop gently into the hot oil turning, occasionally to ensure even cooking, until puffed up and golden brown.
Remove the vetkoek from the oil using a slotted spoon or tongs, leave on a wire rack or kitchen paper for a few minutes to drain excess oil and cool slightly.
Serve while still warm with your favourite sweet or savoury filling. Traditionally they are served with curried mince or sweet with syrup and lots of cheese.
Baker's tip
If you don't have a sourdough starter, you can add 125g of flour and 125g of water and add 7g of quick / fast acting yeast (avoid brands that contain any additives). Knead the dough well for 5-10 mins and leave in warm place to rise until doubled.
About the baker
Gerda Janse van Vuuren is an accountant who started baking sourdough breads in 2020, while working from home. She loves finding new and inventive ways to use sourdough in recipes. @gerda_za
---
Recipe text © Gerda Janse van Vuuren.
Reproduction prohibited without written permission of the copyright holder.
---
Social sharing
If you make this, please share your photo(s) with the world on social media using #RealBread and other relevant hashtags, linking back to this recipe. Better still if we can see you in the photo, too: #WeAreRealBread!
Please don't forget to tag us, and the recipe's author. You can find us on:
Published 9 Mar 2023
Real Bread Campaign: The Real Bread Campaign finds and shares ways to make bread better for us, better for our communities and better for the planet. Whether your interest is local food, community-focussed small enterprises, honest labelling, therapeutic baking, or simply tasty toast, everyone is invited to become a Campaign supporter.
Support our charity
Your donation will help support the spread of baking skills and access to real bread.