Yum yum Finnish cardamom buns!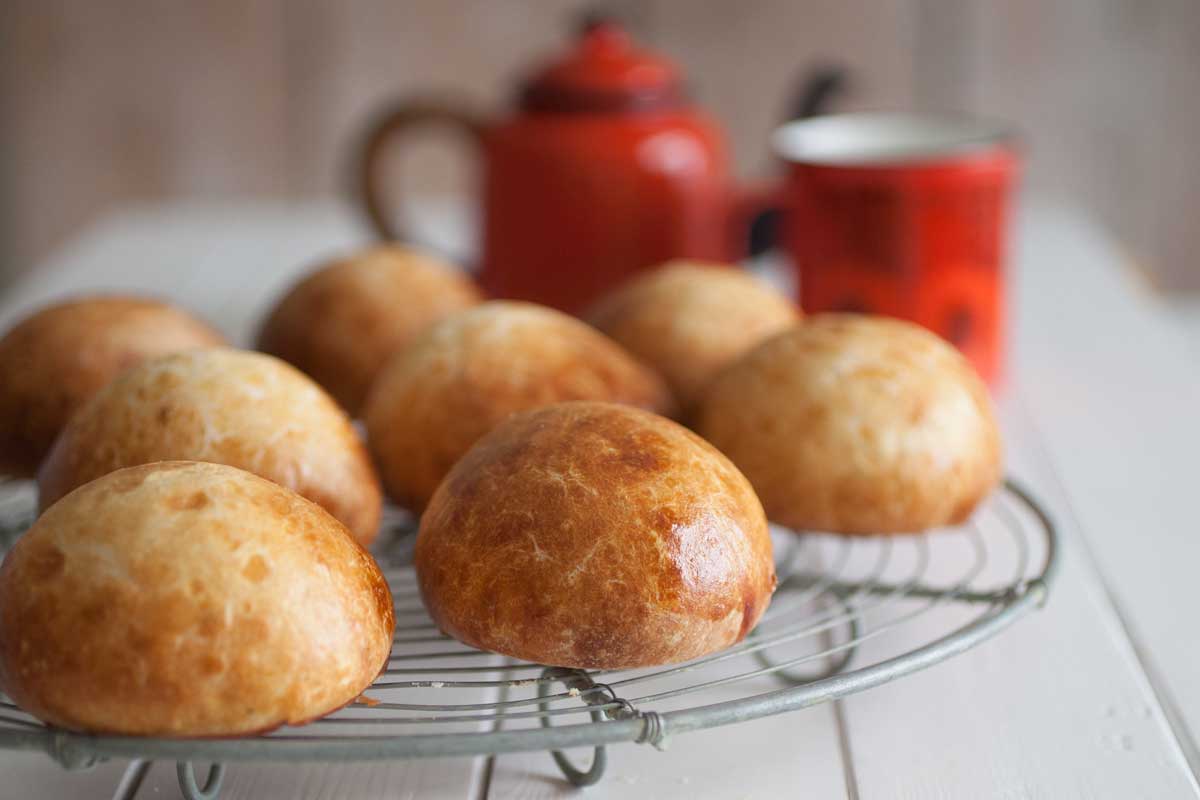 Photo © Victoria Harley
According to some reports, the Finns drink more coffee per person than any other nationality. Whether or not that's true I've no idea, but my personal experience is that they guzzle kahvia as often as we Brits down tea. In someone's home, a cup will usually be accompanied by a cake or pastry, and more often than not that will be pulla.
At Lent, the pulla is pimped to become laskiaispulla (aka semla in Sweden) by slicing off the top, spreading with jam (or sweetened almond paste in n other Nordic countries) and whipped cream and putting the top back on.
Ingredients
Makes 12 buns
15 green cardamom pods
5g/1 tsp fresh yeast
50g/1¾oz/3½ tbsp butter, softened, plus extra for greasing
500g/1lb 2oz/3¾ cups plain/all-purpose flour
300g/10½oz/1¼ cups milk
1 egg, beaten
80g/2¾oz/scant ½ cup caster/superfine sugar
5g/1 tsp fine/table salt
1 egg, beaten, for glazing
Method
1. Crush the cardamom pods in a mortar and pestle, discard the husks and grind the seeds.
2. Rub the yeast and butter into the flour, then add the milk, egg, sugar, salt and cardamom seeds and mix thoroughly. Cover the dough and leave to rise slowly in the refrigerator overnight.
3. Grease a large baking sheet with butter. Divide the dough into 12 equal-size pieces, shape each piece into a ball and place on the baking sheet, 5cm/2in apart. Cover and leave to rise at room temperature for about 1 hour.
4. Heat the oven to 200°C/180°C fan/400°F/gas 6. Brush the top of each pulla with beaten egg and bake for 10–15 minutes until golden-brown.
---
Taken from Slow Dough: Real Bread by Chris Young, published by Nourish Books. Hardback, £20. Commissioned photography Victoria Harley.
Reproduction prohibited without written agreement of the copyright holder.
---
Social sharing
If you make this, please share your photo(s) with the world on social media using #RealBread and other relevant hashtags, linking back to this recipe. Better still if we can see you in the photo, too: #WeAreRealBread!
Please don't forget to tag us, and the recipe's author. You can find us on:
Published 2 Oct 2018
Real Bread Campaign: The Real Bread Campaign finds and shares ways to make bread better for us, better for our communities and better for the planet. Whether your interest is local food, community-focussed small enterprises, honest labelling, therapeutic baking, or simply tasty toast, everyone is invited to become a Campaign supporter.
Support our charity
Your donation will help support the spread of baking skills and access to real bread.