Recipe by the Staffordshire native Real Bread Campaign co-ordinator.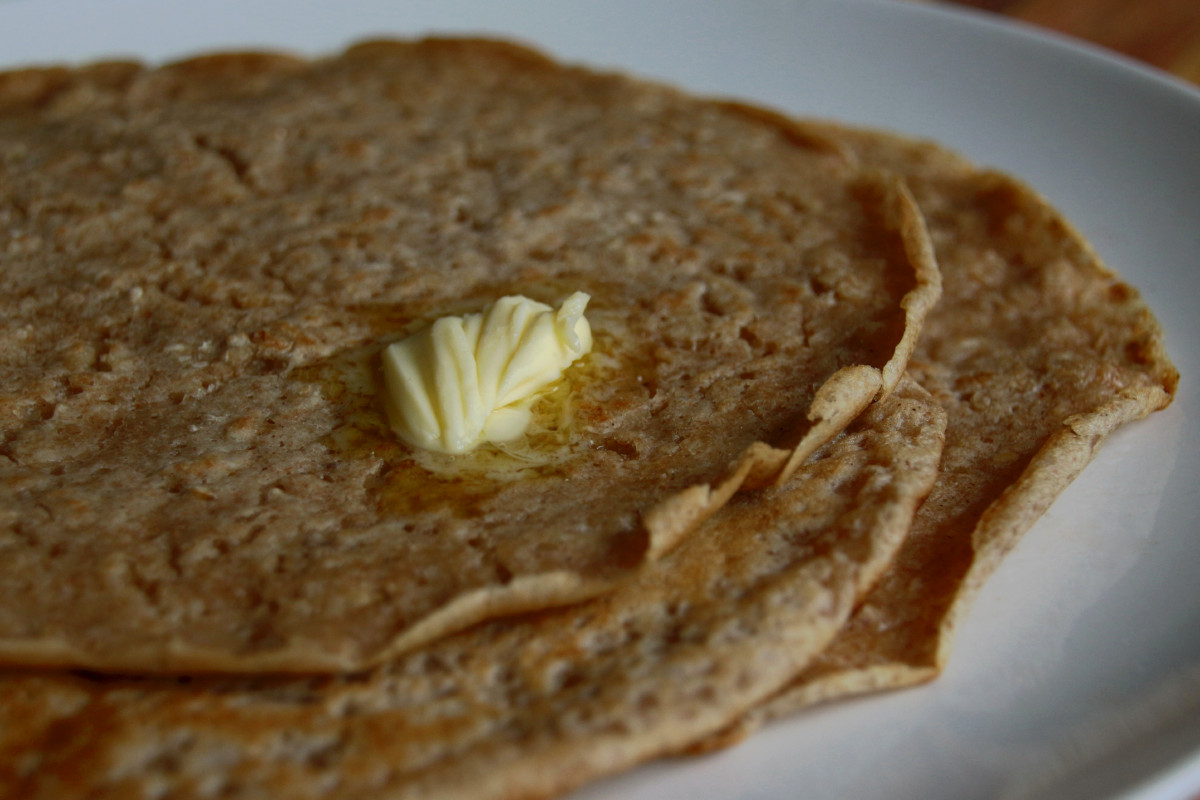 Photo by Chris Young / realbreadcampaign.org CC-BY-SA 4.0
The oatcakes of Staffordshire, Derbyshire and Cheshire are soft and almost like crêpes. When I was young they rarely strayed to south Staffordshire where my family live, but my dad's job used to take him to their native territory and he'd buy some.
Now that I live in London, my parents still bring oatcakes to stock up my freezer when they visit. Here's my recipe, which uses yeast rather than the baking powder typically used by commercial producers.
Ingredients
150g/5½oz rolled oats or pinhead oatmeal
50g/1¾oz wholemeal/wholewheat flour
2g/½ tsp fresh yeast*
300–350g/10½–12oz milk, water or mixture of the two
2g/½ tsp fine/table salt
a little butter or oil, for greasing
*Here's an alternative recipe using a sourdough starter
Method
If using rolled oats, put them into a food processor or upright blender and pulse them until they take on a finer consistency.
Mix all of the ingredients together in a bowl, cover and leave in the refrigerator overnight. Ideally, take the batter out again 1 hour before you need it: you can get away with using it very cold, but as the bubbles won't have got up to full force, the oatcake texture isn't quite as good.
If you want to do everything on the same day, leave the batter at room temperature for about 4–5 hours until bubbly. It should be about the consistency of house paint, but add a little more milk or water if it has thickened too much.
Assuming you don't have access to a baxton (a traditional oatcake griddle) lightly grease a flat, heavy frying pan, ideally about 25–30cm/10–12in in diameter, and place over a medium heat. Ladle in the batter and swirl around to form a pancake about 2–3mm/up to ⅛in thick.
Cook until the batter sets and bubbles burst through the surface like those in a crumpet or pikelet. Flip the oatcake over with a spatula or fish slice and cook for about another 2 minutes, checking to make sure it doesn't burn. Transfer to a plate and repeat until you have used up all the remaining batter.
Now, take a bite and tell me you're not a convert . . .
Baker's Tip
If you don't plan to eat all of the oatcakes within 24 hours (what's wrong with you?) put them on a wire cooling rack covered with a clean cloth until they are cool, layer between sheets of baking parchment to prevent them from sticking, seal in a plastic bag and freeze.
---
Taken from Slow Dough: Real Bread by Chris Young, published by Nourish Books. Hardback, £20.
Reproduction prohibited without written agreement of the copyright holder.
---
Social sharing
If you make this, please share your photo(s) with the world on social media using #RealBread and other relevant hashtags, linking back to this recipe. Better still if we can see you in the photo, too: #WeAreRealBread!
Please don't forget to tag us, and the recipe's author. You can find us on:
Published 7 Apr 2019
Real Bread Campaign: The Real Bread Campaign finds and shares ways to make bread better for us, better for our communities and better for the planet. Whether your interest is local food, community-focussed small enterprises, honest labelling, therapeutic baking, or simply tasty toast, everyone is invited to become a Campaign supporter.
Support our charity
Your donation will help support the spread of baking skills and access to real bread.