A simple, versatile Middle Eastern flatbread.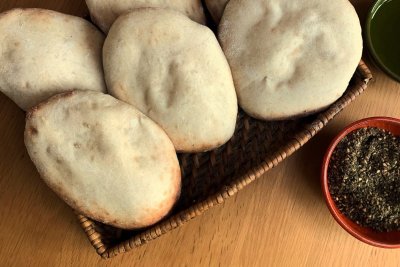 Pita. Copyright: Nadim Othman
A family of flatbreads with (transliterated) names including pita, pitta, pide, aish baladi, batbout, lavash and khubz/khobez (which simply means bread) are staples in countries across the Mediterranean, North Africa and the Middle East, as well as in culinary cultures originating from them.
This version has been developed by Nadim Othman, who says: "This highly-versatile pocket bread is possibly one of the easiest to make and, when eaten fresh out of the oven, one of the tastiest. The main way I enjoy pita is as part of a Middle Eastern breakfast or brunch. The bread is served warm and torn into bite-sized pieces to be dipped in olive oil and then za'atar, maybe with some labneh on the side. Simple and delicious!
I have also enjoyed pita stuffed with fresh falafel, tahini, pickles and salad; used it to mop up the amazing garlic-fest that is foul mudammas, laden it with quickly scrambled eggs and fried chorizo; and broken pita up and toasted it as an ingredient in the delicious fattoush."
Ingredients
Makes 10 pitas
500g strong bread flour (Nadim suggests Wildfarmed T65)
6g salt
10g caster sugar (optional)
50ml olive oil
30g fresh yeast
300ml water (at room temperature)
Method
Place all of the ingredients into a large bowl and bring together to form a sticky dough.
Knead/work the dough for five to ten minutes until it becomes smooth and springy.
Place the dough back into the bowl, cover with a tea towel and leave to prove for an hour.
Place the dough onto a lightly-floured surface, divide it into ten equal pieces and shape each into a ball.
Roll each ball out with a rolling pin, either as an oval or circle, to a thickness of about 5mm. Much thicker and it might not puff up to form a pocket when baking, ending up more like taboon bread.
Flour the rolled-out dough pieces, cover with a tea towel and leave them to rest for ten minutes.
Heat the oven to 240°C / 475°F / gas mark 9.
Line two, large baking trays with parchment and place in the oven for about five minutes to heat up.
Take the lined trays out of the oven, quickly place the dough pieces onto them and pop them back into the oven.
Bake for five to ten minutes, until the pitas have puffed up. They might have light golden patches but should not be browned all over.
Remove the pitas from the oven and leave on a wire rack to cool for a few minutes before serving.
Baker's tip
These can also be cooked super-quickly (a minute or two on each side) on the ashy, dying embers of a barbecue or campfire, giving them a lovely earthy flavour and feel. They can also be cooked on a pizza stone.
About the baker
Nadim Othman is a keen homebaker with Palestinian heritage.
---
Recipe text © Nadim Othman. Reproduction prohibited without written permission of the copyright holder.
---
Social sharing
If you make this, please share your photo(s) with the world on social media using #RealBread and other relevant hashtags, linking back to this recipe. Better still if we can see you in the photo, too: #WeAreRealBread!
Please don't forget to tag us, and the recipe's author. You can find us on:
Published 18 Feb 2023
Real Bread Campaign: The Real Bread Campaign finds and shares ways to make bread better for us, better for our communities and better for the planet. Whether your interest is local food, community-focussed small enterprises, honest labelling, therapeutic baking, or simply tasty toast, everyone is invited to become a Campaign supporter.
Support our charity
Your donation will help support the spread of baking skills and access to real bread.