Once you've tasted the real deal, you won't want to go back to industrial imitations.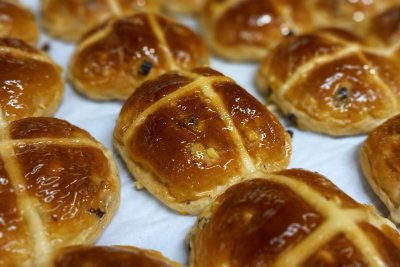 St. JOHN Bakery hot cross buns. Credit: Chris Young / www.realbreadcampaign.org CC-BY-SA-4.0
A treat at Easter or anytime, really. Without the cross, spiced buns have been enjoyed all year round for generations.
First published here in 2014. Some people might have moved on to different companies/organisations since.
---
Tom Herbert's hot cross buns
Past Real Bread Campaign ambassador Tom Herbert of Hobbs House Bakery shares his recipe for buns.
My ideal hot cross bun is freshly homemade or from a Real Bread bakery (NEVER from the supermarket 12 for a £1 shelf!)
These hot cross buns can be made in a couple of hours with most of the time given to resting the dough. The rest gives the buns a good flavour and lighter texture. Once baked they'll keep fresh for toasting in a cool dry place for nearly a week, but if somehow you have any spare, then share or freeze them.
They are lush with a cup of tea, and a great way to turn a Good Friday into an excellent one!
Ingredients
Makes 16
Dough
I love traditional mixed spice in my buns, a combination of cinnamon, nutmeg and allspice that brings a warm exotic flavour and aroma into the mix. I add a generous amount of fat juicy sultanas and currants and spike it with fresh lemon and orange zest to make them irresistible.
680g strong white flour
big pinch of sea salt
30g fresh yeast (or 15g of dried active yeast – not instant)*
70g golden caster sugar
80g soft butter
15g mixed spice
175ml of warm water
175ml of warm milk
1 organic egg
* At home I use dried active yeast, it's simple to use and store (and without all the additional funky stuff found in fast action yeast). My recipe calls for 15g, just mix it in with the warm water and milk using a fork for a minute to rehydrate it. In the bakery we use traditional fresh yeast because it has a better slightly better flavour. If you have a bakery near you that'll sell it, then use 30g in my recipe.
Fruit
80g sultanas
80g currants
the chopped zest of 1 lemon and 1 orange
Cross
I'm a fan of crossing the buns with a white flour and water mix, made more interesting with a pinch of salt and a knob of butter. It's quick and easy to pipe the crosses on and on occasion I've piped a message on top when I'm baking the buns for a gift.
100g strong white flour, a pinch of salt,
a pinch of sugar, a knob of butter and 100ml water
Wash
1 eggcup of boiling water
2tsp of sugar
1 pinch of mixed spice
Method
Weigh all the dough ingredients into a big mixing bowl.
With a firm hand, stir together with a wooden spoon.
Turn the loose dough onto a bench and knead for a full 15 minutes until your dough is smooth and vital, or do it in a mixer on medium speed for 10 minutes.
Gently work in the fruit and zest. Nestle your well-worked dough back into the big mixing bowl, cover and repose in a warm place until it has doubled in size, or for 30 minutes, whichever is first.
Your dough can start to become buns when you cut it in half, and then divide and divide and divide again until you have 16, ideally equalish pieces.
In the palm of your hand, firmly round the pieces so they stand pert on a big grease proofed high sided baking tray. Line 'em up 4X4 with a finger's space between each bun. Again, cover the tin and leave in a toasty place until your buns have doubled in size, which should take about 30-40-50 minutes. Meanwhile, heat your oven to 210C.
In a jug, whisk your crossing mix and pour it into a piping bag. (please no lumps)
Deftly cross your buns by piping a lattice across the length and width of the tin.
Bake the buns. The very moment you have golden tops and bottoms, whip them out and immediately brush them with spicy bun wash.
Share your hot cross buns whilst still warm from the oven and spicily redolent, slathered in butter that will yield into the soft, soft crumb, with its plump fruit, and trickle down the crust. Your home will fill with the aroma of Easter as you enjoy them with a cup of tea. Enormous reward for your care and toil, and a noble nod at a great baking tradition and the greatest story there has ever been.
The hot cross bun is then split, toasted and slathered with too much butter.
---
Taken from Tom and his brother Henry's book Fabulous Baker Brothers that accompanies the Channel 4 series of the same name.
Reproduction prohibited without written agreement of the copyright holder.
---
Suzanne Wynn's hot cross buns
First class ingredients will make your homemade hot cross buns better than any you have ever bought. It really makes a difference to hand-cut candied peel and grind spices just before using rather than buying ready prepared alternatives.
Likewise use organic stoneground flour if you can – it will give the buns more character, flavour and texture. White stoneground flour is harder to come by than wholemeal so, if you can only find industrial roller-milled white flour, mixing it with a proportion of stoneground wholemeal flour is a good alternative.
Fresh yeast gives the best results, but if you are unable to find it, try to buy traditional active dried yeast, rather than instant (AKA easy-blend or fast acting) alternatives, many of which include flour improvers. Use half the quantity of dried yeast to fresh, and halve this again if you have to resort to an instant version.
Note that the ferment needs to be made a day in advance.
Ingredients
Makes 16 buns
The ferment
140g strong white flour
20g fresh yeast
150ml water
The dough
310g stoneground strong white flour (or use 170g industrial white mixed with 140g stoneground wholemeal)
1 tsp salt
3 tsp mixed spice *
55g light muscovado sugar
55g butter, melted
1 egg, beaten
125ml milk
85g hand chopped candied lemon peel
85g sultanas
For the crosses
50g plain white household flour
Pinch of baking powder
40 - 50ml water
1 tsp vegetable oil
For the glaze
1 egg
2 tbsp sugar
2 tbsp boiling water
Mix up the ferment 12-18 hours before you want to make the hot cross buns. Heat the water until it feels lukewarm to the touch then stir into the fresh yeast until it is smoothly blended. Mix this liquid into the flour, cover the bowl with cling film and leave in a cool place to rise and drop again.
When you are ready to make the dough, mix together the flours, salt, sugar and spice. Melt the butter and pour it onto the dry ingredients together with the beaten egg and milk. Stir the liquid with your hand, gradually drawing in some of flour mixture. When the centre is no longer liquid add the ferment from the day before and mix together to create a homogenous mixture. Absorption rates vary from flour to flour so be prepared to add more water or flour to get the right consistency - quite moist but manageable.
It will take the yeast a little while to recover from these additions, so it pays to cover the dough and let it rest for half an hour or so before kneading in earnest. Whilst the dough is resting you can chop the peel and, if you like, pour a couple of tablespoons of sweet sherry over the sultanas to plump them.
Knead the dough until it is smooth and elastic, then stretch it out as far as it will go without tearing, into a rectangular shape. Scatter the chopped peel over the dough and then fold the bottom third over, followed by the top third. Now give the dough a quarter turn and stretch it out again. This time scatter with the sultanas (minus any excess soaking liquid) and repeat the folding process. Put the dough into a large bowl, cover with cling film and leave in a warm place, such as an airing cupboard, until the dough has doubled in size. This will take about 2 hours**.
Briefly knead the dough to knock out the air and then divide it into four pieces. Further divide each quarter into four and shape each piece into a ball. Place these onto greased baking sheets allowing a gap approximately the same size as each ball between them for the dough to rise. It doesn't matter if the buns just touch as they cook. Cover and put back in a warm place for the dough to rise again, which this time will take about 45 minutes.
Meanwhile, mix together the ingredients to make the crosses. The mixture should be quite firm but just runny enough to pipe. Put the mixture into a piping bag fitted with a broad plain nozzle. Pre-heat the oven to 210ºC (190ºC in a fan oven)/gas mark 5.
Pipe a cross over each risen bun. Put the buns into the oven and turn the heat up to 220ºC (200ºC in a fan oven)/gas mark 6. Bake for 12-15 minutes until lightly golden in colour. Whilst the buns are baking mix together the ingredients for the glaze and brush over the buns immediately they are removed from the oven.
Notes
* Mixed spice is a blend of predominantly sweet spices that used to be known as pudding spice. The exact blend varies but almost always includes cinnamon, nutmeg and cloves. Other additions might include: coriander seeds, allspice berries and ginger, these latter two providing heat as well as flavour.
** If this rising time is inconvenient, for example if you wish to eat the buns in the morning, the dough can be put in a cold place to rise overnight. The second rising, after the buns have been shaped, should be in a warm place and slightly longer should be allowed for the dough to warm up and begin to rise.
Cook and food campaigner Suzanne Wynn is the editor of Food Culture for the Campaign for Real Farming.
---
Recipe text © Suzanne Wynn.
Reproduction prohibited without written agreement of the copyright holder.
---
Hot cross bun tips
In March 2012, Daily Telegraph food writer Rose Prince asked the Real Bred Campaign for some tips for her new Baking Club column. Here are a selection we received from some of our supporters.
(NB some of the bakers have since moved on from the bakeries named below)
I infuse the milk for hot cross bun dough with Earl Grey tea leaves - delicious!
Tom Baker, loaf social enterprise, Cotteridge, Birmingham
For a deeply-coloured, glossy crust, brush them with an egg wash just before putting in the oven.
For an amazing Easter flavour add some orange zest and a couple of drops of clove oil to the dough. Then while your buns are still just warm glaze with a mix of apricot jam and honey. Yum!
Troels Bendix of The Hungry Guest in Petworth, West Sussex
Since yeast doesn't thrive on many of the richer dough ingredients such as butter, egg and spices, encourage a vigorous fermentation by making a 'starter' ferment. Whisk together the required quantity of yeast from your recipe with 25g of the sugar, 50g of the flour and 100g of the milk and leave it in warm place for an hour before adding to your final dough.
Soak your dried fruit in orange juice (or even wine) to add flavour ensure they don't absorb liquid out of your lovely moist dough.
Experiment with different glazes to give your buns added shine, and try adding a pinch of ground cardamom to the glaze mixture. For a super, too sticky to handle glaze, warm a generous tablespoon of honey with a tablespoon of double cream and brush onto the warm buns. If that's too sticky for you, then dissolve a tablespoon of sugar in a table spoon of water and a beaten egg, this time brush onto the buns as soon as they come out of the oven.
Aidan Chapman of The Phoenix Bakery in Weymouth, Dorset, who also teaches regularly at River Cottage
Bake the buns on a tray in a hot oven at about 230°C.
When they come out of the oven bang the tray to release excess stem in the buns, which will stop them from sinking.
Brush the baked buns with a cold wash made by dissolving sugar in an equal quantity of water. For extra flavour, infuse this wash with cinnamon, clove and perhaps star anise.
Emmanuel Hadjiandreou, head of baking at The School of Artisan Food in Nottinghamshire and author of How to Bake Bread
Use a good quality white bread flour mixed with some good wholemeal.
Don't skimp on the spice or the fruit.
Use a flying ferment* as a means to kickstart the yeast and give it a fighting chance in the company of lots of ingredients which cause difficulty for yeast.
Batch the buns close together so they kiss and therefore prove upwards and not outwards.
* Mix some of the yeast with some of the flour and leave to ferment for an hour, then mix with the rest of the ingredients.
Andrew Smith, Bread and Roses, Alnwick, Northumberland
Once your rolls or hot cross buns are shaped and on your baking tray, cover them with an upturned roasting tin, both for the final proving and the first ten minutes in the oven. They'll rise much better!
Paul Youd, bread tutor and No Bread Is An Island author, Taunton, Somerset
---
Tips © their respective authors.
Reproduction prohibited wihout written agreement of the copyright holder.
---
Social sharing
If you make this, please share your photo(s) with the world on social media using #RealBread and other relevant hashtags, linking back to this recipe. Better still if we can see you in the photo, too: #WeAreRealBread!
Please don't forget to tag us, and the recipe's author. You can find us on:
Published 29 Mar 2022
Real Bread Campaign: The Real Bread Campaign finds and shares ways to make bread better for us, better for our communities and better for the planet. Whether your interest is local food, community-focussed small enterprises, honest labelling, therapeutic baking, or simply tasty toast, everyone is invited to become a Campaign supporter.
Support our charity
Your donation will help support the spread of baking skills and access to real bread.