A definitive Turkish street food.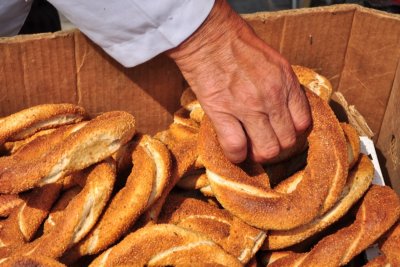 Simit in Istanbul. Copyright: Chris Young / www.realbreadcampaign.org
Traditionally eaten very fresh, with a glass of black tea. Having spent a week travelling by train from London to Istanbul, my wife, friends Em and Phil, and I somehow arrived on schedule, glimpsing the sunrise as we pulled into the station. Everyone else crashed out at the hotel while I dashed off with my camera. Within minutes, I was holding my breakfast from the street cart of one of the city's 1,400 registered simitçi.
Ingredients
Makes 8–10
Dough
500g/1lb 2oz/3¾ cups plain/all-purpose flour
310g/11oz/1¼ cups plus 1 tbsp water
5g/1 tsp fresh yeast
5g/1 tsp fine/table salt
Coating
60g/2¼oz/scant ¼ cup pekmez (grape molasses)
50g/1¾oz/3½ tbsp water
200g/7oz/scant 1½ cups sesame seeds
Method
Mix the dough ingredients together thoroughly. Cover and leave to rest for 10 minutes.
Knead until smooth: as you are using a lower-protein flour, it won't be as stretchy as bread dough you're used to. Place in a large bowl, cover and leave to prove at room temperature for 30 minutes, then transfer to the fridge and leave overnight to continue proving.
Mix the pekmez and water together in a bowl and put the sesame seeds on a plate. Press the dough out on a lightly floured work surface, to de-gas (that is, to get rid of the largest bubbles), so the finished product has an even texture.
Divide the dough into 8–10 equal-size pieces, rolling each one into a strand about 70–80cm/28–32in long. You might need to do this in two stages with a 5–10-minute rest in between. Hold the two ends of a strand together in one hand, and the middle in your other hand and twist the dough a couple of times to entwine the strands.
Pinch the ends of the twisted dough together to make a ring, then roll the join back and forth on a work surface a few times to seal together. Repeat with the remaining strands of dough.
Dunk each simit into the diluted pekmez, then drain and dip into the sesame seeds to coat fully. Lay them out on two or three baking sheets, cover and leave to prove at room temperature for 30–45 minutes.
Heat the oven to 220°C/200°C fan/425°F/gas 7. Bake the simit for 10–15 minutes until reddish brown.
Baker's Tip
Pekmez is a molasses-like syrup made by boiling down grape must. It can be bought from Turkish and Mediterranean shops and online.
---
Recipe text © Chris Young.
Taken from Slow Dough: Real Bread by Chris Young, published by Nourish Books.
Reproduction prohibited without written agreement of the copyright holder.
---
Social sharing
If you make this, please share your photo(s) with the world on social media using #RealBread and other relevant hashtags, linking back to this recipe. Better still if we can see you in the photo, too: #WeAreRealBread!
Please don't forget to tag us, and the recipe's author. You can find us on:
Published 19 Feb 2022
Real Bread Campaign: The Real Bread Campaign finds and shares ways to make bread better for us, better for our communities and better for the planet. Whether your interest is local food, community-focussed small enterprises, honest labelling, therapeutic baking, or simply tasty toast, everyone is invited to become a Campaign supporter.
Support our charity
Your donation will help support the spread of baking skills and access to real bread.